One of South Africa's best performed and well bred young stallions is the Kingmambo horse Mambo In Seattle. Now standing at Moutonshoek, Mambo In Seattle's sale to South Africa was greatly assisted by leading US bloodstock agent, Alistair Roden.
Alistair is no stranger to South Africa, having been involved previously with the purchase of the blue blooded import A P Arrow (A P Indy – Garimpeiro). A P Arrow, who stands at Summerhill Stud, is currently represented by his first crop of yearlings.
Roden is very impressed by the stock Mambo In Seattle (Kingmambo – Weekend In Seattle) is producing. The foals are lovely, really outstanding individuals, and Mambo seems to stamp his offspring quite noticeably. He says of Mambo (a former G1 Travers Stakes runner up) that he takes after his famous relative, the dual champion US sire A P Indy, in looks as opposed to his own sire, Kingmambo.
Alistair himself was born in Northern Ireland. Surrounded by horses and ponies, Alistair became involved in pony club activities as a child, and also hunted regularly while growing up. "Most of the children, when I was growing up, were involved with horses, and I was no exception."
Later on, Roden turned his hand to the point to point scene, but unfortunately his weight prevented him from becoming a professional National Hunt jockey.
Deciding to travel and broaden his experience, Alistair left for Australia. He spent 14 months in the Antipodes, working on stud farms and assisting trainers while he was there. Among the highlights of his time in Australia, Alistair remembers one weekend while working for top Sydney trainer, Neville Begg. The Begg yard saddled no fewer than three G1 winners in a single weekend – a rarely achieved feat.
He also visited New Zealand where he saw the mighty (and somewhat infamous) Sir Tristram (Sir Ivor). Alistair says of that great stallion, that his reputation for having a bad temper is well earned and by no means exaggerated!
After returning to Ireland briefly, Roden then decided to move to the USA. Settling in Kentucky, he spent six years working at Gainesway Farm. At Gainesway, Alistair worked as the main stallion man, and was fortunate enough to work with some of world's best known and most successful stallions.
Of the sires he worked with at Gainesway, Alistair says that Blushing Groom was his personal favourite. One of history's all time great stallions, Roden describes the small chestnut as a docile and quiet stallion (unlike his famous ancestor Nasrullah!). In contrast, he says the Irish 2000 Guineas winner, Dickens Hill, was a very difficult horse. He also remembers Lyphard, whose size (or lack thereof) staggered Alistair when he first saw the great horse. Lyphard, the spitting image of his great sire Northern Dancer, was all of 15.1 hands – a fact which failed to diminish the enormous impact he made on the modern breed. Alistair, however was struck by the quality of Lyphard's foals," Surprisingly enough, Lyphard threw normal sized foals. He himself was a wonderful horse." The charismatic Lyphard himself lived to the grand old age of 36 – an almost unheard of age for a thoroughbred.
After his time at Gainesway, Roden moved to Vinery, where he became the farm's stallion manager. He remembers Vinery for becoming the first major stud farm to breed their stallions to big books of mares. Some of the Vinery sires became the first to breed upward of 150 mares a season. Alistair describes the former Vinery stallion, Red Ransom (whose influence continues to be felt, particularly in Australia) as a big, plain stallion. He also worked former champion US sprinter, and subsequently successful sire, Langfuhr (Danzig).
Roden also worked in the stud office and breeding shed, while working for Vinery. He became used to selling shares and seasons, and also tried his hand at advertising.
In 2003, Alistair decided to venture out by himself. He established Alistair Roden Bloodstock, which is a company based in Lexington, Kentucky. He has since worked with a number of stallions, the best of which he says is the magnificent Bellamy Road (Concerto).
When asked which was the best racehorse he has witnessed while in the USA, Roden came up with a surprising answer. "Personal Ensign", he answered, citing the unbeaten mare's remarkable stretch run when defeating Kentucky Derby winner, Winning Colors (Caro), in the 1988 Breeders Cup Distaff. She later became an outstanding broodmare, and was named Broodmare of the Year in 1996.
Alistair also surprises when questioned as to which US stallion stood out for him, "Indian Charlie. He was such a brave horse, and became a great sire. He was a wobbler, and suffered quite severe pain."
Now deceased, Indian Charlie (In Excess) is the sire of Champions Indian Blessing, Fleet Indian and Uncle Mo. He is also the sire of the leading Kentucky Derby hopefuls for 2012, Liaison and Ever So Lucky.  Indian Charlie became an outstanding sire, despite covering mainly ordinary mares during his first few seasons at stud.
Struck by the quality of horse flesh in South Africa, Alistair Roden purchased lot 316, a chestnut National Emblem filly consigned by Connemara Stud, at the recent Cape Premier Yearling Sale for Marc Weinburg, a South African currently based in Chicago.
Alistair will be keeping an eye out for the first offspring of the likes of A P Arrow and Mambo In Seattle to hit the track. He hopes to return to South Africa in the not too distant future.
‹ Previous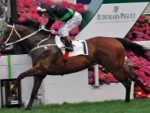 Caviar aims for 18