Pietermaritzburg may well feel like a million miles from Melbourne Down Under. But two top sprinters retained their respective unbeaten records in a great weekend for horseracing in the Southern Hemisphere.
Black Caviar and Unannounced. Both Australian breds. Both top-class. Both courageous.
The interesting common aspect of both undefeated horses wins over the weekend is that their respective races were ironically effectively paid gallops.
Trainer Charles Laird exposed Unannounced to the Marula Sprint at Scottsville on Sunday. It was his first career test in handicap company and it was against the wishes of his regular pilot Anton Marcus. But Laird has short-terms plans for Unannounced – most likely the Senor Santa and the Computaform Sprint up North, and would have had to have galloped his smart colt anyway. So why not take the their chances and rather earn R60 000 odd in the process anyway?
And the son of Snitzel passed the test, that the form and handicapping experts told us he was meant to fail on paper, with flying colours. With rain having fallen, the going came up soft with a pen reading of 30 meaning that it was now a serious test – on all of paper, the surface and at the weights.
Marcus bounced Unannounced out and he was tracked by Sean Veale on the very capable Lizard's Passion. At about the 300m marker, an animated Veale appeared to have a trick or two up his sleeve as he switched his mount for a run. But the wily Marcus had other plans and he skated clear to win well – the champion jockey giving a glimpse of the real meaning of the win with a rare show of emotion with a clenched fist as he came clear.   In a lovely sporting gesture, Veale grabbed Marcus' hand with a congratulatory squeeze after they had passed the line.
The previous day, a daughter of Bel Esprit took her unbeaten sequence to 18 in the 1400m C F Orr Stakes at Caulfield in Melbourne with an impressive victory.
Her trainer Peter Moody said afterwards that Black Caviar, rated just 4lb inferior to Frankel in the World Thoroughbred Rankings, may now run in this coming Saturday'sLightning Stakes over 1000m at Flemington . The attraction of the Lightning Stakes is that it is a leg of the $1 million Global Sprint Challenge. By winning in her home country and then either Dubai or Japan, before or after her proposed visit to Royal Ascot in June, should give her enough points to win the lucrative incentive. Imagine the spectacle of her meeting our own Val De Ra along the way?
While Unannounced is destined for bigger things and his appearance was the highlight of Sunday, the softer and fun side of the sport also came to the fore after what has been a torrid bad news few weeks for racing in the KZN region. The father-and –son duo of Sheldon and Craig Peters are co-owners of the Wendy Whitehead trained Devonesque, who won the second race, a Maiden Plate over 1000m, at odds of 100-1.
Anton Marcus going for his second win in a row, rode the favourite here but Maak 'N Plan was never seen with a chance as the Whitehead gelding stuck to his outside station under Nicky Roebuck.  Craig Peters was calling the race and had what he, and the rest of us, had thought was his 700m of glory calling Devonesque. Peters then switched to the inside group of horses late in the race – and then incredulously exclaimed a few seconds later that Devonesque was still going great guns!
A commentator who launched his career some 35 years ago in the City of Bloemfontein, he is one of South Africa's foremost and experienced race-callers and the man known as Eagle Eye seldom stumbles over his words. But Peters had to put down his binoculars at the 200m marker of the second race, rub his eyes and check the television set in his elevated office, before almost allowing his emotions to take control.
But the professionalism and experience shone through as he called the shock winner home in his characteristic polished style – and in what must be a huge thrill as he apologized for the obvious excitement in his voice. The next big record breaking run came from Peters himself – when he galloped the route from the commentary box to make an appearance at the post-race interview. For those that have not visited the Scottsville eagle's lair, we can confirm that it includes obstacles and hurdles of precarious flights of stairs and narrow strips of board.
So Devonesque may not be in the Caviar or Unannounced league. But not many horses run at a profit after just their fourth outing, and a further twist to the happy saga is that the Backworth Stud bred Miesque's Approval gelding cost his six owners just R10 000. Keeping it in the family, his dam Devon Lady raced for Wendy Whitehead, and her partner and assistant Duncan Mckenzie also has a share. Racing is meant to be fun!
‹ Previous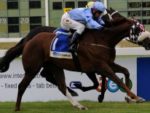 Ace Of Pace Karl's Treble