Even winning has its drawbacks. Veteran trainer Doug Campbell suggested that the loss of a big price was 'sore for the owners' after his Greyville  Night first race winner was backed from nowhere into single odds.
Who pinched the price? Should long-suffering owners be entitled to the privilege of inside information and double digit odds? These are age old debatable issues whenever enthusiasts of the sport congregate to argue ethics and principles.  And the answer can be found on whichever side of the fence you find yourself.
Trainer Doug Campbell appeared genuinely miffed that the owner of a horse that was returning from a seven month break had been denied  the benefit of a price that had been slashed from 33-1 to 9-2. Campbell mentioned work-riding jockey Jassurick Jordaan in his mutterings and winning  rider  Billy Jacobson confirmed that the gelding had been putting in 'unbelievable work' and that he had 'begged' for the ride.
Part-owner Peter Naidoo appeared a lot less worried about the pilfered price and said that he had managed to back the gelding at 6-1. It was a very impressive win by the son of Hinton Wells who was always in command and drew off to win well at only his second start.
Maybe the answer to price protection is for trainers to keep horses names away from their work-riders? On the flip-side, what happens when the 'good things' don't arrive?
The Yogas Govender yard overcame their recent setback in KwaZulu-Natal with a bumper four-timer at Greyville on Tuesday night.  The Plattner jockey honours were shared by Sean Veale, with a terrific hat-trick and Anton Marcus who rode one for the yard, as well as dead-heating with Veale in the second race.
Sabine Plattner's powerful 85 strong string  are spread between their home base on the Cape West Coast and their Summerveld satellite  base and their green, indigo and gold silks have been rampant in recent months. The unsettling effect of the recent loss of the services of their KZN assistant  Therese Mitchley, was hardly noticeable as they grabbed fifty percent of the winning stake cheques at Greyville on a memorable evening.
'Alfred' was on saddling duty for the yard and once again we experienced the old style thinking, still so prevalent in racing  where everybody else has a surname – except the hardworking black stable staff who are blessed only with first names or colourful patronising  nick names.
Jockeys Anton Marcus and Sean Veale set the stage for their dominant starring roles on the evening when they shared the spoils to dead-heat in the second race, a Maiden Plate over a mile. The Paul Lafferty-trained Dynasty colt Dynamic Star was driven hard  after Badi had looked dangerous, but Sean Veale never gave up and he punched the Plattner silked Amazon Force through to grab a share of the spoils on the line. It was a great effort by the Govender gelding who had been hampered and carried out by Tourism World in the final stages
Marcus then won the opening leg of the Pick Six on Plattner blinker strike Falconer's Knot, who skipped clear late in MR72 Handicap over 1600m. The benefit of the 1 draw, superior fitness and a consistent recent record gave the four year old gelding the edge needed to provide Pick6 punters with a great start.
Govender had another blinker strike winner and his third of the evening , when the beautiful grey daughter of Lizard Island Foxtrot Baby hit the front early to win the MR73 Handicap over a mile easing up.
Anton Marcus doesn't make too many bad choices when it comes to rides but he was off the mark in the Progress Plate over 1300m. Here he opted to ride the 9-10 favourite Sports Coach for Charles Laird, but it was stable companion Rio Carnival under apprentice Donovan Dillon who drew clear to win easily. Rio Carnival was returning from an eight month surgery induced rest after an undistinguished Champions Season two year old campaign.  Dillon, who was riding his twelfth winner here,  lost his 4kg claim recently. Sports Coach is a shadow of his former self after a diabolical Cape campaign with Mike Bass and is fast becoming a bookies' best mate.
Dennis Drier and Alec Forbes provided a second Dynasty winner on the evening  when Hassen Adams Happy Heart won the Progress Plate over 1300m with ease. The filly had last run and won at Kenilworth in the second week of 2012, and this was a promising effort. It was the Highlands bred third win from eight starts. She is improving and could be yet another Drier secret weapon for the Champions Season. Her stablemate Miss Zummerud ran an eyecatching fourth after her five month rest and she deserves watching.
Sean Veale closed the evening in great style with all kinds of dramatic fist punching and cheeky glances behind him, when the beautifully bred Joie's Winter got the better of a short-lived duel with Sheikina to win the last. The concern over whether the daughter of Joie De Grise would stay 1900m were unfounded, and she is another improving four year old, who had looked rather moderate early on in her career in the Cape.
Sheikina stayed on well for second and Herman Brown's three year old should win her maiden soon.
‹ Previous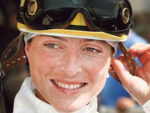 From Catwalk to Parade Ring in Dubai