Cape trainer Vaughan Marshall made a triumphant return, after an absence of over two decades, to the Eastern Cape on Sunday and walked off with the lion's share of the R350 000 Gr3 East Cape Derby. Tribal Dance turned the three year old feature into a procession and hardly gave his supporters a moment of doubt.
We say hardly as there were a few admittedly uneasy moments in the first 300m of the 2400m event when the exciting son of Tiger Dance tested the nerve and leadership skills of jockey MJ Byleveld.
The promising colt playfully threw his head about shortly after the start, but Byleveld, who has ridden him in all of his eight outings, soon sorted that issue out and settled him a few lengths off the leaders as the group of thirteen hopefuls went into the Arlington first bend and off into the countryside.
The race panned out perfectly for the rampant Capetonians.
Yvette Bremner's Blaze Of Fire led the field first time past the grandstand from A Boy Named Sue, Act Of Supremacy  and with Tribal Dance more settled now a few lengths off. The order remained largely unchanged with the favourite looking more relaxed and composed as the race progressed.
Tribal Dance, who had drifted from a call of 13-20 to start a generous 12-10,  moved forward smoothly as the field came for home, with Blaze Of Fire shortening his stride as the exertion of leading for much of the way took its toll. A few were running on at this point, including Joey Ramsden's Crown Of Gold, who plugged gamely away down the inside.
In the meanwhile, Tribal Dance had exerted his undeniable supremacy and Byleveld had time to glance behind him as his mount won under a hands and heels ride by a margin of 2,75 lengths, that probably flattered the opposition. His winning time was 151,80 secs. And he was yet another feature winner for the late Roy Eckstein.
The visiting contingent didn't have it all their own way in the final analysis. The promising local Indian Hawk showed he stays and finished best of the rest to run second, while Mitch Wiese's Forest Digger confirmed his earlier promise by staying on for third. The next closest Cape challenger was Justin Snaith's Why Worry who dashed through late for a 3,50 length fourth. Crown Of Gold was just off them and he will still win his races.
Tribal Dance's trainer Vaughan Marshall has more streaks of grey on his educated head every time he steps up to the winner's podium but he can do little wrong and is enjoying the season of his life. His trip back to Port Elizabeth was a rewarding sentimental canter down memory lane, as he once operated a yard in the Windy City under the management of a promising and feisty young Assistant trainer by the name of Joey Ramsden.
In the space of just over a month Marshall has won the Gr3 Strelitzia Stakes with Valdivia, the Gr3 Godolphin Barb with Twitter, the Listed Betting World Somerset(he also went second with Half Moon Hotel)  and the Gr3 Cape Nursery with The West Is Wide, as well as the Gr2 Drill Hall Stakes with Tales Of Bravery. That is quite a haul of silverware. He is sitting on a veritable treasure trove of talent as we go into Champions Season.
The  Avontuur-sponsored MJ Byleveld looked  quite  relieved as they cantered back to the unsaddling enclosure and admitted after the race that even though his mount looked like a 'good thing' on paper, there was an element of pressure. He said that the colt had passed the test of the foreign track, the uncertainty of the sticky racing surface and the unknown of taking that first corner, with flying colours.
Byleveld added what we all could see. That Tribal Dance was learning how to race and was developing into a racehorse very quickly.
Tribal Dance is the first Stakes winner of Storm Cat stallion Tiger Dance, a full-brother to one of the world's great stallions, Giant's Causeway. Tiger Dance is owned by Georg and Dorothee Kirchner's Druk My Niet Stud in  Tulbagh, in the Boland Winelands.
The winner is out of the three –time winning Australian-bred Navajo Angel, a daughter of Vettori. His damis a granddaughter of Machiavellian.
He was bred by Geoff Armitage and this well-known family, who relocated to South Africa from Zimbabwe six years ago,  bought Navajo Angel  in foal to Tiger Dance for R35 000 at the 2008 Equimark Vintage Broodmare Sale.
James Armitage said that she appealed to them as a well conformed and very well bred individual.
It is notable that Tribal Dance's third dam, Navajo Princess, a sixteen time winner in the USA, produced English Horse Of The Year in 1987, Dancing Brave who won the Arc de Triomphe as well as Jolypha, who won two Gr1's in France and ran third in the Gr1 Breeders' Cup Classic.  They were both sired by Lyphard.
Described by Armitage as a tall, leggy, athletic youngster, Tribal Dance was sold for R40 000 at the National Two Year Old Sale and the breeder paid tribute to trainer Vaughan Marshall's keen eye:
"He just wasn't a 'wow' yearling and Tiger Dance – the full brother to Giant's Causeway –  wasn't a commercial stallion. He was an astute buy," said a thrilled James Armitage. You can sure say that again!
The Armitages , who stand Goldkeeper and Ashaawes at their Sandown Stud, still have Tribal Dance's mom and have had their share of the inevitable good and bad luck. " She aborted three years running, twice to Goldkeeper and once to Ashaawes. But this is a game of patience and perseverance and we keep trying, " said James.
Tribal Dance's career vital statistics reflect two wins and four places from his eight starts for stake earnings of R370 330. He went into this race off a merit rating of 105 and has been nominated for the Vodacom Durban July.
His trainer faces what many of his colleagues would deem an enviable poser. That is, to go the tempting July route or take the 'softer' traditional option of the KZN Derby two weeks before that with the talented three year old?
And Marshall obviously  won't  be looking to have Tribal Dance bump the likes of the older lads like Tales Of Bravery or the promising Top Seller. One  'T' after the other.
All that alliteration and talent makes it a pleasantly tough call though.
Result:
E-Cape Derby (SAf-G3) (5/13)
Arlington, South Africa, May 13, R350.000, 2400m, turf, good, 2.31.80 (CR
2.27.00).
TRIBAL DANCE (SAF), 58.0, b c 3, Tiger Dance – Navajo Angel (AUS) by Vettori
(AUS). Owner R S Eckstein; breeder G J Armitage (SAF); trainer V H Marshall;
jockey M Byleveld (R218.750)
Indian Hawk (SAF), 58.0, b g 3, Black Minnaloushe – Indian Squaw (SAF) by Al
Mufti
Forest Digger (SAF), 58.0, b c 3, Classic Flag (SAF) – Gold Forest (SAF) by
Forest King (SAF)
Margins: 2¾, nk, ½ 
Also ran: Why Worry (SAF) 58.0, Crown Of Gold (SAF) 58.0, Poulnabrone (SAF)
58.0, Tiger's Smile (SAF) 55.5, Blaze Of Fire (SAF) 58.0, Sunny Spain (SAF)
58.0, Lord Badger (SAF) 58.0, A Boy Named Sue (SAF) 58.0, Can Do (SAF) 55.5,
Act Of Supremeacy (SAF) 58.0
‹ Previous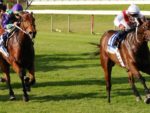 Image Wins The Duel