An all-Polytrack nine race card from Singapore on Friday and at the half-way mark of the 2012 season the race for the trainers' premiership looks an absolute thriller.
So while Joao Moreira wrapped up the jockeys title well before he knocked up his 100th winner a couple of weeks back, the trainers race is tight with only a couple of wins separating the top three.
Laurie Laxon, six-time winner of the prestigious award, sits on-top with 39 winners but gets a good chance to add to his tally with KARMA DANCER (race 1) and the promising FULL TOSS in race 5.
Both look strong chances for Laxon with PRECISELY some hope to upset the favourite EMERALD HILL in race 7 and GEORGE an each-way hope for the affable Kiwi handler in the lucky last.
Michael Freedman – who is enjoying a stellar year at Group level courtesy of stable star SUPER EASY to name just one – is one behind Laxon on 38 winners.
But the stable is having a quiet time of late; highlighted by only two runners on tonight's card with BIEBER (race 5) an each-way hope at best.
Local trainer, Leslie Khoo, is enjoying a terrific year and sits outright third in the premiership with 37 wins to his name.
His chances tonight include the newcomer, NARUTO (race 2) but it is his two-pronged attack in race 8 – PERFECT KID and RICH BORN – that should see him knock in a winner and keep the pressure on Laxon and Freedman on the trainer table.
And while John O'Hara has just 14 wins to his name and sits 19th in the 2012 trainers premiership, he looks to have some excellent winning hopes tonight and a hat-trick of winners – ABASTOR (race 2), FLASH GIFT (race 3) and EMERALD HILL (race 7) – is on the cards.
.
Best Bets; FLASH GIFT (race 3, win), EMERALD HILL (race 7, win), JET ACE (race 9, win).
Bankers for Jackpots: Race 6 (1, 6, 11 and 13), race 7 (3), race 8 (2 and 8) and race 9 (1, 2 and 3).
.
Race cards and Larry Foley's synopsis follows and for updates on all runners go to
www.kranjiracing.com
Please note the odds listed are "reference odds" only.
.
Race 1
Selections; 3 KAMAR DANCER – 10 GOOD DAY – 4 RISING SHADOW – 8 HAPPY ENDING
Back on the Polytrack, with the usual difficult Class 5 to start proceedings. They put plenty on KAMAR DANCER at his initial foray into Class 5 and he did not miss by much, from the ace draw he should get the run of the race and with Danny Beasley to steer, makes considerable appeal. RISING SHADOW won a similar event two starts back, he is well drawn and with Alan Munro on-top should be on the pace for a long way. GOOD DAY is a tough old fellow who finds himself back on the Polytrack. He is racing well and has won four times at 1200m and could be excellent place value. SWITCH DOUBLEMISTY showed plenty last start and was unfortunate to have to race wide for a large part of the journey. He is better drawn here and goes well for Zaki and whilst 1200m is a stern test, he should be in it for a long way. HAPPY ENDING is way down in the ratings and it is a long time since he won but at his best he would be right in this, and the enigmatic ZAC WARRIOR is another that could show up having a strong rider in Ivaldo Santana in the saddle. ANG PAO KERETA and STORM ARC are Class droppers who could surprise and do not leave SURGESS out of the exotics – he won first-up over this course and distance at long odds back in December, had one start in January and is now resuming.
.
1 ACE AMEIDA ** Resuming, best form is over longer trips but has some speed and could show up while fresh in this company. 33
2 ANG PAO KERETA ** Class dropper, only win was over 1100m on the Polytrack, recent runs have been over unsuitable distances but must be taken on trust. 20
3 KAMAR DANCER *** Good effort last start when well supported back in this company. Could go one better here from the ace draw. 3.10
4 RISING SHADOW *** Resumed from a short break last start and raced wide, won a similar race to this two starts back and makes plenty of appeal from the good barrier on what looks his better surface of late. 4.00
5 STORM ARC ** Dropping into Class 5 and only win was on the poly over this distance, but recent efforts very poor. 25
6 DOMINANT FORCE * Resuming and wants it much longer. 50
7 SURGESS ** Resuming and won first-up last time over this course and distance at huge odds. Keep safe. 16
8 HAPPY ENDING *** Hasn't provided a happy ending for nearly two years, but capable at his best and will win in this Class sooner than later. 16
9 SILENT POWER * Seven runs for no result on the poly, much happier on turf. 20
10 GOOD DAY *** Tough old boy will be running on strongly, in good form and has won 4 times over 1200m on the Polytrack. Good place value. 6.00
11 ZAC WARRIOR ** A strong rider in Santana will help, enigmatic type who gets back and can run on when in the mood. Best form has been on poly. Upgrade to blinkers. 16
12 SWITCH DOUBLEMISTY *** Still a maiden but just missed last start after travelling wide. 1200m may be a challenge but goes well for Zaki and should be in the firing line for a long way. 5.50
13 MY NEW MAN * Has had excuses last two starts and previous form was solid. Could improve if he gets a start. 25
14 ROYAL BRAT * Probably wants it longer. 33
.


Race 2

Selections; 1 ABASTOR – 6 SPICY CAT – 9 DIAMOND ON THE BAY – 3 INTO THE STORM
A weak Initiation gives ABASTOR a long-overdue chance to knock in a win. The 4YO has had a number of health issues in the past, but this time in has been racing consistently and narrowly missed out last start. He would probably like it a little longer but from the good alley should be able to sit not far off the speed and finish off strongly. SPICY CAT was well supported at his first outing and made a mess of the start. He is drawn out wide but showed he possessed speed and could well be able to lead or get near the lead. DIAMOND ON THE BAY likewise is possessed of abundant speed and should be in the race for a long way. INTO THE STORM is an interesting runner being a raced maiden formerly from New Zealand. Trainer Mark Walker has given him a couple of soft trials and he could show up at his Singapore debut. NARUTO from the Leslie Khoo stable has looked comfortable in its trials and could go well first up- a market watch is in order. Others that could race well include STARSTRUCK, and CALIFORNIA KID.

.
1 ABASTOR *** Generally runs an honest race, perfectly drawn and gets his chance to break through here after close up effort last start. 3.00
2 STARSTRUCK ** Forget last start as he missed the kick hopelessly and trailed the field, previous effort on Polytrack was encouraging and could show up with senior rider taking the mount. 33
3 INTO THE STORM *** Raced maiden from New Zealand. Trialed quietly but looked OK and engagement of Vorster indicates a forward showing may be expected. Watch market. 8.00
4 CALIFORNIA KID ** Speedy type who fades, went well enough in Class 5 last start to suggest some chance in this field. 12
5 NARUTO *** Nice type by Darci Brahma who has looked comfortable in his trials. From astute stable. Watch market. 7.00
6 SPICY CAT *** Was heavily supported at first start and suffered severe interference at the start. Blinkers off and badly drawn but has ability. 4.25
7 GOODVOLLEYMSMOLLY * Struggling. 33
8 BLUE LAGOON * Hasn't shown up in two starts and drawn wide here. 33
9 DIAMOND ON THE BAY *** Speedster who will benefit from good draw. Should be in or near the lead for a long way. 5.50
10 THEOLOGY * American-bred who has not shown up in trials but should handle the Polytrack. 33
11 REAL STEEL * 2YO who will benefit from the experience. 50
12 TOMORROWS DREAMS * 2YO by Snippetson, a speed sire, but has shown little so far. Later. 50
13 EXPECTATION * Has not lived up to them so far. 50
14 BREATHOFSUCCESS * No success so far. 50
.


Race 3

Selections; 8 FLASH GIFT – 2 SHINING GLORY – 6 ANAVILA – 9 PERFECT TIME
FLASH GIFT smashed them on debut and is the one to beat again. He is drawn a little wide but possesses enough speed to get across and get a sit on the pace. If he can produce the same kick as last time he should be too strong. SHINING GLORY has been running in far higher Class and whilst this is on the short side, he has winkers added and might just try to hold his position early from the ace draw. The last time he had winkers in this class he won by leading. With a sizzling pace expected early from the inside and out, the tempo may just suit a tough horse like ANAVILA. The flashy grey put in a poor run last time but had excuses not to finish closer and his previous form was consistent and he should be running on at the end. Of the rest, I think PERFECT TIME has plenty to offer in Class 4 and might be value. DANZIG ROCKET has won three of these 1000m flutters and with CS Chin's allowance helping, from his good draw should be right on the speed and prove hard to beat at the end. THAT'S GOLD put in a super first-up effort last start and with the good draw and little P Dellorto's claim should be a good chance again. BRIAN should be improved by his first-up run and even though it is too short, old KAEPEEYAI will run on bravely at the finish but might just be looking for Class 5.

.
1 BRIAN ** Needed the run when resuming. Consistent in this Class last time in and should be improved. 20
2 SHINING GLORY *** Winkers go on and drawn the ace. Significantly down in grade and will be hard to run down in uses the gate to full advantage. 6.50
3 DANZIG ROCKET *** 1000m specialist well drawn who will be near the lead all the way. Top chance with CS Chin's allowance. 5.00
4 MAGIC MOMENT * Won two starts back over a mile on turf. This looks too short. 33
5 THAT'S GOLD *** Only win was at this distance on the Polytrack, but has been placed on 8 other occasions from only 11 starts. Super first-up effort and bound to be prominent again with little P Dellorto steering. 6.50
6 ANAVILA *** Had excuses not to finish closer last start and while not his best effort he is usually right in the mix. 14
7 MOON'S FAIRY * Goes best when ridden near the lead, fair run last start but prefer others. 25
8 FLASH GIFT *** Very impressive debut makes him the one to beat here. 2.40
9 PERFECT TIME *** Won his maiden well three starts back and his two subsequent efforts keep him under notice. 8.00
10 SOUL COMMANDER * Racing too poorly to consider. 100
11 KAEPEEYAI * Veteran who is usually running on strongly in these, and whilst this is too short will keep them honest very late. 33
12 SAMURAI KID * Can be competitive but needs Class 5. 50
.


Race 4

Selections; 5 HEARTS – 3 BE LUCKY – 1 DESTINY ACTION – 6 HELLOLO
An ordinary maiden field faces the starter over 1100m. HEARTS has been placed at 4 of his 5 starts on the Polytrack. He is perfectly drawn here and has Oscar Chavez as the pilot, he gets a very strong chance to break his duck and give Steven Lam a welcome winner. BE LUCKY had major problems at his last start and was pulled up, he has subsequently trialed satisfactorily, the tongue tie goes on and if he runs up to his first two starts, despite his wide draw, he should be hard to beat. HELLOLO has plenty of speed, and raced far more tractably at his last start and with Vorster to steer he should be right in the finish. WAIRAKEI was heavily supported at his first start and failed; he has been thereabouts at his two subsequent efforts and gets his chance in this field. IMPAYLER showed plenty of speed last start from a wide draw when blinkers added, and from the better alley could give a lot of cheek. OASIS CHARM has some ability and it would not surprise to see him go well first-up. Amongst the disappointments PASHA KHAN has had many chances being placed 6 times from 23 starts, and the less said about DESTINY ACTION the better – he once finished not far behind MR BIG but since then he has been supported on numerous occasions and failed to deliver – he now has barrier one and gets his (last) chance on Polytrack.

.
1 DESTINY ACTION *** Hasn't lived up to his 2YO hype but appreciates first up run and can show up with claim and gate one a factor. 8.00
2 OASIS CHARM * Resuming and drawn wide, has some ability but would probably like longer. 25
3 BE LUCKY *** Has had two trials since dropping out hopelessly last start. Tongue tie applied. Previous form was good and if switched on could go very well despite wide draw. 4.20
4 WAIRAKEI ** Well backed first and failed, two subsequent runs have been average but has a chance in this ordinary field. 10
5 HEARTS *** Has been placed in four of five runs on the Polytrack. Strong effort last start and with Oscar Chavez to steer from the good alley has an undeniable chance. 3.50
6 HELLOLO *** Put in his best effort last start after resuming from a short spell. Has speed and if Vorster can get him to race tractably has a good chance. 5.00
7 JERAM ROSE WOOD ** Did it super tough last start and run better than the result. Keep safe from gate four at value. 20
8 HOPEUDONMIND * Resuming. No. 50
9 MOSHPIT MILLY * Resuming after bleeding attack. No. 50
10 GLOBAL ZERO * A zero. 50
11 IMPAYLER *** Showed plenty of speed from a wide alley last start when blinkers added and boxed on. Could run a cheeky race. 10
12 PASHA KHAN ** Has had a lot of chances and was beaten favourite last start. Has to be considered again, but only for the brave. 10
13 YAKUZA MOON * No. 100
14 ZENA * Unlikely. 100
.


Race 5

Selections; 8 FULL TOSS – 5 MARTINCHO CAT – 4 FORGIVEN – 6 BIEBER
A good race with some potential Derby contenders engaged. Laurie Laxon holds the trump cards with the very promising FULL TOSS looking to make it three wins in a row and get a few valuable rating points. He is perfectly drawn, should be able to lead and with Danny Beasley steering is every chance. The stable-mate FORGIVEN is a solid performer, is coming off a last start win and Alan Munro should give him a good ride. MARTINCHO CAT looked a good thing beaten last start and with blinkers added for the first time and the in-form Barend Vorster to steer, he should race well. SAMURAI PHOENIX and BIEBER are coming back in distance and that certainly should suit the latter. And whilst JOHN OF ARCH has a big weight, he is a grand horse in form and cannot be ignored. KNIGHT SCORPIO is coming off two wins and whilst this is much harder he has speed, no weight and likes to lead, he could be serious nuisance value.

.
1 JOHN OF ARCH *** Has plenty of weight and has never won beyond a mile, but as a winner of 10 races and racing in fine fettle, he can never be discounted. 5.00
2 ACE ALPHABET * Ordinary effort last start and hard to have. 33
3 SAMURAI PHOENIX ** Racing consistently without winning. Drops back to 1700mand in the mix late. 12
4 FORGIVEN *** Won well last start and a possible Derby contender. Normally puts in an honest effort. 4.50
5 MARTINCHO CAT *** Blinkers on – can be mood – but on his day hard to beat. Trialed well recently, loves the Polytrack and must be strongly considered. 4.50
6 BIEBER *** Found it all too tough late over 1400m last start but form prior has him right in this. 10
7 CHAMPAGNE NEEDED * Has done nothing since coming to Singapore. Unlikely. 50
8 FULL TOSS *** Promising horse on the way up and a possible Derby contender. Well drawn, could lead and should race well. 3.00
9 KNIGHT SCORPIO ** In great form but this is tougher. 14
10 CHEVY * Honest horse but wants something easier. 50
.


Race 6

Selections; 11 KIM PEGASUS – 1 REAL GOODMAN – 6 LUCKY BANKER – 10 REDPACKETDAY
He might have a rating of just 25 but KIM PEGASUS looks well placed to win this race. And as ridiculous as it seems with only one win to his name (back in July 2010), he might come in for support on some recent good Poly form with in-form hoop, Barend Vorster, an added bonus. The fact the race does look a raffle is also in his favour but obviously hard to be confident given his previous record. The likely favourite, REAL GOODMAN, has drawn the widest but still looks a very strong chance. He was disappointing with support not to break-through from gate one last start but his recent record from wide gates easily good enough to win this. Of the rest with winning hopes, LUCKY BANKER did it tough last start and the run good enough to suggest he is ready to show his best (and his best wins a race like this) with REDPACKETDAY, PRINCESS JANA and SUPER VELOX all in the mix. The first emergency, NINTH AVENUE, is a serious winning hope if he gets a start and might even come in for big support – watch.

.
1 REAL GOODMAN *** Disappointing with every chance last start with heavy support but wins soon and happy to follow from widest gate. 3.00
2 PRINCESS JANNA *** Unlucky not to have won this year and looks every chance again – follow. 4.00
3 SUPER VELOX *** Did it tough enough last start to place in maiden company to think he is in the mix in this field. 5.00
4 ZAC STAR DESTROYER ** Has been disappointing since dropping to Class 5 but pay to keep safe with switch to senior hoop. 20
5 THANKSGIVING * No. 100
6 LUCKY BANKER *** Last start better than the result after tough run and looks ready to show his best. 12
7 SANTISIMA TRINIDAD ** Resuming and might be better over longer with market best guide. 33
8 GET IT ** Form obviously good before shocker last start with support but better over longer so take on trust. 20
9 MR BEAN * Blinkers didn't help last stat and hard to have on that effort. 50
10 REDPACKETDAY *** Back on the Poly a good move and looks an each-way hope in this average field. 12
11 KIM PEGASUS *** Back on this track a significant move as last couple of Poly runs good enough to win this. 7.00
12 KING OF LOTUS ** Another whose recent efforts over this trip/surface good enough to include somewhere. 20
13 NINTH AVENUE *** Showed last start with same hoop he is ready to win in this type of race – big show. 5.00
14 COFFEE KID ** First up run OK and can include in exotics if he gets a start. 20
.


Race 7

Selections; 3 EMERALD HILL – 9 BM WIN – 6 PRECISELY – 2 MIGHTY CREATION
All things being equal it's hard to see EMERALD HILL getting beaten here. The American-bred 4YO has taken all before him winning at both Singapore starts and no reason to think he doesn't make it a hat-trick of wins today. Obviously he loves the Poly – a good trait from American-breeds – and his last start win over this trip was super with gate one a bonus today. He is in well at the race conditions as well – only BM WIN gets in better – with the only concern being a prohibitive starting price. With a short quote in mind for EMERALD HILL, the race does look a good exotic option with only three genuine place hopes. As mentioned BM WIN is in best at the race conditions and has the form to keep the favourite honest with PRECISELY and MIGHTY CREATION also in form and in good enough at the weights to figure heavily in the exotic mix. The only other horse worth mentioning on form is HUMOR TOWN but he is a risk giving weight to the top four picks.

.
1 FUKU'S PET * Solid but Class 5 beckons. 50
2 MIGHTY CREATION ** Strong win in Class 4 company last time out and have to respect on winning form with similar weight. 8.00
3 EMERALD HILL *** Smashed them last start similar affair and again in well at the race conditions – the one to beat. 1.50
4 HUMOR TOWN * A nice horse to follow on this surface but giving weight to a few smart ones at the race conditions not in his favour. 20
5 WHIRLRUNNER * In badly at the weights. 50
6 PRECISELY ** Won well last start and in good enough at the race conditions to think he gives this a shake. 5.00
7 XIN TREASURE * Solid in Class 4 company last start but up against some slick types here. 33
8 THE CARDINAL * Solid on the Poly but needs it easier than this. 33
9 BM WIN ** Turned some good form into a well-deserved win last time out and very well placed here with just 51.5kg. 8.00
10 LOYAL STEED * Reassess suitable Class 5 race. 100
11 MY SACRIFICE * Blinkers off and happy to wait for Class 5. 100
12 MONTE CRISTO * Wait for longer and easier. 100
.


Race 8

Selections; 2 PERFECT KID – 8 RICH BORN – 1 TAKESHI – 6 ZAC GENERATION
Leslie Khoo – a trainer who knows how to land a good punt – has a two-pronged attack in PERFECT KID and RICH BORN and happy to follow the stable. And the tote might be the best guide to which one gets the chocolates as both look well placed with senior hoops, good recent form and nice gates. The early pick (just) is PERFECT KID given he showed plenty late over a shorter trip last time out and RICH BORN was disappointing as fave at his last start; but not much between the two. The field has depth though and TAKESHI has had a nice freshen up so he should be able to overcome the wide gate and be in the mix throughout with the proverbial blanket thrown over the likes of ZAC GENERATION, DIAMOND QUALITY, KNIGHT'S PARADISE, AUDIO FRIEND and MY WAY. Go wide in exotics.

.
1 TAKESHI *** Freshened for this after a great run of form and good enough to win from wide gate. 6.00
2 PERFECT KID *** Usually shows plenty late so step up in trip ideal – watch for support and can win. 6.00
3 ALL THE BEST ** Battled away for a place last start over same trip but this field has more depth. 20
4 DIAMOND QUALITY *** Form reads badly but home nicely last start in maiden company and might enjoy this trip – keep safe. 20
5 KNIGHT'S PARADISE *** Last run better than the result and happy to think he plays a role in this finish with luck from wide gate. 12
6 ZAC GENERATION *** Gets well back but goes very well late – some hope if race run to suit. 12
7 AUDIO FRIEND *** Last start over 1200m good enough to suggest he goes close here with gate one a factor. 5.00
8 RICH BORN *** Very disappointing last time out with support but happy to follow with senior hoop on strong win two starts back. 3.50
9 TRIPLE GOALS ** Always thereabouts for exotics. 20
10 MY WAY *** Eye-catching run last start and pay to keep following in what is a suitable race. 7.00
11 JUMBO CAN * Struggled last couple. 100
12 FLEET FOOT * Not a million miles away last start but skinny end of exotics at best. 100
13 STAIRWAY TO HEAVEN ** Disappointing not to show more similar affair last time-out but worth another look at value. 50
14 TIEN CHAI ** Winkers on and certainly in the exotic mix if he gets a start. 33
.


Race 9

Selections; 3 JET ACE – 1 PERWIRA – 2 INDULGE – 8 GEORGE
A lot to like about JET ACE'S form since winning on debut back in March and happy to think he can get a result for followers in the lucky last. The NO EXCUSE NEEDED 3YO has only had the one bad run (with excuses) at five career starts and his last two efforts suggests he goes mighty close from gate two. The good gate is important as one of his biggest dangers, PERWIRA, has drawn the outside and that could be the difference. In saying that, PERWIRA is in form and certainly wins a race like this soon. INDULGE showed last start he is a horse to follow and no reason to think he isn't in the mix with come-back jockey, Richard Lim, in the saddle. The three mentioned should dominate the betting but worth keeping GEORGE and KINGTRAP safe at value.

.
1 PERWIRA *** Form good enough to overcome widest gate and be right in this finish. Can win. 3.00
2 INDULGE *** Bold effort last start and looks ready to win a race like this. 4.00
3 JET ACE *** Beaten by a nice one last time out and looks suited in Class 4 to win with gate two in his favour. 3.00
4 NEW BEGINNING ** Late NEW TARGET. Resuming and form looks hopeless but had ability and might improve for the break. 50
5 OUR FRIENDLY DIVA ** Also resuming and while form was just fair last campaign, she has pace and wins a race like this on her day. 33
6 KINGTRAP *** Last start OK but showed two back why it pays to keep safe each-way at value. 20
7 CAIYAYA * OK similar affair three starts back but that may have been an anomaly. 50
8 GEORGE *** Fair first up effort suggests we have a second look today with Vorster on-board from gate one. 18
9 GOOD BOSS ** Races handy and keeps a few honest in the skinny end of exotics. 20
10 TENUPONTEN ** Wide gate an issue in this field but in form and pay to keep safe. 10
11 FOR YOUR EYES ONLY ** Step up in Class after winning last start and this might be a tough ask. 33
12 AFFIRMATION * Will be running on but this should be too short and might be looking for Class 5. 33
13 SHINKANSEN * Not the worst in this type of race but another who might appreciate something easier. 100

.
‹ Previous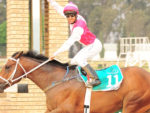 On Wings of Winners