THE proposed acquisition of horse racing business Gold Circle Western Cape by Phumelela Gaming and Leisure was not the product of an "open, transparent or competitive process", says Charles Savage, CEO of JSE-listed Purple Capital.
As reported by Business Day Live, Mr Savage said in a witness statement before the Competition Tribunal that he approached Gold Circle to indicate his interest in making an offer for the entire business, but was told he was too late.
His proposal included the restructuring of Gold Circle's business in the Western Cape and KwaZulu-Natal that would bring in new investors, yet control would have remained with Gold Circle.
Mr Savage said he was even prepared to make two different proposals to the Western Cape and KwaZulu-Natal when it became clear that the two businesses wanted to go their separate ways.
The tribunal is hearing a review application by Kenilworth Racing and the Thoroughbred Horseracing Trust for the approval of their acquisition of Gold Circle's Western Cape business.
The Competition Commission, after investigating the transaction, found that Phumelela was behind the transaction and approving it would have entrenched the listed group's dominance in the horse racing administration and gaming industry. It subsequently prohibited it.
The merging parties denied that Phumelela would be controlling the business, saying it would merely be responsible for its administration.
Mr Savage said Phumelela, and to a lesser extent Gold Circle, had enormous influence over those who were dependent on the industry, including the owners, breeders, trainers and grooms.
The degree of concentration in the horse-racing industry was already extremely high, and would raise it even higher if the transaction was approved by the tribunal. Mr Savage also claimed Phumelela was behind the transaction, seeking to obtain control over Gold Circle Western Cape.
Mr Savage said the business could be made "considerably more attractive and competitive by increased investments in betting stakes and facilities". Purple Capital was engaged in commercial discussions with Gold Circle, which, if successful, would see a consortium led by Purple Capital making investments in the stakes and facilities over the next few years.
Mr Savage said in his witness statement Phumelela was not the only party interested in Gold Circle's business in the Western Cape.
(With thanks – Business Day Live/ bdlive.co.za)
‹ Previous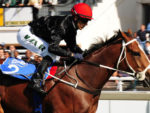 Under The Stars