South Africa's leading weight-for-age race for fillies over 1800m will be sponsored by one of the country's top stud farms. The R1 million Gr1 Maine Chance Farms Paddock Stakes will be run on 12 January 2013, on the same afternoon as South Africa's premier weight-for-age mile, the Gr1 L'Ormarins Queen's Plate.
Maine Chance Farms owner, International breeder Dr Andreas Jacobs made the announcement this past week and was obviously thrilled with his operation's coup in securing this high-profile and top-class big race  sponsorship :
"We are extremely proud to be associated with this prestigious race which we believe is the leading weight for age race for fillies over 1800m in South Africa. It is our intention to support the South African Thoroughbred Industry wherever possible, " he said.
The Paddock Stakes has a rich heritage in South Africa and has been won by some great fillies that have gone on to become matriarchs at stud.
The first running of the Paddock Stakes was won by Sun Lass. She became a hugely influential broodmare, whose descendants include July winner Yataghan and champion fillies In Camera and Consensual.
In 1976 the race was won by Party Time.
A top-class racemare who also won the Cape Fillies Guineas, Party Time became one of the tap root mares in the South African stud book. Her descendants include July winner Trademark, SA Oaks victress Lambarina as well as Gr1 winners Let's Rock 'n Roll, Morisco and Fillies Guineas winner Sally Bowles.
During the 1970's and 1980's, the Paddock Stakes was dominated by champion Terrance Millard. Millard won the race on 16 occasions, most notably with champions Taima Bluff, Olympic Duel and Tecla Bluff.
Four great fillies have won the Paddock Stakes. This hallowed group includes Country Cousin, Renounce, Night Bird and Olympic Duel. Among the great racemares to have captured the Cape's showpiece race are Renounce, Tecla Bluff, Petrava, Crimson Palace and Dancer's Daughter.
In 2001, Hoeberg became the first Paddock Stakes winner produced by another Paddock Stakes winner, when she emulated her dam Petrava in winning the race.
A number of world-class fillies have been unable to win the race, with the likes of Sun Classique, River Jetez, Ilha Da Vitoria, Wainui and Imperious Sue amongst those beaten in the race.
Maine Chance Farms has a proud history of producing the champions in South Africa and the farm's consistent performance every season stands as a proud tribute to its founders, the late Graham Beck and Godfrey Gird.
The farm won five consecutive breeder's championship titles from 1997 to 2002.
Described by owner Dr Andreas Jacobs as one of the 'most beautiful farms in the world', he said on the  acquisition of Maine Chance in 2002 that he hoped that the family's three generations in racing and breeding would add value to  the respect for tradition and the professional operation of Maine Chance.
The Jacobs family took over 80 broodmares from Mr Beck, and stood their homebred Silvano (Ger) as their first stallion. The 2001 Horse of the Year, he  stood his first season at stud in Germany in 2002 at a fee of 7,500 Euro. Silvano was an unbeaten 2 year old who progressed into an international superstar, renowned as much for his toughness and constitution as his indomitable will and extraordinary ability to accelerate in an instant.
His best trip was the international distance of 2000 metres at which he excelled in winning three Grade 1 events in three different countries.
And Silvano has been a smash hit at stud, producing 56 international stakes horses and 22 international Gr1 performers, including the likes of Vodacom Durban July winner Bold Silvano, Gold Cup winner Aslan, and the top sorts, Bravura, Seal and the 2010 Sansui Summer Cup winner, Flirtation.
Maine Chance's stallion band is made up of Black Minnaloushe, Lateral, Querari and the newly arrived Gitano Hernando.
The Jacobs family have been breeding racehorses for over fifty years and Andreas' Grandfather Walther J. Jacobs, founded the Gestut Fahrhof near Bremen, Germany in 1960 and developed it into an internationally recognised and respected stud farm.
One of the foundation mares, Suncourt (GB), produced Surama in 1970, who was mated to Literat to produce SURUMU, a Champion Racehorse who became the world's most influential stallion from the Dark Ronald male line. Six times Champion Sire, Surumu has also been twice Champion Broodmare Sire and his name figures in most of the pedigrees of the Champions bred at Fahrhof.
This includes the homebred Champion son Acatenango,whose 16 wins in Germany and France include 7 Grade 1 events and whose progeny include the Japan Cup winner Lando. Surumu is also the dam sire of 2002 German Champion Sire Lomitas,sire of the magnificent Silvano.
On the passing of Walther Jacobs,  Andreas took over the mantle of Chairmanship of the family owned Fahrhof, whilst his father Klaus acquired Newsells Park Stud in England set up one of the world's most progressive commercial breeding operations just outside Newmarket.
Klaus Jacobs died in in September 2008, after succeeding in developing Newsells Park Stud into one of Europe's most successful commercial breeding operations. He was an avid student of pedigrees and took an active interest in matings and the development of young horses. His policy was to invest in the best, with most of his broodmares boasting successful racing careers.
Andreas Jacobs is now Chairman of Newsells Park Stud and their recent successes in the sales ring are an indication of a healthy commercial future.
Maine Chance is in very good hands for the next generation.
And the prestigious race every breeder wants to win carries a top brand name too.
‹ Previous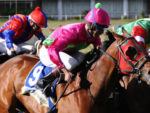 Elegantly Wasted