Justin Snaith has some serious competition! Western Cape horseracing welcomed a youthful new fresh-face to the training ranks at Kenilworth on Wednesday when 23 year old Adam Marcus saddled the first winner of his short career.
Probably the youngest registered trainer in South Africa, with the most highly-qualified Assistant in the world to boot, Adam Marcus has burst onto the scene with a low-key first winner and promise of plenty to come.
Reminiscent of a younger Snaith, with his modern relaxed hairstyle and the natural confident swagger of youth, Adam has both the pedigree and lifetime guidance from a master to make the grade in an unforgiving sport.
And the refreshing unbridled enthusiasm was brutally evident as Adam screamed and urged Karis Teetan home, with the Mauritian-born jockey riding a cracker to get the Ashaawes filly Priceless Jewel up to win the third race at Kenilworth, a Maiden Plate (F&M) over 1200m. Priceless Jewell was having her third start and was decribed as 'highly promising' by her trainer.
Starting at 22-10, she powered through late to hold the improved Alpine Cat to half a length.
The winner was bred by the Armitages and is owned by the well-known breeding family in partnership with Basil Marcus. She is out of the seven-time winning Kahir Almaydan mare, So Royal.
Adam may find that he will be known as 'Basil's son' for a good few years to come. But that's a small price to pay for an education and grounding that is priceless.
His famous Dad rode with great success in the Cape and was the first apprentice to ride 100 winners in a season. That was on a big grey sprinter called Loud And Clear for Major Wyatt – best known as the owner of a really good horse called Force Ten. Basil also won the local jockey championship before coming out of his time  while riding for the late legend, Theo De Klerk.
Marcus carried the SA flag with pride with international riding stints that included seven jockeys' titles in Hong Kong.
He also trained with great success from Milnerton from 2004 to 2011 before a short stint in Singapore.
While he kept a low-profile on Wednesday, the proud Dad is on record as saying the following:
"Now we've come back to Cape Town he's the young gun and I'm helping. I had 120 horses when I trained here, but Adam's starting with less than that. We've got a couple of nice two year-olds and some lovely yearlings, so we're hopeful of doing well."
Best of luck Adam!
‹ Previous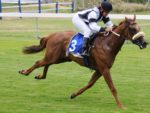 Just Like Dad