Donald Trump once said that everything in life is luck. That may well be so, but Yogas Govender's Razzle Dazzle Rose probably deserves more credit for a gutsy win, than a string of excuses for those beaten behind her in Saturday's R150 000 Gr3 Victress Stakes run at Kenilworth.
Feature races are won and lost on split second decisions, preparation and jockeyship.
Despite the undeniable advantages of the best draw and the run of the race, jockey Bernard Fayd'Herbe and trainer Yogas Govender deserve every credit for a superbly conceived victory in Saturday's 180m supporting  feature.
The most frustrating aspect for punters was to hear the trainer say afterwards that his brilliant heavyweight jockey was 'confident of winning' after a workout during the week. At 8-1, that is the sort of information most of us would prefer to have heard before the race.
The race was run at a good pace with Craig Du Plooy taking Young Caesour up to lead the stampede from Cash Register, Rush For John and Beloved Betty.
At the 1200m marker the  Snaith duo of Cause To Believe and Only Achiever  went to track Young Caesour  and the pace upped a notch or two as the three charged ahead.  At this stage Queen's Command and Dubai Gina were at the rear.
Only Achiever led into the home straight from Young Caesour, while Rush For John and Cash Register were making up ground down the middle of the track. Ennion's Europe To Africa also looked to have some juice in the tank as she slipped down the inside rail into a threatening position.
At the 300m marker Van Niekerk unleashed Cash Register and she looked to be travelling very well with Razzle Dazzle Rose in tow. Her lead was shortlived though, as Razzle Dazzle Rose bounced a half length clear with Beloved Betty and Dubai Gina rushing at her.
Fayd'Herbe had timed his run well and the Govender filly held her advantage to the line, despited Beloved Betty's great effort.
Razzle Dazzle Rose won at 8-1 by a head in a time of 111,66 secs.
The consistent and game Glen Kotzen-trained Beloved Betty showed that her great run in the  Algoa Cup at the end of November was no fluke when she powered on late to be narrowly beaten into second place.
Vaughan Marshall's Dubai Gina came from near last into the home straight and it was hardly surprising that she found traffic problems in the process. She had to switch in late, which cost valuable ground and she stayed on well for third and 0,6 lengths off the winner. Whether she would have actually gotten past Razzle Dazzle Rose with a clear passage is an academic question that won't be answered in this lifetime.
In a blanket finish the tote favourite Frequent Flyer crept into fourth from near last, just ahead of Cash Register and last year's winner, Super Elegant. Interestingly, the latter had beaten the subsequent Gr2 Calulo Services Premier Trophy winner Beach Beauty in this race in 2011!
Trainer Yogas Govender said that Razzle Dazzle Rose had produced good work during the week and that her last win was a good one as her jockey Aldo Domeyer had not pulled the stick on her. He said that she had beaten a 'competitive  field' here.
Jockey Fayd'Herbe conceded that the good draw made a huge difference and that he had been just a little bit concerned as Razzle Dazzle Rose had a tendency to jump slowly.
Fayd'Herbe said that he had battled to find a horse to track down the home straight, but had followed Grant Van Niekerk on Cash Register. He said that the Jet Master filly had won with a little bit in hand, with one ear pricked and even strangely showing signs of running green.
The winning groom Lwandle was also on hand to collect his award.
Razzle Dazzle Rose is a Plattner home-bred, by Jet Master out of the Australian-bred  Last Tycoon mare Sydney Rose,  who carried the green, indigo and gold silks with distinction in her five wins.
While this was her first black-type credit and she has not featured at this level previously, Razzle Dazzle Rose nevertheless has an impressive record of 5 wins and 1 place from her 12 starts.
She will now be aimed at the Gr1 Maine Chance Paddock Stakes on L'Ormarins Queen's Plate day.
The opposition may well be looking for more excuses there again.
‹ Previous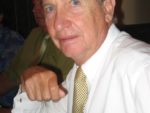 Cash Is King