The obviously unsound Royal Zulu Warrior made headlines when he returned from a 623 day rest to annihilate a smart field of sprinters in Tuesday evening's R200 000 Gr3 Lebelo Sprint run over 1000m at Turffontein under the lights.
The imposing and extremely handsome individual bounced back fresh and full of zest for his racing in his new stable and ran his seven opponents ragged in a cracking display at his first run over 1000m. There were a few wide-awake folk around too, judging from his fairly short starting price of 11-2.
Besides the fact that Royal Zulu Warrior showed no signs of being ring rusty or of the side effects of past joint problems and a 'few operations', it was expected by many that he would need more ground  – particularly if we recall that he was being touted as a future superstar and a July candidate early in his career!
The four-year-old gelding, by Vinery stallion Mossman from the New Zealand-bred mare Dark Blue, won his first three races on the trot when trained by Tony Rivalland in KwaZulu-Natal.
Rivalland had purchased him at the Magic Millions Sale after he had passed through the ring for a highest bid of $35 000 after failing his reserve.The Australians, always seemingly looking for that precocious streak of speed, were obviously not impressed by the immature backward colt.
Royal Zulu Warrior's sire Mossman won a Grade 1 over a mile as a late two-year-old and as a three-year-old was placed in Grade 1's from a mile up to 2 450m.
His damsire Wallenda won a Grade 1 over 2 000m.
However, his dam Dark Blue won four races over distances from 1 200-1400m. Royal Zulu Warrior had a half-sister called Beautiful Blue (Beautiful Crown) who ended up a two-time winner and raced at the end of her career for Mitch Wiese in Port Elizabeth.
Royal Zulu Warrior will be remembered by the more staunch punters as the horse that caused a rumpus at Scottsville in early November 2010, when making his original 'debut'.
The starter had utilised a hood to load him that day, but Royal Zulu Warrior had reacted sharply when pushed into a stall gate that was closed.
The jockey was dislodged and the handler let him go, which resulted in a loose hooded and effectively 'blind' horse.
A very brave course farrier Shaun Leslie was near the action and he had dived in and pulled the hood off the wildly charging Royal Zulu Warrior. Unfortunately this was only after the gelding had damaged a television camera and smashed the windscreen of a car.
Royal Zulu Warrior miraculously escaped serious injury and won first time out a month later at Clairwood.
Bred by Attunga Stud in the NSW Hunter Valley, his dam, Dark Blue (NZ) is a mare by the Mr Prospector line stallion Wallenda (USA) and is closely related to New Zealand G1 winners Ensign Enwart (Railway Handicap 1200m) and Prussian Blue (Bayer Classic 1600m).
All told, we are very pleased for loyal KZN-based owner Roy Moodley.
We would be reluctant to estimate the vet bills associated with his belief in this talented horse, but it just goes to show again that patience is a golden virtue in this game.
The Lebelo Sprint was a mere formality.
Paul Peter's Gold Site had cut the fractions ahead of the fancied Valberg, with Royal Zulu Warrior wide out and very relaxed. Jockey Zarl Zechner was mindful of the fact that the son of Mossman had come back fresh and let him enjoy it where he was comfortable.
At the 300m marker Royal Zulu Warrior came forward and despite drifting in streaked clear to hold the 40-1 Gold Site, while Valberg plodded into third.
Royal Zulu Warrior won by 3,50 lengths in a time of 55,82 secs.
Kom Naidoo assistant trainer Candice Dawson was teary eyed in the post-race interview as she explained that the gelding had always 'looked something special at home'.
Winning rider Karl  Zechner,  who rode a smart double on the night, was understandably thrilled after having put in a lot of the prep work.
The win must have given Zechner some pleasure as he was jocked off after winning first time out by half the racecourse:
"I keep telling people how good this horse is. He has just gotten better and better. Fair enough he has had his little niggley problems and needed to get his confidence back in the gates. But Candice (Dawson) has done an unbelievable job with him," he said.
Royal Zulu Warrior is a winner of 4 of his 5 starts with 1 place and doubled his career earnings to R250 050 with this victory.
He will now be aimed at the Computaform Sprint.
Result:
Lebelo Sprint (SAf-G3) (1/1)
Turffontein, South Africa, January 1, R200.000, 1000m, turf, good, 55.82
ROYAL ZULU WARRIOR (AUS), 52.0, b g 6, Mossman (AUS) – Dark Blue (NZ) by
Wallenda (USA). Owner R Moodley; bred in Australia; trainer KG Naidoo;
jockey K Zechner (R125.000)
Gold Site (SAF), 54.0, b g 5, Goldkeeper (USA) – Prime Site (SAF) by Assail
(USA)
Valberg (SAF), 56.0, b g 3, Var (USA) – Frosty (SAF) by Western Winter (USA)
Margins: 3½, ¾, 1
‹ Previous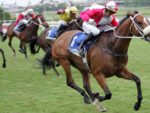 Movie Star Stuff