The R125 000 Listed Michael Roberts Handicap run over 1800m at Scottsville on Sunday produced a shock result when the James Goodman-trained mare Las Ramblas led all the way on the heavy going.
The annual event to honour one of our greatest ever jockeys is always a competitive race, but few would have seen this oncoming train.
With a penetrometer reading  of 31, the track was always likely to produce the odd upset result, and the daughter of Toreador appeared to enjoy the additional stamina test.
Las Ramblas was quickest away and led Top Mark and Orbit War, while Green Day was further back.
The fancied Baracah only had Drift Along behind him at this stage.
The only mare in the field led them into the straight at a sedentary gallop and dug in doggedly as first Green Day and then Top Mark looked dangerous.
In the final 250m Orbit War charged through under a determined Chris 'Chippy' Taylor and finished best, but had no answer to the gallant mare.
In a three cornered tussle, Las Ramblas stayed on to beat the gallant Orbit War by a half length in a time of 114,7 secs.
Top Mark, who was prominent for much of the race, hung on grimly for third just ahead of Knight To Remember.
The favourite Baracah, who was always at the rear, was very disappointing and finished a dismal eleventh and 14 lengths behind.
Trainer James Goodman, who trains a string of only 25 horses, said that it was nice to win a race named in honour of one of his great heroes.
" What Muis achieved in England was unbelievable. He is such a talent. And as for Las Ramblas, well that's the big black type I was always determined to get!" he said with a smile.
It was a third win in this event for Muzi Yeni, who showed the power of positive thinking by referring  to Las Ramblas as the male of the species during his post-race interview. It appears he had no idea he was riding the only female in the race!
Michael Roberts complimented  Yeni on a fantastic ride – "he slowed them down and they fell right into the trap", he said. Roberts was handed a montage by Gold Circle of his win on the 1997 Rothmans July winner Super Quality.
Bred by Glynis Van der Merwe , the daughter of Toreador is out of the one-time winning New Zealand-bred Maroof mare Silent Kiss.
Las Ramblas has now won 5 times from 34 starts for 13 places. She has earned R628 754
Las Ramblas has a half- sister  by first season stallion Seventh Rock (Lot 45)  on the Cape Premier Yearling Sale next week.
‹ Previous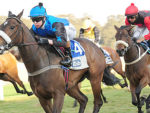 Night Of The Birds