Saturday's 152nd renewal of the Queen's Plate spans the bridge of a classic tradition of history and achievement. From relatively inauspicious beginnings in 1861, to great friends and family living and past, to the present day where social media provides  a mirror of the entire world in our pockets.
We could never hope to cover even a paragraph of the legends and characters spawned by this wonderful race on a page of newsprint. But even brief reflections in a haze of white and blue, are fascinating.
Household names, from Kannemeyer to Cawcutt to Amos to Marcus to Page to Strydom to Llloyd to Neisius.  They have all played their role in the tapestry of history and drama, and legend and myth.
And it is the power of the cyber world in our pocket that is ironically and iconically captured in the name of the  21st century superstar of the Gr1 L'Ormarins Queen's Plate.
The Mike Bass Racing legend Pocket Power won the race every year from 2006 to 2010, and his achievement is unlikely to be matched in our lifetime.
The  son of our  brilliant ill-fated champion sire Jet Master  is the single most dominant feature of the modern history of this outstanding race.
Bred by  Zandvliet Stud, the gelding  was ridden to victory by Jeff Lloyd in his first win, and by Bernard Fayd'herbe in the remaining three record-breaking victories.
Interestingly Lloyd rode his first two Queen's Plate winners twenty-two years earlier in January and December 1984 on  Wolf Power and Spanish Pool respectively.
Pocket Power's sire Jet Master won this great race twice.
He was trained by Tony Millard and ridden by Piere Strydom to win the 138th renewal in scintillating fashion in January 1999. Jet Master won it again in January 2000 under Anton Marcus
Strydom scored his first win of the 21st century when winning for Dean Kannemeyer on Free My Heart in his first full year of training for his own account. Dean's Dad Peter rode the 1962 winner Inverthorn for Theo De Klerk.
Peter trained his first Queen's Plate winner when Over The Air won in 1980 under Garth Puller.
Besides winning on Gimmethegreenlight last year for Justin Snaith, Piere Strydom has won this race  six times in total.
He won it on Yardmaster in 1988 for Tobie Spies, Take A Walk in 1994 for David Payne and then Divine Force in 1998 for David Ferraris.
Jet Master is well represented this year with Sean Tarry's 2012 July winner Pomodoro and the Champions Cup winner Master Plan carrying the blood that has coursed through the veins of so many champions.  And to add to his prospects, Strydom rides him!
The legendary Johnny Cawcutt won the Queen's Plate four times over 25 years from 1956 to Chichester in 1971.
Basil Marcus, whose son Adam trains out of Milnerton, won the race in 1977 on Bold Monarch and in 1982 on Foveros. Phillipi trainer Stephen Page rode the 1974 winner Sword Dancer for Atholl Fisher.
Veteran Cape jockey Karl Neisius has gone a decade without a winner, after winning it on Free My Heart(the son of Jallad's second win)  for the Kannemeyers in 2002. Neisius only previosu winner was on Flaming Rock in 1990 for Chris Snaith.
Stanley Amos rode the winners of five Queen's Plates from 1948 to 1965. The man who rode for an unbelievable 52 years, and had the distinction of being the oldest professionally licenced jockey on earth in his time rounded off his Queen's Plate quintet in 1965 with Fair Mountain, who narrowly beat the 1962 winner, the then nine year old Inverthorn.
Mrs Garrett's Fair Mountain was trained by Stan's brother H.E. 'Cookie'  Amos and  bred by her late husband, the famous trainer, Syd Garrett.
We have only just begun!
‹ Previous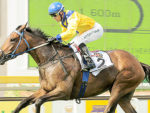 De Kock Into Overdrive