A potentially devastating strike on J&B Met day by Grooms has been averted through the convening of an urgent meeting at the offices of the National Horseracing Authority next week.
A public meeting has been hastily convened for Tuesday 5th  February at 14h00 at the offices of the National Horseracing Authority in Johannesburg.
A delegate from the Minister of Trade and Industry's office will be present to ensure that matters proceed properly.
A press release  issued yesterday by the National Chairperson of the SA Grooms Association Chophelikaya Simoto, said that grooms would stay away from work on one of South Africa's premier racedays.
This would have had a crippling effect on the industry, with major knock-on effects.
The South African Grooms Association is an association of South African horsemen working with racehorses and is apparently not recognised by the National Horseracing Authority.
Simoto said that the racing authorities have been 'ducking and diving' since 2005 and in November 2011 the Minister Of Trade and Industry had intervened.
The National Gambling Board was mandated to facilitate negotiations between the National Horseracing Authority and SAGA.
Simoto added that while his members appreciated that the wheels of bureaucracy turned slowly, little had been done and it was decided to implement strike action.
" We are tired of being victimised and abused by the industry because we are not educated and poor. We watch rich people's horses and look after their important horses during big races where they invite other rich people. They fail to cater for the people looking after those horses. Horses are more important than the people who look after them," said Simoto.
The demands include a request for a Recognition Agreement and better working conditions.
They also demand that the whereabouts of R17million of grant funding, given to grooms for housing , be clarified and brought into the public domain.
Serious allegations have followed this matter for years, with no authority willing to be quoted in the public domain.
SAGA has also demanded the cancellation of an eviction notice served recently on Gauteng trainer, Ian Jayes.
The Cape-based Chophelikaya Simoto said that he would be flying to Johannesburg on Sunday to prepare for the meeting.
"I encourage the public to attend and I trust that racing journalists will be there too. It is unfortunate that we have had to go the route of threatening this kind of action, but it appears to have had the desired impact with a response from the authorities. We do not want to bring the industry to its knees as we earn our living from it. But fair is fair. Owners, trainers, breeders and jockeys have their associations. Nobody recognises the groom and people have got to realise that this is South Africa in the 21st century," he said.
Phumelela and Gold Circle did not respond to a request for comment.
‹ Previous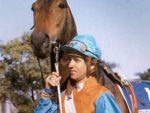 Man & Machine