I've been a long-standing fan of the blonde bomb that is Striker Strydom.  Not only is he a beautiful rider, he's one of the most thoroughly polite, considered and accommodating people I've ever met and it is always a pleasure having an excuse to chat to him.
I caught up with Striker Strydom this week to chat about his recent landmark win, which he chalked up aboard Lady Calumet at Turffontein last Saturday. They say the journey of a thousand miles begins with one step, so I asked Striker to retrace his journey a little and tell us how he went from 0-4,700.
Pieré Johan Strydom is the eldest of 5 children and was born in Port Elizabeth on 7 June 1966.  His name is spelt with one 'r' and an accent on the last 'e' and came from a book his mom was reading at the time.  Father Hekkie Strydom was a jockey who later turned his hand to training and Pieré has been on a horse since he was old enough to hold the reins.  "My first horse was called 21, because according to my dad the horse was 21 years old!  So I started off there.  Then my dad started making me ride during school holidays."
However, it took a while for the racing bug to bite.  I stumbled across an old press article which paints a picture of a tiny boy, hiding in the toilet to try and get out of riding work.  Ten year old Pieré weighed around 20kg at the time and tearing half a ton of horse flesh down a track at warp speed was not exactly his idea of fun.  "When teachers asked you what you want to be when you grow up, I'd say a jockey, but when it came to riding, I didn't actually want to!"
He attended Altona Primary School and then did a year at Framesby High School.  He loved school and was a dedicated student, finishing top of his class for most of his mainstream education.  He remembers his teachers pleading with his parents at a PTA meeting to consider something more academic, but his dad's mind was made up and he enrolled Pieré at the Academy without telling him.
"It was a bit heavy", says Pieré, but he found the Academy horses a little easier to deal with and was soon attracting attention.  He completed 3 years at the Academy and was indentured to Terry Ryan, where he rode his first winner, Saadabad at Scottsville in 1982.  He says Ryan was a hard task master, but taught him right.
How Striker got his name
Everyone seemed to agree that he had talent, but he wasn't getting rides and after 3 years he had only ridden 5 winners, so he decided to head back to PE.  He joined the Des McLachlan stable at the end of 1983 and also worked for his dad which he enjoyed.  "Once I got going and got given the chances, it worked out well for me.  It wasn't just the riding and working out the correct pace, but in PE you have the wind and I love riding and using the elements.
You have to use that in your tactics.  I grasped that early."  His dad coached him a lot – "he showed me how to ride balanced and judge pace.  One of the main things my dad taught me was to be patient and to get there as late as possible.  It was very different to today.  There was always pace and I could ride from behind and get up in the dying strides."  It was this technique that first earned him the nickname "Striker", courtesy of a PE racing journo who wrote under the name of Rob Roy.
Pieré dedicated himself to his craft and was champion apprentice in PE in his 4th year and champion South African apprentice in his final year (1984/85).  He hit the ground running and was PE Champion Jockey in his first season.
Moving On
After winning the PE championship, ex brother-in-law Louis Goosen came to see Pieré ride and have a look and said he'd try and get him rides in Joburg.  Louis took a firm hand in Pieré's career, making introductions, getting him rides and helping him refine his public image.  "There are many people along the way that you have to thank for being successful.
My dad was the first, and one of the main ones in my career was Louis.  One thing about Louis is he can talk.  First he talked me into going to Joburg and then he talked everyone into giving me rides.  I was just a shy Afrikaans boy from PE, and needed someone like Louis to open doors for me.  He certainly did that.  If it wasn't for him I'd still be in PE."
Striker moved to Joburg in the wake of the Hennenman air disaster and at a time when Highveld racing was at a low ebb, he was an immediate hit with his blonde hair and his dramatic finishes and was 2nd on the log for 1989/1990.  The following year he was crowned Champion Jockey for the first time and he was champion jockey again in 1992/93 and 1993/94.
Riding Abroad
He rode in Hong Kong for a season, clocking up 56 wins to close out his season just behind Basil Marcus and Tony Cruz.  Hong Kong has a superstitious racing community where your perceived luck, or lack of it, could dictate a lot of your success.  Luck did not seem to be riding with him the second time round, so he returned to South Africa.  However, he took with him some new front-running tactics and being able to mix and match his style meant he was riding better than ever and he was crowned Champion Jockey again for the 1997/98 season.
A trip to the UK in 1999 was a life-changing experience. Agent friend Grant Harrison arranged rides for him for 6 weeks and he rode for Mark Johnston and William Haggas.  It turned his riding philosophies on their head.  The training methods, the horses and the riding style were very different and it was hard to ride a waiting race.
He says the horses went at a true pace right from the off, but despite this, the horses seemed to be fitter and have more stamina than he was used to and the front runners just kept going.  He watched, he learned and he adapted.  "It was the first time I really learnt how much one can use a horse.  It was a huge learning curve and was perhaps something I only really appreciated once I got home."
He had 8 UK wins before a fall and broken ribs cut his trip short and he returned home.  Once he recovered from his fall, he clocked up his fifth Jockey Championship for the 2000/2001 season.
Major Successes
Striker is the only local jockey on record to have won the Pick Six single-handedly.  He holds the record for having won seven races at one meeting.  Twice.  He has won five South African jockey championships, won every plate, cup and big race on offer and partnered some of the most illustrious horses in our recent history. Perhaps most uniquely, he is one of only two South African jockeys to have clocked up more than 4,000 wins.
How does he do it?  The boring answer is – a lot of time and hard work.  Striker has been connected to big stables before, but prefers to be freelance.  Riding commitments and a busy schedule mean he cannot always ride a lot of work, so he does an enormous amount of homework studying the racecards and current form.  Interestingly, he says he picks up a lot of information watching horses when he's racing against them and will then try and pick up rides on promising candidates.  It obviously doesn't always go his way, but "the bookmakers often end up making me favourite, even though I'm not always on the horse I would prefer," he says thoughtfully.  It is obviously a responsibility that weighs heavily.
High tech bum
I went to a dressage clinic many years ago that featured an Olympic candidate as the demo rider.  Whether she was on a common cob, or a top level horse, she seemed to get the best out of all of them.  The clinician described the rider as 'having a high tech bum' meaning that she instinctively had a feel for the best way to deal with a horse.
I don't know that jockeys make anywhere near enough contact with the saddle to earn them a similar title, but whichever area one needs to judge a racehorse, Striker has it.  Often sitting on a horse for the first time in the parade ring, he relies on the canter down to get a feel for the horse and make a judgement call on how to ride it.
Favourite horses?
Tricky question for someone who has ridden the likes of Roland's Song, London News and Jet Master. However Striker says Goldmark left a particular impression.  "It felt as though his feet never touched the ground."
Career highlights
"Winning the July" (I don't ask which one!) and "being crowned Champion Jockey for the first time are obviously standouts".  One of my favourite Striker rides (although there are many) was his 2010 win aboard J J The Jet Plane in the Cathay Pacific Sprint.
Striker says "I still get gooseflesh.  It was just one of those special things.  If anyone else had ridden him that day, they probably wouldn't have won.  If I rode him and the race again, I probably wouldn't have won.  It just all came together on the day.
"I hadn't ridden in Hong Kong for years and I didn't have any warm up rides to get used to the track, so I had to prep mentally.  There is a mechanical horse in their jockey room and I was riding for my life before the race, just to warm up and be supple.  Definitely one of my best racing moments."
Personal life
It has been a roller-coaster since then and he says had you told him 2 years ago that he'd be where he is now, he would have laughed. He parted from long-time partner Beatty in 2011, although it was an amicable split and she still books his rides. He met new partner Claudia at the Gary Alexander yard shortly afterwards and the two of them had their first son Oliver in March last year.
He made an early comeback from a broken jaw to ride Gimmethegreenlight to victory in the 2012 L'Ormarins Queen's Plate and won a nail-biting 2012 Vodacom July aboard Pomodoro.  He has a second son (Sebastian) due in 2 months and there is talk of a wedding soon!
He also has time to juggle a small sideline business and writes a regular column for the Citizen.  He says he puts a lot of work into his column and sees it as part of his responsibilities to help punters.
"I gladly help people with info.  If we don't encourage people to have a bet, we might as well close the game down."  Although he comes in for a certain amount of criticism, he says "I can only give my honest opinion.  And I'd rather at least try and help than say nothing at all."
Riding Philosophy
That little boy hiding in the toilets really has come a long way.  Does he enjoy race riding now?
"I'd like to say yes, but it's a job and it's tough.  I am competitive.  I need the best result for myself, my owner and my trainer and if you want to be successful, you have to push yourself every day and every step of the way.  I thought I'd take it a little easier after winning my fifth championship and the next year I was second on the log.  And then third.  You cannot let up."
Where to from here?
"I've got to keep going.  I'd like to win the championship and I'd obviously like to break 5000 – it would be a nice record to hold, so I'm sure going to ride a few more years."
It would be impossible to condense a life and a career into a single column, so the best I can do is to describe Pieré Johan Strydom as a champion jockey, a talented horseman and a fiercely competitive, hard-working and dedicated professional.  Or in the words of the great Michael Roberts "poetry in motion!"
‹ Previous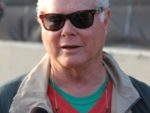 Irwin's Vision For Change