A Cambridge mathematician's pain-staking research has led him to believe Seabass is the most likely winner of Saturday's John Smith's Grand National.
William Hartston, a top-class chess player and author who has an MA and Master of Mathematics degree from the esteemed university, was set a challenge by bookmakers William Hill.
He studied the results of the 174 previous Nationals and found the most frequent winners had one-word names beginning with S, R, M or C and consisted of eight or 10 letters – followed closely by seven or 11.
The horses should also be aged nine or 10 and by then applying a scoring system of one to four from four different criteria, Hartston has scored each of this year's runners out of a possible 16. Seabass came out consistently highest on 13.
He said: "Seabass is the only horse with consistently high scores across all four criteria as it begins with S, is a one-word name, aged 10 years and has seven letters which is only slightly short of the preferred eight.
"Tatenen also scored an impressive 13/16 points and shouldn't be ruled out, although its scoring pattern is less consistent." William Hill representative Kate Miller said: "We want to make having a flutter on the Grand National as simple as possible this year and alongside easy to use betting slips in shops and online, we've now hopefully made picking the winning horse easy as well!
"And there's nothing fishy about the result; Seabass who is currently at 10-1, was joint-favourite last year and finished in third place, so let's hope William's system holds up this year to push him into first place."
‹ Previous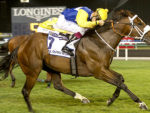 The World Watches