Two of North America's top classic events this weekend, the Gr1 Kentucky Oaks and Gr1 Kentucky Derby, were won by descendants (Princess of Sylmar and Orb respectively) of a once great male line, but one which has faded into a trickle.
One of the leading contenders for title of "North America's greatest sire", Bold Ruler was a truly great and remarkably dominant stallion, who became a potent sire of sires, and highly successful broodmare sire. During the 1970's, Bold Ruler male line descendants won North America's most famous race, the Kentucky Derby, on seven occasions.
The ill-fated Swale became the most recent Bold Ruler descendant, prior to Saturday, to win The Run for The Roses when he triumphed back in 1984. However, today his male line has all but died out. It remains a part of the modern day thoroughbred almost solely due to Bold Ruler line descendant Seattle Slew.
The latter's male line, in turn, revolves around, almost solely, his great son A P Indy, and his sons, grandsons and great-grandsons. A great racehorse, who was North America's Horse of the Year in 1957 and was ranked 19th on a Blood Horse poll of the US' greatest champions, Bold Ruler retired to stud in 1959.
He made his presence felt immediately – as he was champion sire in 1963, when his first crop were 3yos. Bold Ruler's initial crop was tiny by modern day standards – just 17 foals. However, of these 17, 14 won and eight were stakes winners!
It is hard to think of a recent stallion whose first crop consisted over of nearly 50% stakes winners to foals. These eight included champion filly Lamb Chop, Gr1 winner Batteur, and Bold Princess (dam of leading sire Sovereign Dancer).
Bold Ruler sired 22% stakes winners to foals – and had 11 official champions, despite averaging just 35 foals per crop. One of his greatest feats was producing two colts, who shared the same name, and both won championships (on different continents). Bold Lad, born in 1964, was North America's top juvenile colt in 1966, and, in the same year, a colt of the same named was Britain's top rated, and champion, juvenile colt.
Bold Ruler was champion sire eight times in North America, and earned more sires title than any other sire in the US during the 20th century.  However, Bold Ruler was not known as a classic influence through much of his stud career. He was actually the sire of only one colt to win a US classic – the mighty Triple Crown winner of 1973, Secretariat.
Secretariat himself continued the Ruler classic impact when his son Risen Star captured the 1988 Preakness and Belmont Stakes. Secretariat is also the broodmare sire of US classic winning siblings, A P Indy (Belmont Stakes) and Summer Squall (Preakness Stakes). Bold Ruler mostly made his mark as a sire of outstanding juveniles.
He himself headed the US juvenile sires list six times, and had no fewer than five winners of the Gr1 Hopeful Stakes (one of North America's top events for 2yos). Bold Ruler also produced three winners of the Gr1 Futurity, and three of the Champagne Stakes – both races hugely important 2yo tests prior to the advent of the Breeders Cup.
No fewer than four Bold Ruler colts were named Champion 2yo colt in the USA, while two of his daughters earned equivalent awards. Bold Ruler proved a prolific sire of sires, without being quite as successful as the likes of Northern Dancer or Mr Prospector. His sons included What A Pleasure and Raja Baba, both of whom headed the general sires list in the USA.
Other leading sire sons of the stallion  included successful sires Bold Lad (sire of leading stallion Persian Bold), Bold Bidder (sire of two Kentucky Derby winners), Chieftain, Boldnesian, and Cornish Prince. Another son of Bold Ruler, Reviewer, sired one of North America's all time great fillies – Ruffian. Yet another son, Tyrant, is the sire of dominant Zimbabwean stallion Tilden.
Sons of Bold Ruler did extremely well in South Africa, and included Jungle Cove (five times champion sire, and outstanding broodmare sire), and former champion sire Plum Bold (responsible for champions Bold Tropic and Bold Cherry).
However, the Bold Ruler has all but died out, barring the prolific A P Indy and his tribe. No male line descendant of Bold Ruler can be found in top ten sires list of either Britain or France, and the sole, proven members of this once potent tribe can be found in North America.
This can be traced to the fact that none of Bold Ruler's sons were either as successful as he was, or produced sire sons capable of extending the male line. Raja Baba's son, Well Decorated, did sire useful USsire Notebook, but the latter has not left behind a major sire son.
However, one notable exception to this rule can be found, rather ironically, in Germany. Champion sire Big Shuffle, sire of successful sire Areion, is a son of top juvenile Super Concorde, a son of Bold Reasoning (sire of Seattle Slew). Big Shuffle and two of his sire sons featured in the top 20 Germany sires for last season.
Orb also became the first descendant of A P Indy ever to win the Kentucky Derby. A P Indy, himself is one of the great sires of the past few decades, never sired a Derby winner, but did produced 2006 Preakness Stakes winner Bernardini and 2007 Belmont Stakes winner Rags To Riches.
In contrast, Princess of Sylmar is the third descendant of A P Indy to score in the Kentucky Oaks, following Secret Status (2000) and Rags To Riches (2007).
‹ Previous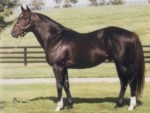 Storm Cat – A True Legend