Calumet Farm's Oxbow gunned to the front from the gate in the Gr1 $1 million Preakness Stakes on Saturday and never looked back to post a 1,75  length victory at 15-1.
The heavy favourite Orb, winner of the Gr1 Kentucky Derby , made a bid on the backstretch, fell back along the inside, and then rallied mildly to finish fourth.
Itsmyluckyday ran second, with Mylute third.
Gary Stevens rode the winner for Hall of Fame trainer D. Wayne Lukas, who captured the Preakness for the sixth time. Oxbow, winner of the Gr3  Lecomte Stakes earlier this year, covered the 1 3/16 miles at Pimlico Race Course in 1:57.54 on a fast track.
Only Wyndham Walter, with seven training wins from 1875-88, has more Preakness victories than Lukas.
Oxbow joined the Lukas-trained Codex (1980), Tank's Prospect (1985), Tabasco Cat (1994), Timber Country (1995) and Charismatic (1999) as a Preakness champion. Oxbow's triumph also created history for Stevens, who became the oldest jockey, at 50, to ride a Preakness winner. Eldon Nelson was 45 when he rode Bee Bee Bee to an upset win in 1972.
The Lukas-trained winner also made more history for his owner, Calumet Farm, which celebrated its record eighth Preakness success and first since Forward Pass's victory in 1968.
A 3-year-old colt by Awesome Again   out of the Cee's Tizzy mare Tizamazing, Oxbow was bred in Kentucky by Colts Neck Stables.
Oxbow finished sixth in the Kentucky Derby after making a solid move on the backstretch on the sloppy track. He snapped a four-race loss string since his win in the Lecomte. The victory, his third from 11 starts, was worth $600,000 and boosted his career bankroll to $983,500.
"He didn't get a lot of respect even after his great performance (in the Derby)," said Stevens, the Hall of Fame rider who returned to competition this year after a seven-year retirement. "We came back and breezed him (May 12), and what you saw (in the Preakness) is exactly how he acted in the workout.
"We came in here with a lot of confidence," added Stevens after his third Preakness triumph. "When I hit the half-mile pole, I said, 'Are you kidding me? Is this happening?' The race was over at that point. I just walked the dog to the half-mile pole."
Oxbow broke from post 6 and quickly opened up by almost two lengths over Goldencents in second, Titletown Five in third, and Itsmyluckyday, widest of all in fourth. The first quarter-mile was :23.94 and the half-mile in :48.60; that was the point jockey Joel Rosario moved Orb, who was sixth, off the rail.
The 7-10 favorite moved in tandem with Departing to his outside, but then Orb encountered a little traffic and dropped to the rail again. At that point Oxbow had cruised through six furlongs in 1:13.26 and began extending his lead.
Itsmyluckyday, ridden by John Velazquez, gradually gained outside as Goldencents and Titletown Five faded after a mile in 1:38.14. The only horse to make up any ground in the lane was Mylute, who finished a half-length behind Itsmyluckyday under Rosie Napravnik after rallying from ninth and last.
Orb, who had dropped back to seventh, rallied again for fourth by a half-length over Goldencents in fifth.
Departing appeared to have some run from the inside entering the stretch but flattened out and finished sixth. The final three were Will Take Charge, Govenor Charlie, and Titletown Five.
"I think I got a Hall of Fame ride," Lukas said immediately after the Preakness. "Once the gate opens, they have to make decisions. I'm happy for Gary, and I'm happier for (Calumet owner Brad Kelley), who is trying to revive Calumet. It's very gratifying.
"As I was saying earler, I get paid to spoil dreams. You can't mail it in. It's a different surface and a different time. You gotta line them up and run them."
Trainer Shug McGaughey, who was high on how Orb had trained at Belmont Park and Pimlico leading up to the Preakness, said it appeared the colt was in good shape but may have been uncomfortable with his inside position through much of the race.
"I'm disappointed, but I know how the game works," McGaughey said. "I would be disappointed any time you have this kind of opportunity and don't get it done. This was quite a run for a couple of weeks. We'll pack it up and go back home and see what kind of horse we've got down the road."
McGaughey said two races in two weeks had nothing to do with Orb's performance, because Oxbow, Itsmyluckyday, and Mylute all ran in the Kentucky Derby as well.
"I think he just got himself in a position where he wasn't comfortable, and then without (a good) pace in front of him, they really spread out a little more than maybe I had hoped," McGaughey said. "That probably affected him more than anything else."
Rosario said Orb "had a hard time keeping up" at the half-mile pole. "I used my stick to try to get him going," the jockey said. "He usually takes you there and always runs hard, but today he never took off. He just steadied. Today was not his day."
Eddie Plesa, who trains Itsmyluckyday, said his colt ran his race but "simply got beat by a horse that was trained perfectly by Wayne Lukas."
Tom Amoss, who conditions Mylute, said the late runner was compromised by the soft pace. "We've got nothing to be ashamed of," he said. "I actually look at this like a missed opportunity because my horse ran a big race today."
Lukas said it's too soon to make a decision on the June 8 Belmont Stakes (gr. I), though he suggested he'd like to race Oxbow at Belmont.
"The horse wasn't even blowing when he came back (after the Preakness)," Lukas said. "But I haven't had a chance to cool him out, and I need to talk to (Brad Kelley) about the Belmont."
Stevens said Oxbow won with something left and predicted he would be a tough competitor in the 1 1/2-mile Belmont.
Fifth in the Gr1 Arkansas Derby prior to the Kentucky Derby, the bay colt has raced six times this season, winning twice and finishing second in the Gr2 Rebel Stakes by a head to stablemate Will Take Charge.
www.bloodhorse.com
‹ Previous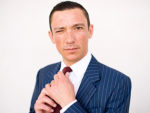 Dettori Comeback Hits Snag