I'm a bit of a horse nut, which means that I follow a number of horsey sports. However, being a racing enthusiast means that I particularly enjoy seeing Thoroughbreds excel in other sports and as such, it has been a particularly rewarding period for me.
Enter Steuart Pitt-man of Dodon Farm. Steuart is a professional horse trainer, event rider and a confirmed Thoroughbred fan. Thoroughbreds are consummate athletes, good looking and intelligent to boot, so one finds them in all corners of the world, doing all sorts of things, because what they like best is a job. And if it can be an exciting and challenging job, allowing them to marry their physical ability with their uncommon intelligence, so much the better.
Steuart jokes that his favourite description of a Thoroughbreds is "When you make a mistake the Thoroughbred always thinks it's his fault. The Warmblood makes you pay for it." But despite its virtues, the Thoroughbred is losing ground to the increasingly popular Warmblood horse, so Steuart has made it his mission to redress the balance.
He set up the Retired Racehorse Training Project (RRTP) which launched to huge appeal in 2012. The programme sourced 4 different OTTB's (that's Off The Track Thoroughbred) and assigned each of them to a professional trainer.
The horses were then put through a "100 day Challenge" training programme which was documented on-line via social media like chat forums, training blogs, Facebook and Youtube and culminated in a grand finale at the Pennsylvania Horse World Expo in February 2012.
It was great fun to follow and share in some of the trainers' successes and nod our heads in sympathy at familiar problems. The project built a huge following, with many fans encouraged to vote for their favourite horse via the website, Idols style. This year the project had the same basic premise, but all four horses were trained at Dodon Farm and produced by Steuart and his team.
If the concept was popular in 2012, it skyrocketed in 2013, particularly when one of the stars of this year's show, Declan's Moon (winner of the 2004 Two Year Old Male Eclipse Award and candidate for the 2005 Kentucky Derby before being sidelined by injury) shared a sire with this year Kentucky Derby winner, Orb!
Through the RRTP, Steuart promotes Thb's excelling at any discipline and we have just had two of the biggest events on the international eventing calendar – the Rolex Kentucky Three Day Event at the end of April and Badminton Horse Trials in Gloucestershire in the UK.
Both are 4* events, the highest difficulty rating for eventing competition. In Kentucky, a total of 13 Thoroughbred horses joined the starting line-up and when the final scores were tallied, five of the top 25 finishers were Thoroughbreds, with 2 finishing in the top five. At Badminton, which concluded this Monday, the winner was a NZ-bred Thoroughbred called Clifton Promise and one of the hot favourites, William Fox-Pitt was also mounted on a NZ-bred Thoroughbred called Parklane Hawk who finished in 5th spot. I think that's pretty amazing.
Retiring a Racehorse
Most people have some sort of vague idea that horses retire off the track to some idyllic farm with a little girl who will feed it carrots and plait its mane and love it for the rest of its life. Unfortunately little girls with idyllic farms are in rather short supply, so sometimes our OTTB's have to make a plan and find another job.
As purpose-bred athletes, Thoroughbreds excel in just about every discipline. A horse called Keen became a top US Grand Prix dressage horse for Hilda Gurney, Gem Twist is regarded as one of the best show-jumpers in history and more recently Becky Holder's Courageous Comet made the 2008 USA Olympic eventing team.
South Africa has just as many stories with locally bred Thoroughbreds dominating our competitive equestrian sports for many years. Names like Watchfire, Gossiper, Sunday's Eagle, Mid Tempest, Steven James and Panache will make jumping fans all misty-eyed, but Thoroughbreds excel at just about anything.
Paul Hart and Heartbreak Hill were en route to last year's Olympic eventing, we still have Thoroughbreds in our top show-jumping classes and down in Cape Town, one of our up and coming riding stars is Nicola Mohr who has taken her OTTB, Sportschu, all the way to the top in local dressage.
Imbongi
Our racehorses run a fine line between future stud prospects and future OTTB's and often even good racehorses need second careers. We have recently seen Pocket Power retire to a wonderful competitive career with Belinda Haytread and I was thrilled to see friend and racing fan Garett Murphy (the proud owner of a Summerhill OTTB) post photographs of himself posing with globe-trotting superstar, Imbongi recently.
The story about Imbongi is a well-worn tale and one that consummate story teller Mick Goss has got down to a fine art. I'm not silly enough to take on a master of their craft in their own backyard, but a brief précis is that Imbongi famously passed through the 2006 Ready To Run ring without raising a bid. Mike Moon wrote a wonderful article, describing how Imbongi's head drooped on leaving the ring, as if in silent disbelief that no-one wanted him. Imbongi is by Russian Revival, out of a Foveros mare called Garden Verse.
While perhaps not considered fashionable breeding on face value, a little pedigree peeling reveals that the cross held promise as Russian Revival's grandsire Northern Dancer, crossed with a Teddy line mare had previously produced the great Nijinsky! So there was indeed method in the madness. However, it took a shrewd eye to recognise it and that eye belonged to Ronnie Napier.
Part owner Michael Fleischer takes up the story. "I've been involved in racing since I was very young. I'm an attorney by profession and was at a firm called Webber Wentzel where Ronnie Napier and I were partners. I had always wanted to own horses and said to Ronnie, "Next time you buy, please include me. He did and we bought Imbongi. He was part of a 3-horse package deal we bought from Summerhill." When I exclaim incredulously, "So Imbongi was your first racehorse?", Michael chuckles and says "Yes, but I could probably run faster than the other two we bought, but isn't that the beauty of racing?"
After 'throwing away' the Emperor's Palace Ready to Run Cup and the Dingaans due to coltishness, Imbongi was gelded and then came back to win the Gauteng Guineas, the KZN Guineas and became the first 3YO to win the Drill Hall in 40 years, beating the likes of Pocket Power, Bold Ellinore and Rebel King.
Having stamped himself the best 3YO in the country, international challenges beckoned. He won the John Bovington Memorial Criterion Stakes at Newmarket in 2009 and was the highest earner at the 2010 Dubai World Carnival, winning the Zabeel Mile and earning the victor ludorum.
All Heart
Michael continues, "This horse is one in a million. He has the biggest heart of any horse I've ever come across. Jockeys loved him because he was so brave that he would do anything they asked. Christophe Soumillon got off one day and said "This horse is prepared to burst his lungs to win." He doesn't know when he's beaten and doesn't know there's anything he can't do. Everything he does, he does like a champion. His breeding might not indicate it, but he is a champion through and through. Despite passing through the sale ring without a bid, he came back and showed the world that he was an unbelievable champion. He held his own and more."
But Imbongi was more than a racehorse to Michael, who was so taken with his horse, that he reserved the best stable at Ascot Equitation Centre and learnt to ride so that he could take over Imbongi when he retired. "I wanted him to have the best retirement available and made sure he got the best stable, the top spot."
Sheik Mohammed was so impressed with Michael's dedication to Imbongi, that he paid for the horse's return trip to South Africa and Imbongi has been at top show jumper Bill Johnson's Ascot Equitation Centre ever since. Initially Michael rode him, but he has a bad hip, so Bill has taken over.
New Career
Bill takes up the story. "We started to ride him and teach him to jump and he's developed this super jump. But of course, a true athlete can excel at just about anything. We have a lovely young girl called Tristan Smanjak who has been riding with us for years. Tristan is 15 years old and her mum is raising her on her own. Buying a horse of this calibre would ordinarily be out of their budget, but she got on very well with Imbongi and we recommended her to Michael and he's given her the horse.
"Imbongi is a real quality horse and an absolute darling. Horses are just like people you know – some of them are super nice and very obliging and other are totally ungenerous – just like people! If Imbongi was a person he would be a thoroughly nice, perfectly mannered, generous gentleman. Michael and his wife still visit regularly and bring him carrots and peppermints and what not. He has a lovely life and is thoroughly spoilt. Michael is amazing. He owns a number of other horses and he's always been such a generous owner. It's wonderful the way he's insisted that the horse be so well looked after and have such perfect post-race care."
Imbongi is progressing very well with his jumping training and should be ready to tackle graded shows in the near future. In the same way that Pocket Power has become a celebrity on the local competitive scene, I am sure Imbongi will turn heads and receive admirers wherever he goes. Because our sport really is all about those special horses. As my friend Garett's photos prove really.
Appreciation
Michael (who I must confess is fast becoming one of my favourite people) concludes, "The important thing I'd like to say is when you get a horse that does this well for you, you need to appreciate that when the horse comes to the end of its career, you don't leave it in Dubai for someone to shoot and chuck out in the desert. That was the one thing I was determined about. After all he's given me, it is a pleasure to pay his stabling and look after him in retirement. Owners should take much more interest in what happens to their horses and how their horses are dealt with after racing. There are plenty people and options for horses retiring."
We know that Summerhill like to give their horses Zulu names and Imbongi means 'praise singer' in Zulu. With an owner like Michael Fleischer, I can't help thinking that this particular horse could not have been more appropriately named.
‹ Previous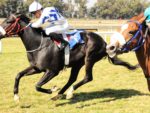 Snowdon In Focus