The former Mike De Kock trained Ginepri won the $40 000 Gr2 OK Grand Challenge at Borrowdale on Saturday.South African jockey Francois Herholdt rode the winner for the rising star of the local training ranks, Seb D'Aquino.
Ginepri had run second in last month's Gr1 Castle Tankard behind A King is Born.
The Argentinean bred horse however ran a cracker on Saturday and won the feature by a length under Francois Herholdt ahead of the second placed Madigan. Ginepri won in a time of 107,14 secs.
The Alyson Wright trained A King Is Born, who was bidding for a double following his Castle Tankard victory, could only finish third.
The race was a triumph for Tellytrack presenter and Bloodstock Consultant, Gareth Pepper, a friend of Aquino, who had facilitated the lease of Ginepri from Mike De Kock.
Pepper said afterwards that the deal had come about as Ginepri had a few issues and it was felt that he would possibly not stand up  to the intense requirements of competing  at the highest level in South Africa.
From his earlier form it was obvious the horse had some ability and was thought of highly by Mike De Kock.
Gareth Pepper takes up the story : " We decided to take a chance and so we grabbed him with both hands. Seb spent the next few months working on him and gelded him. According to Seb the horse improved in proportion to the time he worked on him.  His exact route initially was not decided but  the main focus was to build him up progressively to insure his issues were all under control before asking anything of him," he said.
Pepper went on to explain that Ginepri's first start in Zim was a Novice 1200m, which he won. A fortnight later he went on to win a merit rated 85 over 1800m.  He says that it was at this point that D'Aquino realized that he was as good as he was going to get him soundness wise  and that his progression through races was a continuous improvement.
After that it was decided that he should go straight into the Castle Tankard where he finished a smart second.
Seb d'Aquino thanked Gareth Pepper for facilitating the opportunity to acquire Ginepri.
" I'd also like to extend my appreciation to Mike  and  Matthew De Kock for agreeing to lease Ginepri. Also a big thank you to the Equisynd syndicate, Mr Robert Dow, and Ant & Stephen Tomlinson for believing and having faith in my judgement, and for all their the support.  Congratulations to all the people involved and my great team at home. Special mention should be made of jockey Lance Pagel, who often doesn't get the credit for his work behind the scenes. He has made a huge contribution to the success of this horse," he said.
The Argentinian bred Ginepri is by Easing Along (USA) out of the Lode mare Gincana. He was bred by La Pasion and raced in the Sheikh Mohammed Bin Khalifa Al Maktoum yellow and blue silks here, where he won once over 1400m at Scottsville and was placed once from 7 starts.
‹ Previous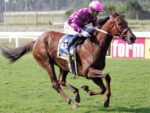 Miss Improvement