Africa Race Group's Phindi Kema has fired another yet another broadside at the bastions of power of the South African horseracing industry.
The feisty campaigner has instructed her attorneys to approach the National Horseracing Authority of South Africa for clarification on what she sees as a potential conflict of interest on the part of certain of its board members.
Kema is currently embroiled in a long running saga with the Competition Commission to challenge the recent merger between Kenilworth Horseracing and Western Cape Racing.
She has been granted the opportunity to submit heads of argument as regards her legal standing in the matter.
She has since also demanded details from the Competition Commission as regards their actions over the past few years, and also requested compensation for ARG's loss of income and costs.
The latest move by Kema sees her instructing attorneys to clarify the role of Gold Circle's Graeme Hawkins, as well as Rian Du Plessis and Patrick Davis of Phumelela on the board of a body that is intended to regulate the very operators on whose boards they sit. Gold Circle and Phumelela are South Africa's only two racing operators.
This, she says, is a conflict of interest.
Kema suggests the presence of the three gentlemen on both boards amounts to an 'unethical' practice. She adds that the NHA is not governed by statute to ensure that checks and balances are in place.
She says this could lead to the integrity of the NHA being compromised and ultimately to the weakening of the administration of the integrity of horseracing in South Africa.
She suggests further that the situation may also entrench the dominance of certain sectors at the expense of others and also has the potential to give some individuals an inflated opinion of their own worth and to believe that they are possibly more important than the sport itself.
She closes by arguing  that the conflict of interest makes a mockery of the NHA and flies in the face of good corporate governance.
Kema has relocated to London, but has engaged a UK based public relations company and a legal team in her quest for justice.
Africa Race Group  has signed a co operation agreement with UK based  Zukido to launch ARG's betting business in the interim.
‹ Previous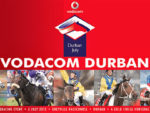 Vodacom Durban July Final Field