The outstanding Jet Master colt Pomodoro bids to become the first horse since Geoff Woodruff's El Picha in 2000 to win the R3,5 million Gr1 Vodacom Durban July for two years running. It is a harsh reality of competition at the highest level that champion status is seldom served on a platter. Despite the varied opinion doing the rounds, there are nineteen serious equine obstacles to Sean Tarry and Piere Strydom realising their dream.
The tag of Sport Of Kings often feels like a commercially twisted misnomer of sorts as we soar through the inevitable roller-coaster of a game that runs on a mix of raw talent, ego, luck and hard cash. Sort of our very own game of thrones and the inevitable moans.
Billboard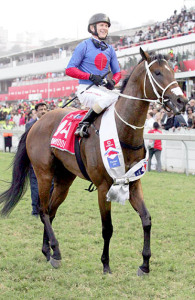 Through it all, the Vodacom Durban July remains one of the sport's most credible billboards in every respect of the word. It may not stop a nation, but Durban comes to a standstill. Office sweeps hinder productivity and street corner whispers spread like wildfire as everybody has heard something, and most people know a jockey or groom who knows something.
Every waiter, every traffic officer. Frankly,what feels like every breathing soul with a R2 coin in hand will fall victim to the mystique of July fever. It is really and truly one of our shining moments of the year.
But the supposed bomb proof façade of this beautiful shop window was shattered late last week as the great race plunged into the murky waters of controversy and ridicule, following reaction to the announcement of the final field. Will Rogers suggested that it is a difference of opinion that makes horseracing and missionaries.
We agree. All the shouting and finger wagging just adds to the needle, surely! We will get over it. We will forgive and move on. Politics is after all, by its very nature, quite boring.
Priorities
Let's focus on the reason we are here. For now we are on a mission to find the winner in what is a very open race. Despite the unlikely absence of the man who has trained four July winners that commenced with the sensational win by Ipi Tombe way back in 2002, there is still the inevitable imbalance of power that plays out at the top level.
No De Kock
We concede that a July without our champion trainer Mike De Kock is like Durban without the curry. It just doesn't seem quite right, somehow. De Kock is just R2,5 million ahead of the pretender to the throne, Sean Tarry on the national trainer's log, with just three weeks left of the season. So this race could prove crucial for both of them. Runner or no runner.
Four trainers send out more than half the field. Sean Tarry trains four runners. Gavin Van Zyl sends out three. Justin Snaith and Vaughan Marshall have two apiece.
Four Apiece
Eight of the twenty jockeys have won the July before. Anthony Delpech and Anton Marcus have won it four times each. Marcus has been sadly stood down. Strydom is the most recent winner, while Karl Neisius' moment of glory is the most distant, the Cape veteran having won it 22 years ago. Owners Ingrid and Markus Jooste and Chris Van Niekerk have interests in 35 percent of the field between them.
Two breeders have two runners each. Our champion breeder Summerhill Stud are represented by No Worries and Love Struck ,while Maine Chance have Run For It and Punta Arenas carrying their flag. Three stallions have sired eleven of the runners. Silvano has six runners. Jet Master has three. Kahal has two.
While the provincial boundaries are slightly skewed, with some yards holding dual citizenship, the representation is evenly spread with Gauteng and KZN having seven runners apiece, with the Cape on six. The statistics behind us, we can consider two other factors.
Ace Of Pace
There is no obvious pacemaker in the race, and a danger exists that it could turn into the sequel to the Durban Dash. And sequels don't generally work. Trainer Gavin Zyl, who sends out probably the best genuine stayer in the race, allayed fears of a dawdle earlier this week. "Seal goes 3000m, so we are not going to hang around. If need be he will go up there and make his own pace. I don't want him being caught flat footed if they decide to sprint for home," he said.
Then the 3yo group is rumoured to be ordinary. The form amongst the seven that run is very closely matched, and we say that the sub standard theory perception is like hats. Some years they are in fashion,others less so.
The Field
Let's commence at the top of the weights. Tarry has a very strong hand with his quartet of runners. As mentioned, topweight Pomodoro goes for the double . He won it last year from a 20 draw and jumps thirteen gates inwards from that this time around. Sean Tarry is on record as suggesting that Pomodoro is an even better horse this year. If that is the case, he is a major runner.
Pomodoro's prep has gone well. Top class placed efforts in the L'Ormarin's Queens Plate and J&B Met followed by a good run to Variety Club in a Pinnacle Stakes and then a 1,75 length third behind the same champion in the recent Gold Challenge, is encouraging. He has plenty going for him and if a better horse from a better draw, facing what is supposedly a weaker field than last year? That must tell us something.
His stablemate Heavy Metal has been rather harshly treated by the handicapper according to his trainer. The Gr1 President's Champions Challenge winner is in the form of his life and did everything but win the Gr3 Jubilee Handicap under a welterweight last time.
Luckless
Whiteline Fever had no luck in this race last year and was one of the fastest finishers when running a narrowly beaten eighth. Sean Tarry scoffed at suggestions that he is a horse who doesn't stay the 2200m. "He has a short burst and Bernard (Fayd'herbe) had him running at the 500m marker in the Champions Challenge. He will have learnt to hang on to him a bit longer here and Greyville will actually suit him. He is very fit and well," he said
Tarry labelled E-Jet his July horse when he won the Colorado King: " He is carrying the right weight here and I'm not worried about the 18 draw. He is the sort of horse who can amble along early and make his way through them later," he said.
He is 3,5kgs better off with his stablemate Heavy Metal on their Champions Challenge clash where he went down 3,25 lengths. He is also a half kilo better off with Jet Explorer on the Greyville 1900 where he ran three lengths behind him.
Great Season
Justin Snaith has enjoyed the season of his life and his wonderful streak of fortune both on and off the track was illustrated in no uncertain terms when he casually pulled draws 1 and 2 for his coupling. A month ago most racing enthusiasts would not have believed that the Dynasty gelding Run For It was even a contender for July honours.
A rest followed his last place finish behind Martial Eagle in the J&B Met. He came out a different horse in the Drill Hall Stakes after the unkindest cut of all had him refocused on the task at hand and he finished with a flourish with a smart fourth behind Beach Beauty. Run For It won a mile Allowance Plate at Greyville beating three horses two weeks ago. He was weighted to win that by a hundred meters. So we learnt nothing other than to know that he is very well. He is surely overdue for a big one. Snaith's second runner and the horse who ticks all of the right boxes is the Greyville 1900 winner Jet Explorer.
"He has come to light in KZN and his soundness and general wellbeing is unbelievable," said an upbeat Justin Snaith earlier this week. Well drawn with one of the most polished July jockeys in the field, Jet Explorer is a huge candidate to put the cherry on the top of a dream season for the Cape family yard.
The Youngsters
The experts have suggested that this year's 3yo crop is sub standard. There are seven of them in the race. Top of the ratings in this sector is Dean Kannemeyer's Cape Guineas and Derby winner Capetown Noir. He put in a cracking final gallop last Thursday at Greyville, clocking the fastest time of the morning.
After winning the Byerley Turk in facile fashion at his Champions Season opener, Capetown Noir suffered two narrow defeats at the hands of the undefeated Vercingetorix.
In both races he was no further than a neck adrift and moved up just failing to get there. It is held in some quarters that he won't get the 2200m trip. His trainer and jockey feel different. His draw of 15 is obviously a major factor and he will require plenty of good fortune.
But he has an electric turn of foot, and for those with short memories, this could be the fellow to spoil the party. Gavin Van Zyl's No Worries actually finished marginally ahead of Capetown Noir in the Daily News 2000. He has improved dramatically in blinkers. He has pulled an even worse draw at 19 and his trainer is on record as saying that No Worries would have rather missed the July, had his passionate owner Brian Burnard not wanted to give the race a try.
"His prep is going well and while he may be a bit mentally immature, he only has to produce his Daily News run to challenge. From that draw he will be dropped in and positioned probably somewhere in midfield,"said Van Zyl. The lone Australian representative in the race is the Redoute's Choice colt Wylie Hall.
He won the SA Derby in great style and that race is often seen as a credible platform for future July performers . His flying fourth when beaten just 0,25 lengths in the Gr1 Daily News was a terrific first run at Greyville.
Wisdom
Paul Lafferty's SA Classic winner Love Struck ran in Sunday's Breeders Million Mile and goes into the July a fit horse. He technically holds a fellow like No Worries on their SA Classic clash. The wisdom of running a horse in a tough race just six days before the July will be tested. We have our reservations.
Recently changed stables and a winner of just a workrider's race, the presence in this event of the Silvano Gelding Gothic has caused some consternation. He ran a cracking half length second to Wylie Hall in the SA Derby and may yet still be ahead of the handicapper.
If that is the case, he may be a lot better in than it looks on paper, but has he got the strength of mind and the experience to match the seasoned campaigners? He also jumps in the parking lot, which will do his cause no favours.
Jungle Jim
Jeff Freedman's Mogok colt Wild One ran a top class third from a poor draw in the SA Derby. He was not disgraced in the Daily News when finishing just over 3 lengths behind Vercingetorix. We cannot make much of a case for him to be frank. The only filly in the race is Geoff Woodruff's Gr1 Woolavington 2000 winner, Do You Remember.
This little pack of dynamite was the Gauteng Triple Tiara 'first princess' as it were and was rewarded with a Gr1 victory when Blueridge Mountain decided to play silly games and Cherry On The Top had an off day. She will be ridden from a good draw by the experienced Robbie Fradd, and Ipi Tombe proved that it can be done!
The In Betweeners
Sean Veale  rides the Captain Al gelding Hill Fifty Four for Vaughan Marshall. His trainer said that he is not unhappy with a midfield draw and that his charge has enjoyed a good prep.
Hill Fifty Four was narrowly beaten by Martial Eagle in the J&B Met and ran on very smartly when a good third behind Beach Beauty in the Drill Hall Stakes on his return to action in May.
His stablemate Tribal Dance won the consolation race on July day last year and his trainer feels that he has had a much better prep this year. He won the Listed Sledgehammer beating Jet Explorer narrowly when giving him 5kgs. He is now 2kgs better off with the Snaith runner.
Tough As Teak
Gavin Van Zyl sends out the trojan stayer Seal, whom many thought would turn up to contest the Gold Cup on Super Saturday.He may still do that, but his recent performances have earned him a spot here.
Described as a revelation over the last six months, Van Zyl told us that his charge had come on with the Jubilee win and was getting better all the time. He is a horse who has been on the go since October last year, and is an absolute workaholic.
Van Zyl also sends out the one time winner, Shogunnar. He explained that Shogunnar's programme has always included a plan for the bigger races. He is multiple Gr1 placed and while he put in a slightly flat run in the Jubilee Handicap last time, the stable reports that they have rectified a longstanding problem after that last run.
Shogunnar will fly into Durban on the eve of the race. Van Zyl said the process of leaving his runners in in Johannesburg had worked well last year. Charles Laird has had the trauma of his recent recovery from a serious operation eased by his charge Astro News' smooth win in the Gr3 Cup Trial. He is 2,5 kgs worse off with Punta Arenas for a margin of over a two length beating there, but retains the advantage of a better draw.
Dark Horse
Stan Elley sends out the 2012 Gr3 Winter Derby winner Punta Arenas, who ran a neat fourth in the recent Cup Trial and galloped well on Thursday. The 4yo son of Silvano disposed of the recent PE Gold Cup winner Crown Of Gold by three lengths in the 2012 Winter Derby and had Hill Fifty Four further back in third.
Plenty of water has flow under the bridge since then, but Punta Arena meets Hill Fifty Four on 6,5kgs better terms here. He has only won once in his nine starts since his biggest career win, but has had an eerily low key prep for this race, and were it not for his 17 draw, would get a top four vote from this quarter.
The Tiger Ridge gelding Wagner has been described by his trainer Joey Soma as one of the best handicapped runners in the field. Wagner won the Gr1 Sansui Summer Cup in December last year and Soma declared then that he would target the July as his main goal. The likeable Soma has certainly succeeded to some degree in that his charge is well drawn with a handy galloping weight.
Considerations
Whatever your personal opinion about the field or the selection panel, the race as a contest is a fascinating one. On face value there is no pace.But somebody is going to take advantage of that gap and as Gavin Van Zyl assured us, Seal will not be falling into the snooze and sprint trap.
Either way, the draws should be crucial. If you are drawn wide, you can get lucky and not be caught out in the cold. But if you are well drawn, then you had better possess the gate speed not to find yourself camping on the ninth hole while they fight it out in the final 300m.
All the overanalysis can kill the gut feel. So follow your heart too. We are going with Pomodoro to complete the double at the expense of 3yo Capetown Noir, with Jet Explorer in third. The tote is paying six places especially for the Run For It fans!
‹ Previous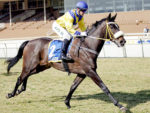 If The Shoe Fits