There has been something of a media frenzy over the last month or so, not least of all in the run up to the Vodacom Durban July, when the racing community, the country and indeed the world held its collective breath over the state of health of former President Nelson Mandela. He remains at the forefront of people's consciousness with his hospital stay entering its second month and a milestone birthday approaching fast.
Nelson Mandela turns 95 on Thursday, 18 July 2013, which also marks the 5th anniversary of Nelson Mandela International Day. Following the success of Mandela's 90th birthday celebrations in Hyde Park in June 2008, it was decided that the most fitting way to celebrate Mr Mandela's birthday would be to dedicate the day to his life's work through volunteering and community service work.
The 46664 concerts and the Nelson Mandela Foundation rallied the global community to support the institution of an official Mandela Day, honouring the legacy of our former President.
While many groups celebrated the first Mandela Day on 18 July 2009, it was only officially declared by the United Nations in November 2009, with the first UN Mandela Day held in July 2010.
But whatever the official starting date may or may not be, Mandela Day has evolved into a global call to action celebrating the idea that each individual has the power to transform the world and the ability to make an impact. The campaign message is simple: Mr Mandela gave 67 years of his life fighting for the rights of humanity and they ask that everyone gives 67 minutes of their time, either supporting a chosen charity or serving your local community.
Curragh Mon
While it's not quite a Mandela Day story, I did recently read a really great story on a really great site called the Retired Racehorse Blog, founded by Thoroughbred fan, Natalie Keller-Reinert.
It's about a grey horse called Curragh Mon. This well-bred, good looking grey son of Maria's Mon (sire of Monarchos and Super Saver) started his racing career promisingly enough, notching up a second place first time out in 2009.
He broke his maiden eleven months later at Tampa Bay Downs and subsequently won three more times, although he lost a lot more than that and Curragh Mon changed owners seven times over his four year career. His last three starts were in March and April this year and after that, he fell off the radar. It sounds strange that a half ton animal can simply disappear, but incredibly they do and it happens remarkably quickly.
Fortunately, in a fairytale twist, one of Curragh Mon's former owners became concerned about the big grey horse and contacted Vanessa Nye at an organisation called Thoroughbred Retirement of Tampa (TROT).
TROT is a nonprofit organization dedicated to the safe retirement from racing, retraining and rehoming of Tampa's racing Thoroughbreds. Vanessa was tasked with tracking down Curragh Mon.
It took eight weeks and over 400 phone calls, but Vanessa found him. A little dishevelled and suspected en route for unregulated match racing. TROT managed to purchase him and with a little help from a number of generous individuals (including those former owners), Curragh Mon is now safely at TROT's foster facility, starting his journey to a second career. Isn't that nice?
He even has his own Facebook page! When the story was posted on the Retired Racehorse blog, it took a single day to become the single most viewed post on the site, ever. Which just goes to show that there is still an awful lot of interest and plenty of PR mileage in looking after retired race horses.
Or as Vanessa Nye puts it, "I believe, and always have, that retiring these horses properly, transitioning them into other careers and supporting the aftercare of these great animals is paramount for the racing industry's future."
Rebooting REHORP
A few years ago I wrote about the establishment of a local organisation called REHORP (Rehoming of Race Horses Project), established in 2010.
Funded by the Western Cape Equine Trust, run in conjunction with the Cape Horse Care Unit and based at the Grassy Park SPCA, the aim was to try and address the gap between a horse leaving the track and making the transition into a second career.
Individuals donated to the unit would have any outstanding inoculations administered, any entires were gelded and horses were given a chance to let down and receive some basic training to help them transition into their new homes.
Horses were adopted out under SPCA rules, checks were done on potential new homes and any horses adopted out under their policy received annual checks to ensure that everything was still in order. Since they opened their doors, REHORP have helped rehome over 90 Thoroughbreds.
In fact, the concept has proved so popular that the volume of work has rather outgrown the Grassy Park facilities and REHORP are branching out on their own. It has taken a few months to organise, but they are rebranding (and going forward will be known as the WCET Rehoming Programme), relocating (to Cheval Vapeur in Philippi) and have successfully registered as a non-profit organisation (which earns favourable terms from SARS for anyone wanting to donate to the cause).
I caught up with Vice Chairman Newton Phillips for a quick chat about the new project. "Essentially it is the same team behind the REHORP, based on very similar stringent criteria, but with a few important differences. Under the SPCA/Horse Care Unit banner, horses would be processed and adopted out according to SPCA policy.
There was an adoption fee for each horse and the proceeds were put back into the Horse Care Unit. Also, under the previous policy, horses were only ever adopted and not owned outright by their new caretakers.
Our Rehoming Programme will still apply strict rules in terms of home checks and do annual follow-ups on each horse, but with two important distinctions – there will be conditions attached, but horses will be sold to the new owners (although we will obviously continue to track them if / when they change homes) and secondly any and all proceeds will be put directly back into our project to fund the rehabilitation of another ex-racehorse."
The programme will be run on a small scale, aiming to accommodate anywhere from 4-7 horses at any one time. Newton is in day to day charge of the horses and personally helps with and oversees their training and progress. The new premises at Cheval Vapeur (conveniently situated within walking distance of the Philippi training facility) mean that the horses will be integrated into a livery setting.
This keeps the initial logistics to a minimum as they have all the necessary facilities and manpower as well as a set daily routine, so important for horses used to the structure of the racing environment. There is one regular rider to help with exercising and training and a number of additional volunteers. Although people with riding skills are always in demand, I should add that volunteers of any skill level are always very welcome.
Horses are donated to the programme with their passports, full medical and racing history and any other relevant details. On arrival at the Rehoming Programme, they will have a new feeding programme drawn up and training starts almost immediately.
Horses are stabled over night and have the luxury of turnout during the day. Newton starts with establishing good ground work principles, progressing to working horses on a lunge line in a round pen and establishing voice commands, then working off lead and finally progressing to ridden work.
"Unlike in their previous career, we need to put quite a lot of emphasis on stopping! We also gradually introduce rudimentary schooling and start teaching horses to use their bodies in new ways – like bending! Most of the initial work is done at trot and we only introduce a little canter work right at the end."
Of course projects like these can't run without very generous help from a number of different sources, but our industry has a lot of silent heroes. There is a team of farriers, vets, physios and volunteers, all giving generously of their time and resources to ensure the horses have everything they need to succeed.
All the horses are photographed and their details posted on the Western Cape Equine Trust Facebook page as well as a number of other resources such as Horsetrader, Gumtree and networked via their extensive list of contacts right across the country.
It usually takes around 4-5 weeks from the day a horse joins the programme until the day they are ready to go to a new home, but obviously that differs slightly depending on the individual.
For any trainers who are currently looking to rehome horses, the Rehoming Programme will officially be open for business next week and Newton tells me that greys and good looking dark bay geldings are always in particularly high demand, but as they say "a good horse is never a bad colour!".
Anyone who may be interested either in donating or shopping, can contact Newton directly on 082 454 5544, Tessa on 082 702 4197 or get in touch via their Facebook page.
There will be a purchase price attached, but you will have the satisfaction of knowing that your money will be put towards helping rehabilitate another Thoroughbred and also peace of mind knowing that you are effectively helping 2 horses – the one you are buying and the one that will take its place.
For those who are already sufficiently blessed in the horse department, donations are always very welcome (particularly now that they can offer SARS certificates). For those who prefer to contribute in other ways, time, resources and expertise are always greatly appreciated.
And if you happen to do it this Thursday, for say 67 minutes, then you can kill two birds with one stone! Another good way to spend your 67 minutes might be to look up one of your old horses and see how they're getting on.
What you can do
The rescue community have a wonderful mantra – If you can't adopt – foster. If you can't foster – sponsor. If you can't sponsor – volunteer. If you can't volunteer – donate. If you can't donate – educate, network, and crosspost. Everyone can do something, large or small, to help save a life.
Mandela Day is a call to action for individuals – for people everywhere – to take responsibility for changing the world into a better place, one small step at a time, just as Mr Mandela did.
I seldom miss an opportunity to nag people to please please please keep tabs on horses that you've sold on, so here it is. You can't change the world, but you can change the world for one person. Or one horse. And you definitely can change the world one horse at a time.
‹ Previous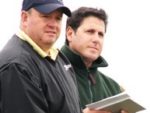 De Kock Or Tarry?