Avontuur's exciting Danehill stallion Oratorio continued with his outstanding international stakes performances when his smart daughter Along Came Casey won the  Listed Irish Stallion Farms EBF Hurry Harriet Stakes over 1800m at Gowran Park on Thursday.
"She did what was expected and is unbeaten around here. She's a very high-class filly, is so consistent and loves fast ground," said trainer  Weld of Along Came Casey. "The Dance Design Stakes at the Curragh is a logical next race, it's also over nine furlongs, which is probably her optimum distance.
"She's tough, genuine and consistent and really, the ground can't be fast enough for her. Because of that she may go to America later in the year.
"She's entitled to have a crack at a Group One before the year is out."
Along Came Casey's sire Oratorio took up duties at Avontuur earlier this year after being purchased out of Coolmore Australia by the Taberer family late last year.
Aside from his dominant performance on the European stallion tables, the Oratorio progeny have set the world alight in both hemispheres.
His son Military Attack was crowned Hong Kong Horse Of the Year last month.
The Irish-bred five-year-old won five races during the 2012-13 campaign, all of them at Group level, including three Gr 1 victories.
Military Attack also took the Champion Middle-distance Horse title and received the public vote as Most Popular Horse of the Year in Hong Kong.
Oratorio is without question, the real deal when it comes to stallions.
Besides his record breaking statistics, international and local media, as well as other visitors to Avontuur are constantly being bowled over by his presence and his kind eye.
Reports from Avontuur indicate that overwhelming support from across the country have meant that Oratorio's first local book has closed at 120 mares.
His mares include the likes of Met winner River Jetez, Gr1 Majorca Stakes winner Sarabande, Hidden Beauty, Lamorna, Control Freak, Purple Lake, Mitra(Val De Ra's  half-sister)and State Coach, who is the dam of Joey Ramsden's recent Derby winner and Gr1 Champions Cup runner up, Silva no's Jet .
A glance at the list of mums also highlights the unbeaten Soft Falling Rain's half-sister Rose Garden and many other well related and well preformed mares.
Oratorio's sensational achievements have ironically presented their own unique challenges for the vastly experienced and professional Avontuur team.
Avontuur General Manager Pippa Mickleburgh explained the delightful predicament and challenges that she and her team face:
"I now know how some of my colleagues internationally feel. One of the things we have got to get used to is having a truly international stallion. Oratorio has runners around the entire world on an almost daily basis and it is really quite challenging keeping  up to date. We have been so isolated here in South Africa for so long, sadly. Standing a stallion that flies the flag everywhere is a totally new challenge," she smiled.
In her own words, the popular and no nonsense stud  manager lamented the fact that " we can't travel and play with everyone." This was a reference to South Africa's much debated and highly constraining export protocols.
Pippa added  that Avontuur had fielded numerous requests to shuttle Oratorio to Europe.
"If only South Africans could operate and do business like everyone else on earth, this industry would flourish!" she said.
When chatting to Pippa on Saturday morning, we asked about the Avontuur maternity ward so far:
"We have only had two foals born so far.  The first was a classy little lady by Gimmethegreenlight out of Mochachino . Then last night we welcomed a very attractive  Var colt our of our Danehill Dancer mare Paradise Beach( GB ), who herself is out of a full sister to leading first season sire Henrythenavigator."
Pippa said that next in line was the grand old lady Wise Dame, who was due to Var and then followed by A Daughters Legacy, also to Var.
"We are expecting around 35 foals and are looking forward to Minnelli (dam of champion Val De Ra ) foaling to Silvano ,Sarabande to Dynasty, Mother Russia's sister Baltic Beauty to Western Winter and Model IQ (dam of Shiffer) to Silvano."
Pippa said with the idol status commanded by Oratorio, we shouldn't forget about the superstar Var. The sire of stunning double South African Horse Of The Year, Variety Club, also had a full book of 110 mares. The list includes the likes of Gr1 SA Fillies Classic winner Bambina Stripes, Without Malice, Sunshine Lover (dam of Captains Lover), Jalberry, Field Flower, Fine Wood (dam of Contador) and Variety Club's halfsister, Lamrr.
We got up to leave the magnificent estate  as one of her staff touched her shoulder and Pippa's cellphone rang for the umpteenth time.
"We are gearing up for a busy few months, with the two stallions keeping us on our toes. Our  restaurant is full every day and the music  evenings are proving very popular. And then the Fillies Guineas with its new bumper R1 million price tag is just around the corner too!" she laughed.
"Now we just need the sun," she pleaded looking skywards as she waved us goodbye and answered that cellphone, again!
‹ Previous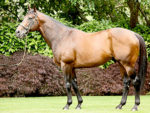 The World's Ten Best Sires