August 1 – 7
All horses turn a year older.
Transvaal TAB posts a record turnover of R95.3 million for the month of July. Turnover for the first seven months of 1993 is five percent ahead of the same period last year.
To celebrate, the Transvaal TAB launches a national TV campaign. In a 30 second commercial, some frustrated fat (white) broad humping on a bed of satin desperately shouts home her choice named "Lover Boy", this while racing shots show a highly recognisable Empress Club winning a race. The agency that proposed this ad doesn't deserve to be in business, while Transvaal TAB clearly has never heard of target marketing and should have a serious look at its management's capabilities, imagined or otherwise. Thankfully, the ad disappears from our screens within a few weeks. Even so, it must have set back the punters a hundred grand or so in production and flighting costs. Talk about showing off!
Two lengths covers the first seven horses past the post in the R600.000 Gr1 Gold Cup at Greyville. Maingard trained gelding Space Walk, at 3/1, beats 33/1 outsider Golden Peak by a nose, with Art de Vivre and 2/1 favourite White Tie Affair in third and fourth. The judge takes almost five minutes to analyse the photograph (trainer Maingard didn't think he'd won). Natal Derby winner Chief Advocate injures his knee in the running and is pulled out of the race.
In the Gr3 Summerveld Stakes run on the same day, stipes object against the second horse Agua Caliente on behalf of Jump the Queue who dead heats for third with Casey's Child. It is only when the objection is underway that stipes realise it is at winner False Pretender that the objection should have been aimed. The cause of the confusion was the similarity in colours of the first and second horse. The time allowed to lodge objections has elapsed, however, and it is not possible for stipes to alter their original protest. The objection against Agua Caliente is withdrawn and the result stands, luckily perhaps for False Pretender. What's in a name?
August 8 – 14
At the National Two-year-old Sale the average is up on the previous year, when 247 lots are sold for R2.9 million (average 11.000). Top price is R160.000 paid for Northern Guest colt Northern Moonlight.
Jockeys take matters in their own hands when refusing to ride at Bloemfontein. Earlier, a local "board" had by majority decision decided that the meeting be held despite heavy rainfall and a waterlogged track. Two jockeys and the chief stipe, all three represented on the "board", express the minority opinion that the course is unsafe for racing, but are overruled. This galvanises the other jockeys into action and they collectively state that they should not be asked to expose themselves to "extreme physical danger".
As a result, a special Jockey Club Board of Inquiry is convened to decide whether or not to charge the jockeys who refused to ride. This Board comes to the conclusion not to charge the jockeys as "their action was reasonable under the circumstances", and instead decides to investigate the general condition of the track at Bloemfontein which appears to be less than satisfactory.
PE apparently is far, far away from the new South Africa. In the SABC sports programme early on Saturday morning the results from the previous afternoon's racing are preceded by the comment: "Race One was a groom's event, so here are the results starting with Race Two".
The race also goes missing from the official Jockey Club Calendar. As if it never happened! Yet newspapers carry the result in all its glory: Andy's Queen, ridden by M Kilani and trained by Andy Smith wins the race with 64.5 kilos, at odds of 9/2, by a length from Mister Manor and Quarryqueen.
Flaming Rock, at odds of 1/3, fails to reproduce his best in the Gr1 Champion Stakes over 2000m at Greyville. Usually a false run affair, this weight-for-age race comes far too late in the season to be significant and to the careful observer clearly no longer deserves its Gr1 status.
The 1993 edition (false run again) is won by filly Vesta, who finishes a short head in front of dead heating Soviet Rising and Pas de Quoi, with Flaming Rock a neck back in fourth. Pas de Quoi may have been unlucky not to win, as he is hampered by Soviet Rising. Stipes object, and Pas de Quoi is placed ahead of Soviet Rising.
August 15 – 21
BDHRIC (Board for Development of the Horse Racing Industry), purely Cape based despite its name, releases a statement to indicate that the board's current priority is "to establish financial and other controls – once this is achieved, marketing and promoting of racing will be given urgent attention". The Board believes that Cape clubs are currently operating ahead of budget, thanks to financial restrictions recently imposed.
Signor Amigo completes the Gr1 Natal Mercury Sprint double, when he wins the 1200m race at Clairwood Park by a length from Secret Rites, Dominof and Jallad. Robbie Hill, rider of Secret Rites, lodges an objection against the winner for bumping, but finds himself without his R800 deposit after the objection, classified as "unwarranted", is overruled.
August 22 – 28
Highveld horseracing is catapulted into the 21st century, according to informed Rand-writers, when the TAB (Tvl) introduces fractional betting. Some worries exist about punter confusion, but TAB GM Pells allays fears: "Punters pick things up quickly and will only make basic mistakes once. When they get into the swing of things fractional betting will become second nature, and there should be no problems whatsoever". Pells stated that while no market research had been conducted before the introduction of fractional betting, TAB officials had formed the impression that such a system was necessary.
At a special meeting of the Cape Owners and Trainers local clubs are slated from the floor for not marketing racing, poor management and a lethargic attitude to complaints. Threats are made to boycott racing if demands for improved stakes are not adequately attended to. One member, who clearly grasps the spirit of things, dramatically burns his voting paper and is perhaps fortunate not set himself alight as well.
The meeting makes the frontpage of the Argus, with the headline "Boycott threat to Cape racing" – not bad for an event attended by just 85 of the Cape OTA's 930 members. The meeting is given a miss by Cape Racing's management and representatives of the Province, this despite widely published notice in local newspapers, which clearly aren't read by racing's local leaders. The Argus reports that CPA deputy director Dr JC Stegmann (isn't that name familiar?) strongly denies to have had any knowledge of the special OTA meeting: "the CPA was not even aware that Tuesday's meeting was being held".
Natal breeders award Secret Rites their Horse of the Year title. Predictably, Secret Rites, bred at Aldora Stud, also clinches the title of Best Older Horse.
Art de Vivre scores a convincing win in the Gr2 Gold Vase over 2400m at Clairwood. The son of Concertino takes his earning to over R600.000. Gold Cup runner-up again has to settle for second, a neck ahead of stable companion Sweet Secret.
August 29 – September 4
The Fenix dispersal grosses R1.4 million for 43 lots (average R34.000). Top price at the auction, held on Villa Felice farm in PE, is R135.000 for Eileen Alanna in foal to Foveros, bid by Alan King. The Oppenheimers go to R120.000 to secure Special Felice (dam of Golden Man and Prince of War) and R80.000 for that mare's Model Man yearling colt.
At a combined meeting of the Highveld Racing Authority (HRA) and the Transvaal TAB developments are reviewed following the introduction of fractional betting in the Transvaal.

The decline in turnover at the three meetings held since that date is regarded with concern, as it seems to reflect punter dissatisfaction. The meeting concludes that a considerable amount of education, both of punters and Tote staff, is required to take full advantage of the flexibility of the new system. It appears that the new betting slip is user-unfriendly and causes major headeaches.
The meeting further resolves to reinstate the unit of betting for trifecta's as R1 (it had been dropped to 10 cent, resulting in what many perceive as puny pay-outs, dissuading punters from betting on the trifecta).
Meanwhile in Natal, racing clubs and their TAB announce a reduction in the betting unit of the trifecta from R1 to 50 cent. In the same announcement the clubs and TAB distance themselves from TV commercials flighted nationally on behalf of the Transvaal TAB.
Clearly, "how to confuse the hell out of the punter" is rapidly becoming a favourite national pastime.
A self-help marketing initiative aimed at highlighting the benefits of racehorse ownership is launched in the UK, to coincide with the crucial sales season. A special office is set up at the Jockey Club's offices in London to deal with enquiries from prospective owners with little experience of the bloodstock industry. The marketing office will try to direct potential investors to the appropriate markets for the amount of money they want to spend, from racing clubs to the prestigious Houghton Sale. Says Racing Board member Nick Robinson: "In the past, potential owners coming into the sport have been introduced to trainers without really knowing what was going on. They get disillusioned very quickly. We hope to stress the vital importance of finding an adviser." The initial scheme has a four-month shelf-life, for the duration of the sales season. After that trial period it will be absorbed into the Racing Board's long-term marketing strategy. Racing Board chief executive Tristram Ricketts has identified marketing as a top priority for the new body, which has advertised for a marketing director at a salary of œ60.000 per annum.
The British Racing Board also intends to take action to combat the dwindling equine population with a complete review of its fixture list for 1995. The recently announced 1994 listing has 1150 race meetings (one less than in 1993), which caters for a horse population of 12.500 (down from 14.000 in 1988) – racing under flat and hunt rules. There is criticism that there are too many fixtures for a dwindling horse population – an interesting observation in a country where bookmakers rule and where seven-race or six-race meetings still are the norm. In South Africa there is a flat-race population of just over 8.000 (about the same as in the UK) that races at about 500 meetings.
The annual ARCSA awards once again cause controversy when Flaming Rock is voted Horse of the Year ahead of Empress Club, Taban Sprinter of the Year ahead of Signor Amigo, Hidden Fortune Stayer of the Year ahead of White Tie Affair and Chief Advocate. Commentators hone in especially on Signor Amigo, who'd lost last year to Polished Silver. Sprinter Signor Amigo this year also features on the list of nominations for Best Older Horse (whereas Taban isn't!) and some searching questions are asked about the point system and reliability of the recording thereof. ARCSA, somewhat predictably, stayed mum about the affair.
Trainers Mike de Kock and Dean Maroun add some colour to the ARCSA proceedings at Turffontein, which this year are televised live from the track to other tracks around the country. The two trainers get into the picture with an impromptu brawl outside the weighing room just after the running of the sixth race. Their award? A R5.000 fine each.
‹ Previous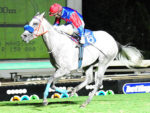 Circle In The Sand