Racing just got serious again in Singapore. After the Internationals in May and the Derby in July, Group 1 racing returns to Kranji with the running of the Kranji Mile – the first leg of the Singapore Triple Crown. Of course the series – and indeed the feature season – culminates in November with the timehonored Singapore Gold Cup but given the handicap conditions of that race, the Kranji Mile and the Raffles Cup later this month will see the best weight-for-age horses do battle. MR BIG heads the ratings in the Kranji Mile (race 10) and, as he showed last start by winning over 1400m in the Jumbo Jet Trophy, he is much more than just a top grade sprinter. The mile at this level may be a test again but with 11 wins from just 25 career starts, the 5YO knows where the finishing line is and could just be too tough for the others to pass on the Short Course A. The horse that was closing on MR BIG in the Jumbo Jet – and could be his biggest threat – is the consistent, NANDOWRA. A winner from 1200m to 1800m, NANDOWRA looks very well placed at the weights over the mile and might prove to be value in what is a very strong Kranji Mile field. The three 4YO's – STEPITUP, SUPER NINETYSEVEN and ZAC SPIRIT – will get plenty of attention on their respective outstanding form in the 3YO series, however, they will be tested in Open Group company at the WFA conditions.
.
Best Bets; WILD GEESE (race 9 , win), FUNCA (race 12, each-way) and NANDOWRA (race 10, value).
Bankers for Jackpots: Race 9 (1, 2, 6 and 7), race 10 (1, 3, 5, 6, 9, 10 and 11), race 11 (1 and 3), race 12 (3, 4, 5, 8, 9 and 10).
.
Race cards and Larry Foley's synopsis follows and for updates on all runners go to www.kranjiracing.com
Please note the odds listed are "reference odds" only.
.
Race 8
Selections; 4 STREET LEGAL – 1 TRUDEAU – 6 SUPER JUNIOR – 5 CANNON HILL
Is there a horse that has improved more than STREET LEGAL in Singapore? The 8YO won in Class 5 just over 12 months ago and now looks a genuine Gold Cup hope. The way he won last start suggests he is the one to be on again and although giving a few kgs to CANNON HILL for that winning effort, he is the one to beat. If anything does beat him it might be the race tempo and the likely front runner in TRUDEAU. One of two Arexevanowned horses in the race, TRUDEAU caused somewhat of an upset when resuming over 1200m in Group company at his last start and, although stepping up to 2200m looks ambitious, a cheeky run is expected. His stablemate, HINT, is also worth some thought as he heads towards another Gold Cup campaign with best work expected very late. And while CANNON HILL has to be respected, the progressive SUPER JUNIOR could stamp himself a Gold Cup contender if he can see out the 2200m.
1 TRUDEAU *** Dramatically up in trip after winning first-up in top company over 1200m. Could look the winner at the 200m mark. 12
2 TENZING * Blinkers downgraded to winkers and will again be doing best work late. Needs rain. 20
3 HINT *** Appreciates nice first up effort over the mile and not without a chance this trip with blinkers removed. 12
4 STREET LEGAL *** Racing in career best form and extremely hard to beat on what we saw last start. 1.90
5 CANNON HILL *** Well beaten into second behind STREET LEGAL last start but gets a pull in the weights so can make amends. 3.00
6 SUPER JUNIOR *** Progressive and looks the type that will handle the company and trip. Keep safe. 5.00
7 GALAXY EXPRESS * From astute staying yard but hard to have on form. 100
8 MAKE A RETURN * Better effort last start but that was easier company. No. 100
.
Race 9
Selections; 2 WILD GEESE – 7 RITE OF SPRING – 6 DANIEL – 1 LISTEN
With two very smart 2YO's in RITE OF SPRING and DANIEL in this field, expect some serious punting with money likely for both on the light weight at the race conditions. RITE OF SPRING did get the better of DANIEL under similar conditions last start but given the latter may have had excuses (saddle), there won't be much between the two with the step up to 1400m no problem. The other 3YO in the race is THUMPING and given his last start win was over this trip, he might be worth a look at odds. But the best rated horse in the race is the Group 1 placed WILD GEESE and given he only has two wins to his name, he looks hard to beat at the race conditions. With Harry Kassim's 2kg claim, the NH 4YO is over 6kg better off than his nearest rival on paper and as blinkers go on after a strong recent trial, he should win. At the top of the weights, LISTEN will have plenty of admirers given his top form including a last start win this trip with SPLICE and NATION THEATRE also in the mix; but WILD GEESE the one to beat.
1 LISTEN *** Won well similar affair last start and in this a long way under similar race conditions. 6.50
2 WILD GEESE *** Jockey reported issues last start so pay to give another show with blinkers added and strong trial. 8.00
3 FLYING AHEAD * Last start better than it looked but hopeless at the weights and needs Class 5. 100
4 SPLICE ** Last start just fair but recent trials good and tongue-tie added so look for improvement. 20
5 NATION THEATRE ** Singapore debut OK and up in trip in his favour but not in well at race conditions. 20
6 DANIEL *** Saddle slipped last start when beaten by RITE OF SPRING but looked every chance. 3.00
7 RITE OF SPRING *** Easily accounted for DANIEL last start and looks hard to beat on that effort. 2.00
8 THUMPING ** Backed up good debut with nice win this trip. Value. 12
.
Race 10
Selections; 1 MR BIG – 5 NANDOWRA – 10 STEPITUP – 9 SUPER NINETYSEVEN
It's hard not to look at some of the lower rated 4YO's in the Group 1 Kranji mile, with SUPER NINETYSEVEN, STEPITUP and ZAC SPIRIT all wining hopes. But while they get a nominal weight allowance, it is the first time the trio face the best horses in Singapore in open Group company and at the WFA conditions it may pay to look at he top of the ratings to find the winner. As such, MR BIG looks a huge winning hope after showing he is much more than just a sprinter by winning the Jumbo Jet over 1400m last start. The A Short Course may suit his style – he will be on the pace if not leading come the turn into the straight – and Corey Brown might just have too much horse for the others to pass late. NANDOWRA was the best closer in the Jumbo Jet and with the unfashionable (at this level) S John on-board, he might be value and no reason he isn't in the thick of this finish. The 4YO's do look the goods though and STEPITUP did have the wood on SUPER NINETYSEVEN but not much between the two. CITY LAD and ZAC INFLUENCE the other two to watch at value in what is a very good race.
1 MR BIG *** Coming off a strong win first time over 1400m and the one they will have to pass late. Big show. 7.00
2 FLAX ** Not as his best last start but mile suits and has runs on the board. 33
3 SPEEDY CAT *** Disappointing last start but pay to forgive rare bad run as right in this on previous form. 12
4 FLYING FULTON ** Showed little this campaign but look for improvement with blinkers off over the mile. 33
5 NANDOWRA *** Super consistent and big run late in the Jumbo Jet over 1400m has him set for this. 20
6 ZAC INFLUENCE *** Very much appreciates first-up run, extra trip and could be the value. 33
7 CASH LUCK ** Won very well in easier company and subsequent trial very good. Keep safe at long odds. 12
8 CITY LAD *** Very underrated and looks well placed to run a big race at each-way value with blinkers off. 12
9 SUPER NINETYSEVEN *** Very progressive, in very strong winning form and right in this late. 3.50
10 STEPITUP *** Resuming after winning Group 1 Guineas and has won seven races from eight career starts so picks himself. 3.00
11 ZAC SPIRIT *** Looks to have improved since being in the mix without winning in 3YO Group company. Follow. 7.00
.
Race 11
Selections; 1 KLEVER MAN – 3 CALIFORNIA EAGLE – 2 LAMBORGHINI FLAME – 4 GOLIATH
Not a great deal of depth to this race and the punters will most likely be choosing between either KLEVER WARRIOR and CALIFORNIA EAGLE. Both horses look well and truly due to win again and both horses come into this with nice recent trials under their belts. In fact KLEVER WARRIOR's recent trial was better than "nice" and the strong win with headgear added suggests he is the one to beat with blinkers on first time. And while CALIFORNIA EAGLE probably starts favourite (or near enough to), this is his first run on the turf so a slight risk although his form suggests he handles any track in this company. The only two that look likely to threaten the pair is LAMBORGHINI FLAME – who could very well lead and looks ready to hold on – and GOLIATH who resumes after winning two on the trot, albeit over longer. RAGING STORM will be closing but love to see him in Class 4.
1 KLEVER MAN *** Due and recent trial with blinkers added very strong. Can win this. 2.50
2 LAMBORGHINI FLAME *** Continues to battle on well late after leading and pinches one soon. 8.00
3 CALIFORNIA EAGLE *** First time on the turf but in terrific form and should be right in this. 2.20
4 GOLIATH *** Resuming after back-to-back wins. Respect with eye on tote. 5.00
5 WARSPIRIT * Looks a risk. 100
6 GOLDEN RABBIT ** Thereabouts in this company and can include in exotics. 20
7 RAGING STORM ** Beaten a long way into second last start but best work expected late again. 20
8 MARAETI * Not suited. 200
9 HOPKINS * Wait for easier. 100
.
Race 12
Selections; 8 FUNCA – 5 EURO ZONE – 4 FARRAND – 10 RIEDEL
Two last start maiden winners will come under punters scrutiny in the last with NATURE IS NATURE and EURO ZONE both likely to get heavy support. NATURE IS NATURE turned around some very solid form without a result to oddly break his maiden status in Class 4 company last start and while he has more weight to carry here, he will be in the mix late. EURO ZONE – an ex Kiwi – only took two runs in Singapore to get his maiden win and that effort looked strong enough to win in Class 4. Moreira stays on and the step up in trip looks no problem given the way he finished off over 1200m. But another "Singapore Maiden" in FUNCA appeals. Oddly, given the four-time Argentinean winner has had Moreira on-board at his last four starts, he has yet to knock in a win at Kranji but his recent efforts suggests that it is only a matter on time. The race has plenty of other winning hopes and it will pay to keep the likes of FARRAND, GREENBACK, RIEDEL, BRILLIANT DEAL and GOLD RUN safe with value the key.
1 BESPOKE * Tongue-tie added after poor Singapore debut. Market only guide. 100
2 JUST DASHING * Like to see over longer. 50
3 NATURE IS NATURE *** Broke maiden status over this trip in this grade last start and must be some hope although drawn badly. 7.00
4 FARRAND *** Last start good and recent trial suggests he goes close in this. 12
5 EURO ZONE *** Bolted in when breaking maiden status last start and pay to follow. 3.50
6 EXQUISITELY SWEET * Resuming after pulling up lame last start when disappointing with support. Keep safe. 20
7 FABER HEIGHTS ** Improves with Singapore debut run under his belt and winkers added. 20
8 FUNCA *** Foot on the till and right in this finish. 5.00
9 GREENBACK *** Can lead from wide gate and might prove hard to run down. 5.00
10 RIEDEL *** Singapore debut better than the result and improves stepping up to winning trip. 20
11 RAJAH BROOK ** Improved at second Singapore start and pay to follow. 33
12 JETSET MAN * Tongue-tie on so could improve but still a risk. 100
13 BRILLIANT DEAL *** Not far away last start with support and worth a look with blinkers removed. 15
14 GOLD RUN *** Always thereabouts this type of race and pay to keep safe. 10
15 BEAUTIFUL WORLD ** In solid form and could run a very forward race. 12
16 MY NEW BOSS ** Good effort on resuming and pay to follow with no weight and downgrade to winkers. 20
.
‹ Previous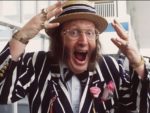 Age Of Uncertainty!