The case of a two time winner being placed second in a maiden race at Scottsville on 10 November 2013, has resulted in an amendment of the official result, and an instruction to Gold Circle to pay the stake monies on the amended result. But we are still none the wiser.
The case of the Mike De Kock trained New Zealand bred mare Forgive No Forget, who won two races in New Zealand, is shrouded in a cloud of mystery and intrigue.
She ran second in a race that she most definitely did not qualify to participate in when just beaten by African Dream.
She has been disqualified.
The stake has been redistributed.
Yet she is nominated twice later this month, including a maiden plate at Greyville.
Is it really sufficient that the result be amended, and the stake cheques be shuffled?
How did this case happen, and what checks and balances are in place to prevent a recurrence?
The delayed Stipes Report says:
Scottsville Racecourse : 10 November 2013 : Race  1 :
An objection was lodged on the 11th November 2013, in terms of Rule 68.3.2, against FORGIVE NO FORGET (NZ) who finished 2nd in Race 1 at Scottsville Racecourse, RAISETHORPE SECONDARY SCHOOL PATRONS '5' MAIDEN PLATE (F & M) on the 10th November 2013.  The objection was heard on the 14th November 2013 and the grounds of objection being that FORGIVE NO FORGET (NZ) was not qualified for the said Race in that she was imported into South Africa as a two time winner in New Zealand and as such was not eligible for a Maiden Plate.  The Objection Board, after considering the evidence presented as well as referring to the import documentation supplied by Racing New Zealand at the time of import, was satisfied that this mare was indeed a two time winner.  The objection was upheld and FORGIVE NO FORGET (NZ) was disqualified in terms of Rule 69.6.  The result was amended for statistical purposes.
The Racing Operator was advised to pay the stake monies on the amended results.
‹ Previous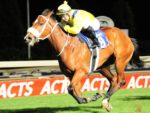 No Touching This Tiger