Purple Capital, a one time bidder for Cape horseracing have turned their back on the game. CEO Charles Savage told Alec Hogg in this interview on biznewz.com that he would be watching the industry closely. 
Alec Hogg says that he has always liked the way Charles Savage and Mark Barnes, his chairman at Purple Capital, go about their business.
"These are two of the great characters of SA's financial services sector. Never afraid to have a go, they've also got the bruises to prove that experience sometimes brings pain. Today's trading update from their under-performing JSE-listed stock suggests they've decided on an alternative road into the future. Purple is going back to its core business in retail CFD and derivatives trading operation Global Trader. And having sold its sports-betting arm Voltbet, will also be distributing a chunk of capital, suggesting no more acquisitions for a while. The sale of Voltbet signals the end of Purple's audacious attempt to transform South African horse racing. It won't be as much fun watching Purple Capital in future. But investors are sure to be well pleased with the result of a more conservative. more focused approach," says the astute Hogg.
ALEC HOGG:  Purple Capital is now focused on its core derivative trading and asset management businesses, which produced an EBITDA of just under R18 million if you exclude the non-recurring restructuring costs.  That's for the year-to-end August according to today's trading statement from the company. Executive Director Charles Savage is with us in the studio.  Charles, it's still seems to be a recovery story after that problem that you had in the UK  a few years back – with Global Trader.  Your market cap is R197 million.  The profits that you're generating are not really in line with the ambitions that you and Mark Barnes had some years back.
CHARLES SAVAGE:  I think the profits have been understated by the fact that we've invested in some assets over the last two or three years, which swayed us from our core operations.  We've obviously realised some of the value that we made in those investments, specifically in the Voltbet asset, which has yielded some cash and we're distributing that back to shareholders.  During that two to three-year period, we've grown earnings substantially out of the core operating derivatives and asset management business, and it's now operating at the levels it was at back in 2010.  We're encouraged by those results and we definitely think it's time to start focusing back on those core financial derivatives and asset management businesses and we're very excited about what the prospects for those look like.
ALEC HOGG:  When we last spoke you were very excited about Voltbet.  You thought this was going to be the next big thing.
CHARLES SAVAGE:  Our strategy was to drive a consolidation across the horse racing and sports betting market, which we tried to do very publicly, and we were unable to do it.  In order to grow the asset only in the sports betting market required substantial capital and shareholder support that was not available inside Purple Capital.  The best thing therefore, was for us to realise the value in that, which we'd created already and to pass it on to a group of shareholders who could fulfil its ambitions, and we've done that.  We've passed it on to Sun International and I'm pretty sure that that asset is going to grow from strength to strength there.
ALEC HOGG:  Is your horseracing involvement over?
CHARLES SAVAGE:  100 percent.
ALEC HOGG:  Are there any lessons that you've learned from it?
CHARLES SAVAGE:  I think the industry is an interesting one and one that I'm going to watch very closely.  I think that's showing in the Phumelela results.  Their results are getting stronger and stronger, they're a great dividend share, and the share price is reacting positively.  It's an industry that we learned a lot from and unfortunately, we weren't able to achieve our ambitions there.  The derivitave market and asset management industry is far more interesting than it has been for some time and it's showing growth rates like we experienced pre 2007.  We think it's time to focus back on those assets and continue to grow them substantially.
GUGULETHU MFUPHI:  You mentioned that you passed your sports betting unit on to Sun International.  How much did you get for that?
CHARLES SAVAGE:  We got R30 million, which declared a profit of somewhere near R21 million.
ALEC HOGG:  So now, you're going to distribute that to shareholders.
CHARLES SAVAGE:   The shareholders have been patient.  They deserve the capital and there's no requirement for us to keep the capital inside the business.  The rest of the businesses are all generating good cash, sufficient for us to continue to grow the businesses and invest in them.  Therefore, the capital would just be lazy on our balance sheet and earn pretty poor yield, so it's better in the hands of the shareholders.
GUGULETHU MFUPHI:  Why not use it for future acquisitions?
CHARLES SAVAGE:   We're highly cash generative at the moment and we have no ambitions to buy businesses inside our core operating divisions.
ALEC HOGG:   You've almost…kind of given up.  This is not the Charles Savage and Mark Barnes that I know.  These are the aggressive people, who were going to build a billion rand company.
CHARLES SAVAGE:   I think that's unfair, Alec.  I think the exciting part about the derivatives and asset management space we play in – which specifically is the hedge-fund space – that is set to grow at very high levels again.  Hedge-fund industry is currently getting huge regulatory support.  You're not capable of taking those to the retail marketplace, which hasn't been the case before, and so we anticipate that an enormous growth is going to happen there.  At the same time our oldest business, which is GT247.com, is experiencing strong growth again – double digits and in some cases of the business, triple digit growth.  It would therefore be silly of us to focus outside of those core assets, so we're very confident that over the next two to three years we'll be able to prove the business case for those core-operating businesses and deliver a market evaluation that is multiples of where it is now.
ALEC HOGG:   This wasn't the intention when you started, though.  When you started, Purple Capital was going to be something substantial, something big, and that's why I say it seems strange that you're saying 'we're distributing capital now.  We're not going to be using it to conquer the world'.
CHARLES SAVAGE:   If there's a requirement for capital in the future for acquisitions that we need to make, we can always go back to shareholders.  Right now, those aren't in our twelve or even twenty-four month plants, so why sit on the capital when it's better placed in the shareholders' hands.
GUGULETHU MFUPHI:  What do your plans involve for the next twelve to twenty-four months?
CHARLES SAVAGE:   Really, just focusing on those three businesses…  In GT247.com, we have the most successful retail derivatives trading business in South Africa and that's growing at double digits and in some areas of the business – triple digit growth.  In our Emperor Asset management, we have the fastest growing retail hedge-fund business in South Africa.  That industry is changing significantly.  Regulatory support, as I said is coming in and we're expecting a wave of capital to enter that hedge-fund industry that we want to participate in, so we're expecting extraordinary growth from that asset.  It's growing at triple digit numbers off a low base, but it's maturing.  Its three years old in our hands, but the actually strategy behind it has been deployed for eight years.  Last year it returned 51 percent to shareholders and this year just over 30 percent, so that's something we want to focus on.  We think it's an industry that's going to grow fast and it's synergistically aligned and shares a symbiotic relationship GT247. The contracts that it trades are CFD's and  GT is all about CFD's, so those are the key businesses we're going to be focusing on.
ALEC HOGG:   I'll take you to another area.  Yesterday, in that seat that you're sitting in, Erik Venter from Comair was explaining to us the mess that went on.  Firstly, it was supposed to be a purchase by two of the Directors of R18 million worth of shares and then it was a sale.  You deal in the deed market.  You deal in the CFD market.  You deal with traders who presumably, when they see Gupta and Ntuli buying so many shares, would have gone hell-for-leather and purchased CFD's on Comair.  Then they find out a little bit later, 'oops, no.  That isn't the case.  This has been a sale'.  The next day they discover that the company has actually bought back the shares from the Directors.  You have to have a view.
CHARLES SAVAGE:   That kind of information shouldn't be tolerated, to be honest.  There's no doubt that investors and traders will react to that kind of news and I don't think there's any compensation coming to them for whatever decisions they made on the back of that.  To my mind, that information should be better regulated in terms of the distribution and the controls around it need to be stronger.
ALEC HOGG:   In July, you bought shares in Purple Capital.  What was the process that you'd have to go through if you were to sell shares?  We're trying to get to the bottom of this Charles, because yesterday we were told that Gupta and Ntuli sent through their request to the Chairman and then, immediately afterwards, already put the shares on the market.  That doesn't seem to gel.  There would appear to be pork pies somewhere.
CHARLES SAVAGE:   I can't speak on their behalf.  I'm not sure what requirements are set upon them, but from our perspective the disclosures and approvals pre-acquisition and then disposal of shares: they're very real, they're cumbersome, and they require a level of reporting and transparency that makes the information publicly available in acceptable timeframes.  I'm not really sure what went wrong in the case that we're talking about, but in our case, we very publicly bought shares.  The approvals we had to go through were substantial.
ALEC HOGG:   How long did it take?
CHARLES SAVAGE:   It took about a week for us and we're a small business in that regard.  Our Board sits quite close to us, so getting that kind of approval is easy for us.  However, the information has to flow transparently to the public so that they can make up their own mind about whether that's a good thing or a bad thing for the share price.  The truth is that in this modern society, information gets out much quicker and through more disparate channels than it used to, so that news could have broken on Twitter or it could have been broken by an uninformed employee.  You don't know where it's coming from, so I think the exchangers and regulators have some challenges around controlling this information flow and making sure that it gets to the public in the right way.
ALEC HOGG:   From a governance perspective…in your company, before you buy or sell shares, there is a process that could take as long as a week.  What we are concerned about here, is that there was a process that didn't even take a few minutes.
CHARLES SAVAGE:   Yes, it seems unlikely or unreasonable in the outcome.
ALEC HOGG:   Your clients are not going to be able to sue Comair for what happened there.  You just take the bumps, I suppose?
CHARLES SAVAGE:   Yes, I suppose that comes with the territory.  The same kind of thing can happen with irresponsible journalism around specific news events and people buying and selling on the back of that.
ALEC HOGG:   Irresponsible journalism? (chuckles)
GUGULETHU MFUPHI:  Blame it on the intern. (chuckles louder)
ALEC HOGG:   Blame it on the intern: don't we always?  Charles, it was good to see you in the studio.  Good luck into the future.  We understand the story now – why you're giving the capital back.  You don't really need it.  You have a business.
‹ Previous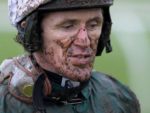 Joy For The Jump Jock