An extraordinary tale of the boundless powers of the human spirit and a will to win was recounted by Paralympic swimmer Achmat Hassiem at the Western Cape Bookmakers' Association Christmas Fun Day held at Durbanville Racecourse on Monday.
Hassiem was attac-ked by a shark off the coast of Cape Town seven years ago after he lured the great white away from his younger brother. He was addressing special guests and 100 underpriviliged youngsters from the Dur-banville, Stellenbosch and Paarl communities at the crowning event of the WCBA Social Equity initiative for 2013. The 30-year-old Hassiem won bronze in the men"s 100-meter butterfly at the 2012 London Paralympics.
He lost his foot when a shark attacked him during rescue practice in 2006. "My little secret is obviously that I just try and imagine I"m in the ocean and I"ve got a 4 ½-meter great white shark at my feet," Hassiem said. "It"s definitely good motivation to swim fast." In 2006, Hassiem was the first to spot the shark when he and his brother Taariq were on a lifeguard exercise off a popular beach in Cape Town.
He shouted to colleagues in a nearby boat to get Taariq out of the water, while Hassiem distracted the shark by slapping the water. The shark then bit Hassiem"s right leg and dragged him about 50 meters. "I gave one last enormous push and heard a great snapping sound," Hassiem said of the moment he lost his leg.
As he was being pulled onto the boat by his brother, Hassiem said he looked back and saw the shark chewing on what must have been his foot. "I believe I lost my leg for a good reason," he told the fascinated gathering. "Losing a leg is nothing compared to losing my brother, so I"m just trying to make the best of it."
The WCBA and Khula Development Group have partnered in developing the Christmas Fun Day , which has grown exponentially from humble beginnings in 2009. The outing is co-ordinated by the Khula Development Group, a community based program with the vision to provide sustainable support to out- of- school children and their families by assisting them emotionally, socially, spiritually and educationally.
The children, ranging in age from four to fourteen years of age, participate in Khula"s out-of-school children program. From broken homes and poverty–stricken backgrounds, they have little prospect of any joy or excitement over the Festive Season and in fact seldom get the opportunity to venture out of their environment. They were entertained to a carnival of fun and games, horse riding, a hip hop dance exhibition and a sumptuous braaivleis. A visit by Father Christmas rounded off a wonderful day, after gifts as well as grocery and sweet hampers were handed out.
Khula CEO Daleen Labuschagne praised the generous efforts of the WCBA. Special guests included representatives from the Western Cape Gambling and Racing Board. WCBA Chairman Dean Finder addressed the group and thanked all those present for their personal interest and support. Finder presented Khula with a cheque of R17 500. Finder added that the WCBA was indebted to Phumelela Gaming and Leisure and Western Province Racing for having made the Durbanville Racecourse facility available.
‹ Previous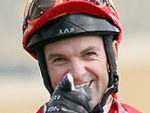 Francois Herholdt