Earlier this year, Australia lost one of its most promising young sires seen in many a year, when the well bred Northern Meteor died of colic.
Australia's leading first crop sire of 2012-2013, Northern Meteor's first crop of runners (current 3yos) included no fewer than five individual Group winners – including the Group One winners Zoustar and Romantic Touch. Zoustar himself was recently syndicated for $15 000 000. In history, there have been many examples of successful sires who died young – and whose full potential was never fully realised.
In South Africa, one such example was Secret Prospector.
An exceptionally blue blooded son of the great Mr Prospector, Secret Prospector left behind just six crops before his untimely death, but made a considerable mark on the South African stud book. Secret Prospector sired 23 (8%) stakes winners – including the Gr1 winners Secret Rites, What A Prospect and Hidden Fortune. The latter was ARCSA Champion Stayer of 1992. Secret Prospector also made a mark as a broodmare sire – his daughters produced the champions Key Of Destiny, Elusive Fort and dual Horse of the Year Variety Club.
Another stallion who made an exceptional start to his South African stud career, only to die prematurely, was the high-class miler, Jan Ekels.
The son of Derring-Do won the, then G2, Queen Elizabeth II Stakes, before retiring to stud. From just 87 foals left behind Jan Ekels sired 12 stakes winners (14%). His progeny included four Gr1 winners – Serena (SA Oaks), Smart As Paint (Natal Fillies Guineas), Rotterdam (Natal Flying Championship), and Anytime Baby (SA Guineas). Serena, in turn, would go on to produce US Grade One winner, and St Leger runner up, Broadway Flyer (Theatrical).
In North America, the great racehorse Dr Fager died young (aged 12) following a racing career which saw him named Horse of the Year, Champion Sprinter, Champion Older Male and Champion Turf Male. Champion US sire in 1971, Dr Fager sired 35 stakes winners from 265 foals (13%).
His stakes winners include Champion 2YO filly Dearly Precocious, Canadian Horse of the Year L'Alezane, and Hollywood Gold Cup hero, Tree Of Knowledge. Today, Dr Fager's name is found in the pedigrees of such horses as leading sire Cure The Blues, Gr1 winners Chic Shirine and Verrazano, and successful US sire Forestry. Dr Fager is also the broodmare sire of leading US sire Fappiano – who, ironically enough, also died young. Fappiano, who died at the age of 13, left behind a strong male line in North America, whose descendants include Unbridled, Real Quiet, Empire Maker, Unbridled's Song and Mine That Bird, to name but a few. His son, Unbridled (who died at the age of 14) won both the Gr1 Kentucky Derby and Gr1 Breeders Cup Classic in 1990. At stud, he sired the outstanding sires Unbridled's Song and Empire Maker, and is the broodmare sire of another outstanding sire – Tapit. Unbridled's name can be found in the pedigrees of three Kentucky Derby winners, and is broodmare sire of last year's Derby hero Orb.
Another top US sire who died prematurely was Saint Ballado.
A full brother to champion 2YO Devil's Bag (ironically Saint Ballado was much the better sire), Saint Ballado died at the age of 13 following spinal surgery. Champion Sire in the USA in 2005, Saint Ballado sired 70 stakes winners from 702 foals (10%), including seven Grade One winners. His offspring included the Breeders Cup winners and champions Ashado and Saint Liam. The latter died after just one full season at stud – he left behind nine stakes winners from 90 registered foals (10%). North America's Horse of the Year in 2005, Saint Liam's sole crop of foals produced another Horse of the Year – Havre de Grace.
Top-class miler, Petingo, was another stallion who made an explosive start to a stud career, which was cut short at the age of 11.
From just six crops, Petingo sired the likes of Troy (Epsom Derby), Fair Salinia (Epsom Oaks), English Prince (Irish Derby), Sandy Creek (William Hill Futurity), Three Legs (Champion Sire), Pitcairn (Champion Sire), and Satingo (Grand Criterium). Petingo is also broodmare sire of Petoski (King George), Bassenthwaite (Middle Park Stakes), and Unite (Epsom Oaks). His brilliant son Troy, who won the 1979 Epsom Derby by seven lengths, had an even more brief innings at stud. He died after just four seasons at stud – but, from just 117 foals, sired 13 stakes winners – which included the G1 winners Helen Street (Irish Oaks) and Walensee (Prix Vermeille). Helen Street produced Dubai World Cup hero Street Cry, a world leading sire, and is the second dam of champion Shamardal (himself a successful stallion). Troy is also broodmare sire of Oath (Epsom Derby) and Westerner (Ascot Gold Cup) – making one ponder what he could achieved with more time!
A few years earlier, the US based stallion Domino put together some remarkable stats.
From just 19 foals, Domino produced seven stakes winners (nearly 40%). His runners included Epsom Oaks winner Caps And Bells, Belmont Stakes hero Commando, and Jockey Club Stakes winner Disguise. Domino's daughter, Pink Domino, produced Sweep – broodmare sire of the US Triple Crown winners Whirlaway and War Admiral. Another Domino mare, Running Stream, produced the top-class sires Ultimus and Runnymede. It is hard to think off hand of another sire who achieved more with such a small number of foals!
‹ Previous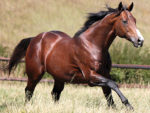 All The Right Answers