According to the October 2002 edition of Country Life magazine, "Alnwick (pronounced 'Annick') is the most picturesque market town in Northumberland, and the best place to live in Britain". It is also the name of a crack sprinting son of Harry Hotspur who won the 22nd running of the Cape Flying Championship in 1991.
Bred by Southey Bros, the diminutive chestnut went under the hammer at the 1988 National Sales. He was knocked down to Mr Gordon Carruthers for R150 000 and raced in his royal blue and white colours for the stable of Geoff Woodruff, who was then in his 3rd year of training. Incidentally, Geoff has a good record in this race, having won with Simonside in 1990, Alnwick in 1991 and the mighty Jet Master in 2000.
The Harry Hotspurs tended to be a little on the hot side, but while Alnwick certainly took after his sire in looks, he was quite different in character. Geoff remembers him being wonderfully quiet and despite being an entire, so gentle that you could put a child on his back. "He was the sort of gentleman you could have over for dinner."
He was a real 5-furlong specialist and during his 3 seasons on the track, Alnwick clocked up 10 career wins and a little shy of R400,000 in earnings. Mr Carruthers was terribly fond of the horse and when his racing days were over, he retired Alnwick to David Fox's Warham Stud in KZN at the of 1992.
Warham Stud
David Fox was an avid amateur rider and was a familiar face in the show-jumping arena and on the polo field. Originally based in Zululand, he eventually purchased a farm and settled his young family in Fort Nottingham. His daughter Jill was about 5 at the time and remembers Scott Bros being the only other stud farm in the immediate area. "We were the first stud in the area to take boarders, and offer spelling, backing and pre-training."
It grew into a huge operation with hundreds of horses and they stood stallions such as Majestic Crown, Sledgehammer, Dealer's Choice, Commentary and Filipepi as well as champion broodmare Kiki Bar (dam of Kellerbar, The Barbican, Bulgari, etc). "She produced 10 foals here and every one earned black type," says Jill proudly.
The one and only John Slade also cut his teeth at Warham Stud before joining Scott Brothers. Their clients included the likes of Dr John Chandler, Gordon Carruthers and Cyril Hurvitz, who purchased the farm just over the hill and contracted David to build "the best stud farm in South Africa".
David duly travelled the stud farms of the world and when he came back, he created Riverholme Stud. Jill remembers the beautiful doors and innovations such as the sliding hatches for feeding and the first indoor covering barn in South Africa. Sadly, the site is currently under construction for a dam and Riverholme will soon be covered in water.
Jill
Jill took after her father on the competition field and jokes "I was riding horses practically before I was born!" She enjoyed success in show-jumping and dressage, but eventing was her favourite discipline and she was a regular on the provincial team. My big event horse was an ex-racehorse called Matra who used to belong to Tiny Musgraves and I jumped A-grade on a Thoroughbred mare called Juanita who was bred by David Stubbs."
Like most young folks, she went travelling for a few years and when she got home again, she pitched in and took over the management of the farm. "I bought a section in about 2006 and named it The Fort Stud that's when I started on my own. I started out with pre-training. Tony Rivalland sent me my first spelling horse – Speedy Moon – who went on to win 4 races and Mr Herman Brown snr was a big early supporter – he really helped get me off the ground and I was proud to have been involved with a lot of his horses that went on to international success.
"Garth Puller has also been a long-standing client, but I've pre-trained for most of the trainers in Natal. I get in horses from people all over the country, so it's hard to name specific clients as it varies all the time, but I get a lot of repeat business, which I'm very proud of and think more or less says it all really."
All rounder
Jill attributes her success to a thorough grounding in all aspects of breeding, raising and competing horses as well as an understanding and respect for building an athlete that is robust both physically and mentally. "I'm very particular about getting the horse to enjoy being ridden. We work hard to ensure that they don't get a fright anywhere along the line and that we keep them as physically comfortable as possible the whole way through.
"I have a 6 week programme of backing a horse and I treat the Thoroughbreds the same as the competition horses – they're all horses at the end of the day. We spend 3 weeks lunging, long-reining and de-sensitising the young horses. This helps them to start building up the muscles and strength they will need to carry a rider. We belly over in week four, start some easy walking and trotting in week five and by week six the horses are ready to walk and trot out with a string.
"I have a big field with a 2km track and we work on that. I have a nice big hill and once the horses are fit and strong enough we trot them up there and walk back down. I keep a strict eye on breathing and heart rates and depending on the requirements of the owner and trainer and how long they're prepared to give me with a horse, I am confident that I can produce horses approximately 2 months off race fitness.
"Some clients prefer more and some prefer less, and we can tailor it. Over the last few years I've been backing around 50 Thb's a year and of those I'm averaging around 60 winners a year. Obviously those aren't all from the same class, but my aim is to produce mentally stable, physically strong horses who are ready to go into racing and I've had a lot of horses run till they're 7 and 8 years old, which I'm very proud of."
Spelling
"On the spelling side of things, we often get horses over their AHS vaccinations. I don't believe in taking a horse from full work to nothing, so we keep them in a routine. We wind them down with walking and trotting and then gradually build them up again. The horses come in at night, work in the morning and then get turned them out during the day.
"An athlete needs to keep their muscles in work, but the change in environment and routine does them the world of good and within 3 months I have them fresh and enthusiastic for racing again." "I'm also a big believer in physiotherapy and Beth Shaw (who took over Winks Green's training academy) comes every Wednesday to treat any horses that need attention. Whether they're foals, yearlings or in work, it's so important to keep everything in order to allow them to develop correctly."
Foaling
"I knew if I got in mares of my own I'd go bankrupt, so the broodmare side of things built up gradually. Anne Boyd really got me started when she sold Summerhill and moved to Nottingham Road. She sent me her mares and that's what I started with. Of course it's changed over the years. Ten years ago it was cheaper to keep a mare and breed your own, but with the current economic times it's cheaper to buy. But who knows, it may well change again."
"I'm very particular about foaling mares down outdoors. I started doing it this way about 10 years ago and it works very well. My little house is right next to my foaling field, which has big spot lights on them. If you watch the mares when they go into labour, they'll walk the whole field – they need a lot of space when they go into labour. It's a lot more natural for them and they don't get stuck against a wall, etc. I foaled down 18 mares this year and had a 100% success rate.
"Foals are handled daily for the first month before being turned out in a group. We bring them in again for weaning, halter train them and then turn them out again for 6 months. Then we bring them in again in January to start work.
"We walk them in-hand and work with them every day. You can't just take a horse that's used to living out and expect it to adapt to a stable, so we make the change gradually, bringing them in at night and going out during the day again. I currently run about 20 broodmares, of which 3 are my own. I focus very heavily on feeding and believe that correct, consistent feeding is the key to a successful pregnancy, birth and healthy foal as well as later development."
Feeding
"I prefer to keep my horses in good condition and believe that if they're feeling content and healthy, they are much easier to take work and be ridden. It also gives you something to work with – it's hard to put good muscle on a slight/ lean horse."
"I believe in good quality feed, but will adapt the feed for the different stages – lowering the grain or energy levels at weaning and backing time, but ensuring that they're always getting sufficient protein for the vital muscular and skeletal development. I and don't think one needs to get too hung up on specific brands – we have a lot of very good, balanced feeds these days and no matter what you choose, it's a regular, consistent routine that makes the real difference. We also have a spring on the farm, so all our horses have very pure, high quality water and I'm convinced that this plays a role too."
Family
David Fox passed away a few years ago, but Jill's mom still lives on the farm. Brother John Fox trained for a few years, but now focusses on horse transport and is a familiar face at our studs, race courses and training yards, so horses are very much still in the family.
Back to Alnwick
Jill continues, "Mr Carruthers used to send all his horses to Warham and when Alnwick left racing, he came straight here to stand at stud. Gordon did send him a few mares, but he'd only been here about 2 or 3 years when Gordon passed away.
"A family member took over the horsey side of things but then wanted to get out of racing so all the mares that were for Alnwick were sold and suddenly we had a stallion and no-one to support him and no means to do the sort advertising that it takes to really get a stallion off the ground.
"He bred for about 5 years and produced a few foals for racing, but unfortunately never anything that won at stakes or graded level. However, without the support one could hardly blame him for that. We ended up using him to breed competition horses and this was something he excelled at.
"He's produced top level dressage, jumping and event horses, all with his wonderful temperament and good looks of course. They are hugely in demand and don't go for a cent under R100k!" Alnwick lived a wonderful life on The Fort Stud and was put down at the grand age of 23.
– Robyn Louw
‹ Previous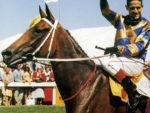 How Can We Forget?