With interest and debate reaching a peak as we enter the final week countdown to the R2,5 million Gr1 J&B Met, Thursday's public gallops did little to answer any questions. The cloud of rumour and speculation that continues to plague the favourite Jackson may also just be tactical gamesmanship that is often seen in major sporting contests in the modern era.
Naturally it must be highly irritating and annoyingly dis-tracting for the connections of this magnificent horse to have to deal with PR damage control in the build up to what is surely the son of Dynasty's biggest test to date.
Thumbs Up
Jackson was well beaten by Capetown Noir in the L'Ormarins Queen's Plate three weeks ago but after he had stretched from the 900m marker on his own on a beautiful Cape Town Thursday morning, trainer Brett Crawford declared that he and jockey Glen Hatt were 'happy with the way he moved.' "He enjoyed the workout and that is important. He has a tough draw to overcome but contrary to the stories out there, he is well and will be ready to put his best foot forward."
Without the benefit of stopwatches and comparative times, the genuine analytical value of the compulsory gallops are seriously limited. Movement and body sweat aside, we really learnt very little from what is largely a marketing exercise, although the prospects of the likes of Royal Zulu Warrior and Ice Machine rose a few notches in our estimation, after good workouts. But it remains perception.
Mother City Magic
The third favourite Capetown Noir was the first horse to work and Karl Neisius guided him up the straight from the 800m marker. The lovely son of Western Winter finished with ears pricked as he took in the tents and marquees under construction. Trainer Dean Kannemeyer declared that he was pleased with the gallop. "At this stage he is a very fit horse and I felt that the breeze from the 800m was enough. He is unbeaten on the summer course and Karl knows him well. I expect a big run from him."
The Sansui Summer Cup winner Yorker was ridden by Greg Cheyne and galloped with Master Sabina (Ossie Noach) from the 1000m. The Jet Master pair galloped alongside each other and crossed the line together, with Yorker probably going a bit more comfortably. Trainer Geoff Woodruff said that the L'Ormarins Queen's Plate was a 'disastrous' race. "It could have been a virus but they just didn't settle well here. But mine have all turrned the corner. Master Sabina always saves his effort for the race, while Yorker is always an over eager work horse," he said.
Boom Boom
Yet another Jet Master in the boom colt Master Of My Fate (Sean Cormack) galloped with a tongue tie from the 1400m with an unnamed companion. He sat two lengths off his companion and stretched away with pricked ears. On the negative side he was sweating and he looks in danger of becoming even more coltish. The Met crowd and buzz will be a major test.
His relaxed trainer Dennis Drier called his charge a 'difficult bugger.' "But he is not a nasty naughty, he is just a man. I am naturally worried about the penalty he has been lumped with. He has had a good prep though and I have a top rider aboard. He will give them a run for their money," he said confidently.
Awesome
Jockey Sean Cormack suggested that Master Of My Fate had enjoyed an 'awesome prep.' "He is very classy too. I'd have loved to have been drawn in the first five but I will take strategic decisions once I see where we are after the break. I have options as he is very versatile," he said. When pressed on comparisons with Jackson, whom Cormack has ridden to victory, the top jockey diplomatically sidestepped the question and said that they were 'very different horses.'
"But next Saturday's race will answer that question," he laughed. Sean Tarry's Whiteline Fever worked in the hands of Bernard Fayd'herbe from the 1400m marker with an unnamed companion who led him around into the straight. He worryingly appeared to have had enough at the end, but the masterful Tarry was upbeat and said that it was a good workout. Vaughan Marshall's Hill Fifty Four (MJ Byleveld galloped with Captain's Reserve (Ossie Noach) from the mile and was pushed out as they went to the line together. The companion appeared to be going the better at the end.
Soldier Of Fortune
The Charity Mile winner Royal Zulu Warrior (Karl Zechner) galloped on his own from the 1400m marker and cantered into the straight where he was pushed to gallop. He stretched out nicely towards the end of his gallop and looked enthusiastic and fit. This was a good gallop. Capetown Noir's stable-mate Ice Machine (Karl Neisius) galloped on his own rom 800m marker and he picked it up well to finish his gallop very fast. Another very eyecatching show from the Green Point Stakes winner.
Justin Snaith's Jet Explorer (Richard Fourie) galloped from the 900m on his own and stretched out without any undue pressure in an easy and relaxed gallop. The son of Jet Master looked fit and well and may prove to be the value if he gets a fast pace next Saturday.
No Pain
2012 Selangor Cup winner King Of Pain (Bernard Fayd'herbe ) galloped from the 1100m marker with Coltrane (Andrew Fortune) leading him. At the 400m marker the grey drew alongside his companion and he went on nicely. Despite being the only grey, he could well be the dark horse.
The 100 TO 1 shot Lake Arthur galloped alone under Aldo Domeyer from the 1000m. He stretched well and gave little away as he changed legs right at the post. He was sweated up but looks to give Yogas Govender a very rare hundred percent Met strike rate should he win. Trainer Yogas Govender said that he was not l lucky wth draws. "We naturally have concerns over the trip.His pedigree says he will get it though.
We are in the race and we are going to take our chances," he said. The Kahal gelding No Worries was ridden by trainer Gavin Van Zyl from rhe 1000m marker on his own. He stretched out smartly at the end of his gallop to finish it off very well and will have Piere Strydom aboard from his wide draw. The Silvano gelding Hot Ticket galloped from the 1400m under Grant Behr on his own and extended well to stride out very enthusiastically.
Positive
Stan Elley's Punta Arenas (Grant Van Niekerk) galloped on his own from the 1400m marker and went at an easy pace. He accelerated well at the 200m and stretched out in a show that will have his connections feeling positive. The Surging River gelding Awesome Power was sweating up as Muzi YenI worked him with Sidecar (Karl Zechner) from the 1400m. He followed his companion until the 200m where he pulled away.
The only filly and Geoff Woodruff's third runner, Do You Remember galloped with recent impressive debut winner Tee Jay Ar (Ossie Noach) from the 1000m marker. They gave little away as they went to the line together. Weiho Marwing's Wylie Hall galloped with a companion on the sand in Johannesburg and will travel down late for the race.
‹ Previous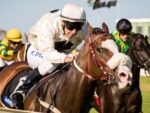 Africa's Best