The time for talking is over. Eighteen of South Africa's finest line up at the Kenilworth 2000m start in Saturday's R 2,5 million J&B Gr1 Met in what promises to be a humdinger of a race. It is an open contest but L'Ormarins Queen's Plate winner Capetown Noir looks set to finally slay the stamina ghost that has lurked in the shadows throughout his career.
All the way from joint topweight Jackson down to the bottom of the scale and the only filly in the race in Do You Remember, a case can be made for and against any particular horse. The final choice for the punter will inevitably boil down to gut feel and personal preference. Emotion over mathematics, as it were. That is the way the best Met winners are really found.
The race after all mirrors life and horseracing in many respects. It is the ultimate test and remains a great leveller. Just ask the so called experts who didn't see Martial Eagle swoop in last year's race.
His Game
The Highlands bred Jackson is the highest rated horse in the race and comes off a fair second behind Capetown Noir in the L'Ormarins Queen's Plate. He has never won over a mile and has been plagued by rumours of health issues. His performance in the recent public gallops may have allayed any fears and only the race will tell. His draw of 14 is obviously less than ideal.
Trainer Brett Crawford said:"The draw makes it difficult, so we'll have to give a lot of thought as to how to ride him, but a lot will also depend on the conditions prevailing on the day, and whether there's a headwind blowing, amongst other factors. I feel our main danger is Master Of My Fate."
Brilliant Miler
The Lammerskraal Stud bred Capetown Noir is unbeaten on the Kenilworth summer course and won the L'Ormarins Queen's Plate in sensational style, beating Jackson 1,25 lengths. He looks close to being the last chance that veteran Cape jockey Karl Neisius will have of winning a race that has eluded him for 40 years.
Labelled a brilliant miler, there is a feeling amongst certain sectors that he won't stay. We asked trained Dean Kannemeyer whether he was hoping for a slow pace and a sprint for home? "The first time he tried 2000m at Kenilworth he won the Derby. He was only a short head off them in the Daily News. The July may have been a bit of a mistake, but he was 4,5 lengths off. He can run at any pace. If there's a fast pace, he'll turn it on. If there's a slow pace he'll turn it on. There are no stamina doubts," he said confidently.
First Visit
The 2013 SA Derby winner, the Australian bred Wylie Hall was beaten by Capetown Noir in the Daily News. He ran unplaced in the Charity Mile and the Sansui Summer Cup and then ran very freely when going down to the Woodruff pair of Tellina and Killua Castle in a recent prep race. He is nicely drawn but travels down late for the race and is likely to see the track for the first time when they parade on Saturday.
Test Century
The Carl and Amanda de Vos bred Yorker won the 2013 Sansui Summer Cup and comes in well drawn at 2. He put in an eyecatching gallop last Thursday and could strip a happier horse after his below par effort in the L'Ormarins Queen's Plate. We asked Geoff Woodruff whether he would more comfortable over the 2000m?
"Before the Summer Cup the question was 'would he get the trip'. He certainly did. My horses suffered a bit of a virus when they got to Cape Town, so we didn't see the best of them on Queen's Plate day, but we've turned the corner now and they're fit and well, so the gallops were really just another look at the course for them. And of course the draws help," he said confidently.
Destined To Be
The Varsfontein Stud bred Master Of My Fate is one of five Jet Master progeny in the race and ticks so many boxes that he must be considered a top three choice to lift the prize. A winner of 6 of his 7 career starts, this will be his baptism of fire over the 2000m. We asked trainer Dennis Drier whether his charge would be as aggressively position in the race as he was at his last two starts?
"It's up to Sean. He is the professional and he'll have to decide how to ride depending on how the race unfolds. But the horse is very well. So let's just hope we don't have any hiccups between now and next Saturday. We are ready," he said.
Dotting Down
The Daytona Stud bred Whiteline Fever has often played the role of bridesmaid at the highest level. He ran on really well for fifth and just 2,60 lengths behind Capetown Noir in the L'Ormarins Queen's Plate. His Met gallop was quite ordinary on the face of it and we put it to trainer Sean Tarry that he must be bullish about his prospects after his good finish in the Queen's Plate, but what about the 2000m?
"He may have struggled a bit at Turffontein, but I think Kenilworth is easier. He ran well over the July trip, he he seemed to hit a bit of a flat spot in the Queen's Plate. He has travelled well and settled in. We really have no stamina worries," he said.
Climbing Everest
The Klawervlei Stud bred Hill Fifty Four has drawn 15 and ran second in the Met last year. Regular Marshall pilot MJ Byleveld will be watching from the sidelines as the son of Captain Al will have the services of Anton Marcus. While he looks well held by Master Of My Fate on their recent clashes, he is capable of running into the minor money.
Trainer Vaughan Marshall said: "He ran from the 13 draw last year and I feel he's a better horse coming into this year's race. So the draw isn't a concern for us."
Battle Hardened
The Australian bred Royal Zulu Warrior has pulled the best of the draw against the paint and is an intriguing retreaded sprinter who came to the fore when winning the 2013 Charity Mile. He never showed in in a disappointing Queen's Plate effort but his gallop last Thursday was an eyecatching and enthusiastic one. He is a first Met runner for KZN trainer Kum Naidoo.
Cool Customer
The Roy Meaker bred Ice Machine is another who jumps from a prime draw and will have the value added services of the astute Kevin Shea. He beat King Of Pain at level weights in the Green Point Stakes with a storming late run. He was found to be coughing after a flat effort in the Queen's Plate but then put up an impressive gallop last Thursday.
Trainer Dean Kannemeyer had a twinkle in his eye when he chatted to us about his charge: "I trained Ice Machine's dam for Gladys and Roy Meaker and she won 3 in row for me. I got Ice Machine at the end of July / early August and had a few issues to sort out. He won over 1800m at Durbanville and then won the Green Point in brilliant fashion. He's a good horse and we are hoping that he will put his best foot forward on Saturday," he said.
Expedition Leader
The Patricia Devine bred Jet Explorer is the Justin Snaith hope in the big race. The son of Jet Master ran on from last like an express train in the L'Ormarins Queen's Plate to finish just over a length behind Capetown Noir. He has a tough task on the face of it but appears to have plenty of scope and we asked Chris Snaith about stable confidence:
"He was not far off them in the July and the Champions Cup, and he put in a good run in the Queen's Plate. He is 2kg better off going into the Met. He's definitely in with a chance and he will be ready to run a big race on Saturday," he said.
Hit Song
The Arc En Ciel bred King Of Pain is out to give Joey Ramsden his first Met winner. The son of Greys Inn last won when beating Capetown Noir in the 2012 Selangor Cup and that sort of record hardly inspires confidence on the face of it. He has however been running on the fringes and was only caught late in the Green Point Stakes by Ice Machine. Jockey Bernard Fayd'herbe suggested that caution should be exercised by those discarding King Of Pain on his Queen's Plate run:
'I told Joey (Ramsden) that if I hadn't had such a rough race in the Queen's Plate, we'd have finished in the first four. Don't leave King Of Pain out of the calculations.'
Water Sports
The Willempie Engelbrecht bred Lake Arthur looks to emulate his stablemate Martial Eagle who was a shock winner of the Met last year. The two horses have followed similar paths into the Met and Govender is nobody's fool. The draw gods have been unkind to him again but we asked the trainer whether Plattner Racing could pull off a giant killing act at any price again?
"I've studied this pedigree inside out and I will be honest that I do have concerns about the trip. However, he is fit and well and he put up a good gallop. One can't really ask more than that. We were very impressed with his Queen's Plate run. On his rating alone, he should have finished further back, so we were very happy with his run. He qualified for the Met based on that.
"I discussed it with Mrs Plattner and we decided that as he made the cut and there aren't really many other options for him, to give it a shot. It's a privilege for any stable to have a Met runner, so we'll be out there doing our best."
Life's A Breeze
The Summerhill Stud bred No Worries has had a summer of mixed fortunes down in the Cape. He stayed on really well for fourth and 2,30 lengths behind Capetown Noir in the L'Ormarins Queen's Plate (again from a bad draw). Piere Strydom rides the son of Kahal again from the widest draw on Saturday and he has the gate speed to overcome that and looks a likely pacesetter. It is worrying that he has not won for over a year but comes in a fit horse and his trainer, who rode him in last Thursday's gallops, has never had him better.
In Charge
The Michael De Broglio bred Master Sabina did not fire in the Peninsula Handicap but previously ran a cracker in the Summer Cup and comes in here off a low key prep. Trainer Geoff Woodruff confirmed that all of his horses have improved since settling in to their Cape base and his charge has the benefit of a favourable draw.
"Master Sabina ran a good second in the Summer Cup and may be considered unlucky as he had travelled a little further than the others and that may well have cost him that short head which was the difference between victory and a narrow loss. He keeps his best for racedays and I was happy with his gallop too," he said.
Taking A Chance
Dean Kannemeyer has three runners in the race and there are many who would have expected the Digteby Stud bred Hot Ticket to have taken his chances in the J&B Jet Stayers, which is run over 2800m. Hot Ticket is badly drawn but is fit and well. He does though only get going after 2000m and could spring a surprise and run into place money if they go hard all the way.
Kannemeyer said: "Look the draw is a concern and this is really his minimum distance, but he's a good horse and like all Silvano's, he'll only improve as he gets older. I think we'll be seeing the very best of him as a late 4yo."
Late Arrival
The Maine Chance Farms bred Punta Arenas always seems to run on too late and has not won in ages. He looks to have a gigantic task. Trainer Stan Elley said: "He ran well in both the Green Point and the Premier Trophy and had bad draws in both of those. There really aren't too many races for him before the Durban season, so we had to take our chances.
"To be honest, he's weighted to run second last and will have to be at his very best to run into the placings. He needs a lot of luck, but as you know, anything can happen in racing!"
Power Player
The Riverton Stud bred Awesome Power represents the Glen Puller yard and is surely the first son of Surging River to have a Met runner. Awesome Power squeaked into the final field courtesy of finishing best of all in the Peninsula behind Master Of Fate but has a mighty task at the weights.
"He was within 2 lengths of Capetown Noir in the Derby and again just under 2 lengths off Gifted For Glory in the Winter Derby. He was just over a length off Master Of My Fate in the Peninsula. We don't have the best draw and he can be a bit of a difficult character, so that will also be a factor.
Unforgettable
The Michael De Broglio bred Do You Remember is the third Woodruff runner in the field and the only filly in the race. It takes a top female to win the Met and whether Do You Remember is in the league of an Empress Club and River Jetez remains to be seen. The daughter of Silvano is probably best remembered for her dramatic late run third close up behind Heavy Metal in the Vodacom Durban July. Trainer Geoff Woodruff was firm in the belief that Do You Remember would give a good account of herself: "She didn't fluke her 3rd in the July and we know she was substandard in the Paddock Stakes. But win, lose or draw, she's a honey and as game as the day is long," he said.
Geoff's wife Carol pointed out that interestingly, the three Jet Masters, namely Yorker, Master Of My Fate and Master Sabina were all produced at Varsfontein and as Michael de Broglio keeps his horses there, the three colts would all have been looking over the fence at Do You Remember growing up. Now they all meet in the biggest test of their careers!
The Choice
Jockey Karl Neisius does not want to hear about Capetown Noir's stamina doubts. The manner of his victory over a rather flatfooted Jackson in the Queen's Plate had a stamp of elegance and arrogance about it. Neisius has also learnt a lot about the son of Western Winter since he hit the front a touch early in the 2012 Cape Derby. This is his favourite track and he is fit.
That makes him good enough in our book to hold the outstanding Master Of My Fate and Jet Explorer. Jackson and King Of Pain cannot be disregarded, while impressive gallopers Ice Machine and Royal Zulu Warrior could be the quartet kickers.
‹ Previous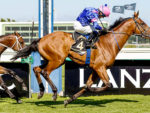 Of Captains And Kings