The National Horseracing Authority is aware of innuendo and rumours doing the rounds regarding one of its former employees, Mr Neville Daniels, the former Acting Chairman of the Central Provinces Stipendiary Board.
The National Horseracing Authority confirms that an investigation commenced on 22 January 2014 into the circumstances surrounding the alleged irregular and possibly dishonest conduct on the part of Mr Daniels relating to an application for a trainer's licence by Mr Mark Khan.
The findings/outcome of the investigation will guide management on the course of action to be taken.
‹ Previous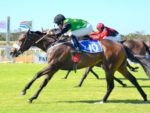 Tara's Touch