The last few weeks have passed by in a busy, exhausting blur with the Cape in frenetic overdrive to squash in as much as possible in the run up to the Met. I really need several columns to do it all justice, so I apologise in advance for the people, events and stories that have ended up on my cutting room floor.
CTS have been going for few years now, but the sight of 200 yearlings in the CBD remains extraordinary. They know how to do a good pre-sale party too, with the Taj playing host to this year's event. Doing a hard sell with charm and style takes some talent, but Chris van Niekerk is a past master.
He welcomed the assembly with a quote from the Byerley Turk that a man (or woman!) without a horse is nothing. However, he was quick to assure those 'without horse' that CTS were ready, willing and able to remedy the situation – with a $1 million carrot to boot! The quality of the draft and the $1 million race incentive ensured that the sales hall was packed and brisk business was done.
Day 1 saw two lots knocked down for R3.2 million with Maine Chance the vendor of the first and part of the purchasing team on the second. When I congratulated John Slade on their top price, he chuckled, remarking that they'd also clocked one of the lowest prices of the sale. But such are the vagaries of the market. There was some real quality on offer with a number of yearlings, including my pick of the catalogue, earmarked for foreign shores.
Gallops
Those who had were not suffering too much from the excesses of the CTS hospitality (or buyer's remorse!), gathered at Kenilworth bright and early on Thursday morning for a continental breakfast spread and to watch the Met field being put through their paces. The weights and draws had left everyone scratching their heads and I daresay, the gallops did little to clarify matters. The runners all looked amazing and it was a privilege to appraise the field up close.
Saturday, 25 January reinstated Via Africa at the top of the country's sprinting log after her victory in the Cape Flying Championship. She re-took her throne under the approving eye of multiple previous winner Cordocelli, now gracefully retired out at Nutfield Stud.
CBC hits the spot
After a quick breather the Cape Breeders Club kicked off their 2-day conference at Helderberg College on Monday, 27 January. Anyone who missed it, sorely missed out. Day 1 included presentations by Peter Gibson (aided by Dr Bennie van der Merwe) regarding our export status and the complicated and multi-faceted challenges South Africa faces to re-open our international trading channels.
Malan du Toit, everyone's favourite horse-whisperer, spoke on equine behaviour and learning theory and Dr Rissa Parker covered commonly encountered foaling problems. Dr Emmeline Hill spoke about her work and the latest developments at Equinome and how breeders and buyers could employ their technology to inform decisions on breeding and sale prospects.
It was an interesting talk and one that had the science boffs as keen to sign up as the romantics were determined to allow nature and fortune to preside. Dr John McVeigh presented a humorous and interesting insight into the vagaries of sales x-rays titled 50 Shades of Grey, which enthralled the racing and competitive communities alike.
The afternoon was rounded off with a panel discussion of issues facing the racing industry, before everyone adjourned to Avontuur for a braai and a glass of wine to help digest all our new-found wisdom. Avontuur never fails to hit exactly the right note and there is little to rival a good glass of wine while watching the sun set over the Cape winelands.
Day 2 of the conference was equally varied and entertaining, kicking off with DVC's surgical whizz Dr Andrew Gray discussing some of the solutions available for foaling and breeding complications. A fellow delegate whispered me conspiratorially that they'd been dreading the social media presentation, but Dave Duarte from Treeshake turned out to be the surprise hit of the conference.
Robbie Miller shed some light on the dark art that is good farriery. Next up was Grant 'Badger' Pritchard-Gordon. As one might expect from someone who headed the Juddmonte operation as long as he did, he offered fascinating insights into the state of health of the international breeding and racing industries. Ian Tapp explained the workings of the TrueNicks programme and how they could assist with pedigree analysis and mating planning and the conference was rounded off with another presentation by Dr Rissa Parker, this time on managing the orphaned or compromised foal.
It was a fascinating opportunity to listen to some leading lights in the industry and it was encouraging to see an international and multi-disciplinary audience, which ran the gamut from Thb breeders, owners, trainers, jockeys and racing managers to some heavy-weight counterparts from the competitive community and all the way through to the Pony Club. My only regret is that the conference only happens once every two years. I will certainly be first in line to register next time round.
Met Day
The Met has become one of my favourite fixtures and despite the many changes over the years, it seems Capetonians still regard the Met as an annual day out. I love that one gets an even mix of regular racegoers and day trippers all across the course, and you're as likely to bump into a friend from pilates as a parade ring regular at any given moment. The layout ensured that everything flowed smoothly, there was plenty of room to manoeuver and the mood was festive, with everyone keen to fluff their feathers, have fun and shout some favourites home.
I chatted to Vicky Minott in the parade ring to ask for her fancies and she said 'there's a lot of magic in racing and I think we're going to see some of it today.' How right she was!
The Derby was a spectacle (not least of all for that flying finish from Helderberg Blue, who looks to be extraordinary if he can get his demons under control). Beach Beauty was amazing in the Majorca and we threw our hearts, minds and lungs over the line with her. What a lady. What a legend. And what a triumph for Hill Fifty Four and his connections in main event.
It is quite impossible to give all the winning connections the recognition they so richly deserve. I could write a column on each horse, rider and race, but you have all had a bit of sunshine in your winning interviews and race reviews, so I hope you'll forgive me for being horribly mercenary and focussing on two stories that really made my Met day special.
Lucky Punter
The racing round-ups of old often included tales of big Tote wins, so I was delighted to encounter Shawn Whiffler. Shawn was looking a little bemused and starry-eyed and it transpired that he was the proud holder of winning tickets in no less than the Bipot, the Jackpot and the Pick Six! Shawn relates that he has been coming to the Met for years.
"A friend of mine has had a picnic site for the last 15 years or so, but Gavin Almanza invited us to join his table in the Kenilworth Room this year. I don't know too much about the horses, but I did a bit of homework. My wife was cross with me for spending so much time on it! I looked at the Argus and Cape Times and picked a few horses I liked based on their average speeds and the times of their last race. I also liked the combination of Fourie and Snaith.
"There seemed to be a few bankers and I thought I'd try them. There is always so much going on at the Met that usually about 4 races have gone by before you've even realised, so I placed my bets early. I didn't win anything on any of my single bets on races 1-5, but it all really started with the main race. I took Beach Beauty as a banker in the Pick Six because I'd watched the Queen's Plate and she seemed to canter the race and didn't have to do much work. I had no idea who would win the Met, so I had 5 horses in there and included Hill Fifty Four and Whiteline Fever.
"I'd liked Hill Fifty Four in the Queen's Plate and heard he had lots of potential and I picked Whiteline Fever for no other reason that I remembered a joke from a rugby game many years ago. It was a great day – Gavin took us to the parade ring which was a great experience. But the Met is always a lot of fun. Besides the fun of betting, it's a fantastic social event, seeing old friends and meeting new people. I met a lot of new people because it was the first time I'd been in the Kenilworth room.
"They couldn't believe how well I was doing, so everyone was following the results and knew it was all about the last leg. I said to everyone 'if I don't' make anything, it's fine, because I've had fun and been in it to the end, but I was so nervous I couldn't watch! I opened my eyes about halfway through. I thought Woodland Gem had won and then they all said no, No 15 got it and I couldn't believe it. I think I burst out crying! I still didn't believe it until I'd checked the tickets. I laid out R1,100 more or less and I walked away with R82,500. I think my wife's forgiven me for spending all that time studying. I didn't place the rest of my bets after that as I'd have too much champagne!"
"I asked what he planned to spend the money on. "Last Friday I found out my wife's car is just out of the motor plan and needs about R15-20k's worth of repairs. Then school fees – we'll get those sorted straightaway. And once that's all done we're going to have some fun. Possibly a new car. We don't want another repair bill!"
Stan Elley
But for me the biggest story was that of Punta Arenas, who defied the weights, the odds and the drawn to finish a heart-stopping 3rd. Mr Elley is the ultimate professional in front of the camera, but it must have tested even his vast reserves to dispatch with the presentation formalities before checking on his horse and jockey.
I caught him mid-flight for a giant bear hug and more than a little emotion in his eyes. I'd chatted to Mr Elley on gallops day and when quizzed on his charge he'd replied philosophically "Look, we're weighted to run 2nd last, but anything can happen in racing." And so it proved. "I suppose it was that much more enjoyable because it was so unexpected," he told me on Monday.
"They turned for home and he was beautifully placed. Grant was moving up and I was watching the other horses and saw they weren't catching him. He had a very very difficult task at the weights, but he'd had a wonderful prep and was the best I'd ever had him. Hell, it was a terrific performance."
It was a triumph for the yard and the culmination of many years of loyal partnership. Stan met 'Butch' Watson-Smith at the Olympic Sports Club, where they both played Sunday rugby and he was one of the first to buy the fledgling trainer a horse back in 1974. Mike Fullard and James Drew joined in 1987. "It was a magic moment for all of us."
They may come bigger, they may come flashier, but they seldom come hardier or more reliable than a Silvano and I'm told Punta pulled up 100%. "He's not left as much as one oat!" beams Mr Elley. All being well, they are now eyeing a Durban campaign and rather than the conservative route they followed last year, we should see Punta take his place in the bigger handicaps. If we get into the July and he's still sound and competitive, then we'll run." And why not? Anything can happen in racing.
‹ Previous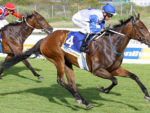 Grand On The Sand