Champion US sire AP Indy is one of the most important and influential stallions to have stood in North America in recent times. Now pensioned, the stallion (a half-brother to Wilgerbosdrift's former sire,Tiger Ridge) left behind over 140 stakes winners – a tally which included 11 official champions.
AP Indy, sire of leading 2014 Kentucky Derby fancy Honor Code, left a tremendous legacy through such great sire sons as Pulpit, Malibu Moon, Bernardini, Indygo Shiner and Stephen Got Even. In South Africa, A P Indy is responsible for, amongst others, last season's Equus Outstanding Stallion Judpot.
A P Indy's growing influence can be clearly viewed by a glance at the 2014 Emperors Palace National Yearling Sale catalogue. No fewer than 40 yearlings on the sale are by sons of A P Indy, while another 15 are by A P Indy's champion grandson, Jay Peg.
A P Indy's relatives Mambo In Seattle and Tiger Ridge contribute 17 and 11 yearlings respectively. In total, A P Indy descendants or relatives contribute no fewer than 83 yearlings to the 2014 Emperors Palace National Yearling Sale catalogue.
A P Indy's beautifully bred son A P Answer has made a cracking start to his stud career. Already one of South Africa's leading first crop sires, A P Answer is well represented on the sale, with nine lots on offer. A P Answer's draft includes a half-sister to the top-class, but ill-fated, Fort Vogue, as well as a colt out of Gr3 winning mare, Run Angel Run.
A P Arrow is one of the best performed sons of his sire currently at standing in the Southern Hemisphere. This millionaire, who stands at Summerhill, has just 2 lots on offer, but they include a half-sister to ill-fated stakes winner, Khebraat.
A P Indy's Champion Jay Peg was an outstanding racehorse, whose first crop has already produced two graded stakes winners. This globetrotting superstar has 15 yearlings on sale, including a half-brother to Equus Champion All Is Secret, and a half-sister to Vodacom Durban July winner, and Equus Champion, Heavy Metal. The latter is currently campaigning in Dubai.
Few sires in history have made a better start to their stud career than Judpot did last year. The half-brother to Kingmambo's first crop included two Gr1 winners – including Equus Champion Along Came Polly. Judpot has 24 lots on sale, including a half-brother to world class sprinter Tiza, and a filly out of Gr1 winner Duchess Daba.
The beautifully bred A P Indy son Just As Well has his first yearlings on sale this year. The Gr1 winning half-brother to champion filly Rainbow View is bred like Judpot – both sons of A P Indy out of G1 winning Nureyev mares. Just As Well has five on sale, including a colt from the famous Fall Aspen family, and a colt whose dam is a half-sister to European champion, Golden Opinion.
Mambo In Seattle, whose dam is a full-sister to A P Indy, has made a superb start to his stud career. Runner up in the Gr1 Travers Stakes, Mambo was recently represented by impressive debut winner, The Royal Rumba, and is clearly a sire of great potential. His 17 yearlings on sale include a half-sister to top filly Wheredowego, and a filly out of the stakes winning Rock Of Gibraltar mare, Alinga.
A P Indy's half-brother, Tiger Ridge, did well at stud, and topped the first season sires list in both Florida and South Africa. The sire of champion Cherry On The Top and Sansui Summer Cup hero Wagner has 11 on offer – including fillies out of champions Laverna and Mother Russia, and a colt out of G1 winner Zirconeum.
For more information regarding the 2014 Emperors Palace National Yearling Sale, visit www.tba.co.za
‹ Previous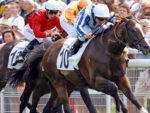 The Eighth Wonder