Trainer Stan Ferreira and jockey Marco Van Rensburg broke the Mike De Kock stranglehold on the features when they teamed up with Var's smart daughter Winter Passion to win the R150 000 Listed Bauhinia Handicap run over 1000m at Turffontein on Saturday. The race was run on the eve of a lightning strike and De Kock's Honorine was not disgraced in defeat.
At the 300m marker, it actually looked possible that Mike De Kock would grab his fourth feature win in a row as the Redoute's Choice filly Honorine moved up menacingly. But Marco Van Rensburg had other ideas and he guided the daughter of Var  forward powerfully under her galloping weight.
Indira jumped slowly as Mary Stuart went off to show the way. Winter Passion was always prominent from her 1 draw.
At the 300m Winter Passion and  Honorine drew swords as Mary Stuart came under pressure. Despite Honorine's closest attentions, Winter Passion kept going well and stayed on strongly.
Winter Passion beat Honorine by a half length, with Kinematic Countess (now racing in the Maine Chance Farms silks) flying through for third.
Virgo's Babe stayed on well enough for fourth, with the pacy Mary Stuart, who went off favourite, just behind her  in fifth.
The recently revitalised Miss October came under pressure with her big weight in the going and failed to deliver her usual telling blow.
Winter Passion's winning time of 57, 44 secs was impressive on the day in the going.
Fair enough, she is a year older and won quite hard ridden and pressured, as opposed to the two year olds earlier.  (Banaadeer won in 57,97 secs while Majmu won in 58,11 secs.)
Winter Passion is a 3yo daughter of super sire Var, out of the twice winning Western Winter mare, Winter Parade.
Bred by J Beukman, she cost R375 000 on the National Yearling Sale and looks to have a very bright future after making this her third win from her five starts with one place.
Her only unplaced effort was her modest effort when running out of the money in the 2013 SA Fillies Nursery behind Virgo's Babe, who finished behind her today.
Winter Passion has now earned R207 500.
Racing was delayed after the race as a lightning storm crossed above Turffontein in what has really been a miserable week for horseracing's  dance with the weather gods across South Africa.
An hour later the meeting was called off.
‹ Previous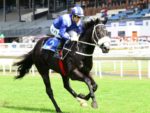 De Kock Strike 3: Banaadeer