One of the greatest stallions of the final half of the 20th century was the great 2yo and French classic winner, Blushing Groom. One of the finest 2yos of the era and winner of seven of his ten outings, the Aga Khan owned Blushing Groom sired 92 stakes winners from 512 foals (an exceptional 18%).
He was champion sire in Great Britain and Ireland in 1989, a year which saw Blushing Groom join a select band of stallions to sire the Epsom Derby/Oaks winner in a single year. From 512 foals, Blushing Groom left behind 24 Gr/Gp 1 winners (5%).
His champions included Arazi, Al Bahathri, Nashwan, Rainbow Quest, Blushing Katy, Sky Beauty, Runaway Groom, and Blushing John. His offspring won such races as the 2000 Guineas, Epsom Derby, Prix de l'Arc de Triomphe, Irish 1000 Guineas, French 2000 Guineas, and Breeders Cup Juvenile, to name just a few.
A number of sons of Blushing Groom became champion sires, including Jallad, Nassipour, and Rainbow Quest. He also sired the outstanding sires Mt Livermore, Runaway Groom and Rahy, with the latter becoming an equally successful broodmare sire. Runaway Groom, in turn, produced the successful US sire Cherokee Run – champion first season sire and sire of champions Chilukki and War Pass.
While Nashwan was not regarded as one of Blushing Groom's best sire sons, he did well at stud, and left behind one of the greatest runners produced by this male line – dual King George winner Swain. However, the latter proved a disappointing stallion as did fellow Blushing Groom grandson, and Horse of the Year, Invasor.
Rahy's champion son Fantastic Light proved disappointing and was banished to stud in Japan. Another son of Rahy, Noverre (a three parts brother to Arazi), made a reasonable contribution – siring G1 winners Enora, Music Show and French Derby winner Le Havre.
The latter was France's leading first crop sire of 2013. Mt Livermore's champion sprinting son Orientate is best known as a sire of fillies, while Cherokee Run's son War Pass made a promising start (with his first crop producing Gr1 winner Java's War) but died prematurely.
Rainbow Quest, a great broodmare sire, proved a disappointing sire of sires, although his Derby winning son Quest For Fame enjoyed some success in Australasia, and is also the grandsire of champion sprinter Rocket Man. Another son of Rainbow Quest, Spectrum, is the broodmare sire of highly successful young British sire Dutch Art.
The Blushing Groom sired champion Arazi was a failure as a sire, but did leave behind one outstanding racehorse in Congaree. The latter, sire of G1 winners Jeranimo and Killer Graces, has sired 15 stakes winners (5%) to date, and is a respectable stallion but not a breed shaping sire by any means.
The Blushing Groom male line would appear to be in serious danger of dying out completely. In fact, when Let Faith Arise (by Kafwain) won the recent Gr1 Santa Margarita Handicap, she became the first North American Grade One winner to represent this once potent male line since Jeranimo (Congaree) won the Eddie Read Handicap last July.
In 2013, there was not a single Blushing Groom male line descendant to feature in the top 20 sires in the UK (by prize money), while in North America Leroidesanimaux (thanks to his champion son Animal Kingsom) was the sole member of the tribe featuring in the top 20 on the general sires list.
However, while Blush-ing Groom's male line descendants may have taken a back seat in recent times, Blushing Groom himself remains a potent name in major international pedigrees.
He is the broodmare sire of leading sires Awesome Again (as well as his highly successful half-brother Macho Uno) and Stravinsky. Awesome Again, in turn, is sire of Horse Of The Year, and successful sire, Ghostzapper.
Kahyasi (who is out of a Blushing Groom mare) is the broodmare sire of champion sire Dansili (and the latter's talented brother Cacique), while Rahy is the broodmare sire of no less a sire legend than Giant's Causeway, as well as successful US sire Posse.
Inbreeding to Blushing Groom has proven very successful, and has already produced such notables as Astaire (Middle Park Stakes), Footstepsinthesand (2000 Guineas winner), Full Of Gold (Criterium de Saint-Cloud), Gladiatorus (Dubai Duty Free), and Heatseeker (Santa Anita Handicap), to name but a few.
This weekend's Sunland Oaks winner, and multiple graded stakes winner, Awesome Baby, is another inbred to Blushing Groom, while promising young sire and G1 winner Intense Focus (sire of Astaire in his first crop) is another to feature such inbreeding.
So, clearly, while the Blushing Groom male line looks in danger (with its best chance of survival coming from Dubai World Cup/Kentucky Derby winner Animal Kingdom), the name of Blushing Groom looks likely to be a force in pedigrees for generations to come.
More Success For Archi
The former Mike de Kock trained Archipenko has made a pleasing start to his stud career. The former QE II Cup winner, who hails from the legendary Rough Shod II family, was represented by a smart looking first crop winner in South Africa on Saturday. His son, Kingston Mines, was an eye catching winner over 1800m last weekend, to give Archipenko his 12th first crop winner.
Archipenko (Kingmambo) has been in good form this year – with six of his initial 10 runners having previously won in 2014 (another three have finished in the money). His recent winners include Piton –who won a handicap by 12 lengths just a few days earlier.
Archipenko also has a 100% strike record in the US – with his sole runner, One Penny Piece, a winner. "Archi" finished 2013 as the leading active UK based first crop sire by percentage of winners to runners in Europe. This was an extremely pleasing start for a stallion who was at his best as a 4yo and 5yo.
Standing at Lanwades Stud, Archipenko is also closely related to US Champion Blame (whose dam is a half-sister to Archi). Blame, the only horse ever to defeat US legend Zenyatta, will be represented by his first 2yos this season – and Blame's first offspring have been well received at US sales. A colt by the champion fetched $425 000 at a recent 2yo sale in Ocala, and Blame could yet further glory to this superb female line.
‹ Previous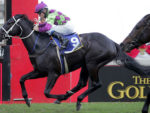 The Million Dollar Hunting Ground