Promising eighteen year old apprentice Jose Barnes rode a nice double at Clairwood on Sunday and has now ridden his 20th career winner. As a result he will now claim 2,5kg instead of 4kg.
The young  Barnes, who has made a name for himself with his confidence and outgoing manner in his Tellytrack interviews, lists Johnny Geroudis, Garth Puller and Stephen Jupp as his heroes and says that being a jockey is the 'most exciting and  elite job in the world.'
Barnes is in his second year of riding and rode a superb double at his favourite racecourse.
He got Chill home for Craig Eudey in the fifth race in a driving finish and then closed the day by chalking up his twentieth winner on Julie Dittmer's Learn A Little, in a Maiden 1200m.
Barnes started riding during 2010 under the guidance of the astute horseman Garth Puller  at Clairwood and he looks comfortably set to achieving his long term racing goal of  riding 60 winners as an apprentice.
‹ Previous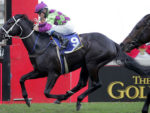 The Million Dollar Hunting Ground