Day two of the Asian Racing Conference covered customer engagement strategies via digital media including a presentation by Scott McLeod of Everton FC, the latest innovations in sports broadcasting for turning sports coverage into an entertainment experience by Gary Burns of Fox Sports, the HKJC's strategy for success, journalistic insights from Bill Barich – the leading HBO writer of Luck – and best selling author Don Watson, on how to use the horse to connect racing with popular culture and a look at sustainable vocational training for the industry.
Customer connection vital to growth
The second day of the 35th Asian Racing Conference commenced on Wednesday morning with Mr Richard Cheung, the Hong Kong Jockey Club's Executive Director, Customer and Marketing, delivering a presentation detailing HKJC's mould-breaking customer engagement. In the session entitled 'Connecting with the customer', ARC delegates also heard from Thomas Ascher, Chief Executive of Longitude LLC, Professor Lionel Ni from Hong Kong University of Science and Technology, and Scott Mcleod, the Digital Media Manager at Everton Football Club, which is widely-acclaimed for its social media work.
Mr Cheung, who chaired the morning's session, outlined HKJC's strategy that has successfully turned around a declining turnover trend and is succeeding in attracting new customers. He told delegates that the Club's turnover dropped season on season from HK$81.5 billion in 2000/01 to a low of HK$60 billion in 2005/06. By 2009/10 that had grown to HK$75 billion but, he said, at that time 75% of the Club's customers were aged over 50. He said racing in Hong Kong had a perception challenge to overcome as the younger generation considered it to be complicated and only for hardcore bettors.  Since then, the HKJC has followed a clear strategy of customer segmentation based on in-depth customer analytics of the Club's current and potential customers.
"Our strategy starts with segmentation," said Mr Cheung, emphasising that those segments are coupled with segment-specific levers to connect with customers. "We identified four levers: an ambient racecourse; digital connection; big-data innovation; and shaping racing as popular culture." he said, with the result so far being growth in turnover season on season.  Mr Cheung highlighted the Club's Racecourse Master Plan, with its widespread renovations and innovations targeted at each specific segment. He told attendees that the HKJC had engaged in a holistic approach with a clear aim to promote racing as lifestyle.  He said that for general race-goers the public areas have been upgraded, while "for Owners and Members we go for creating a luxurious venue experience and we differentiate between younger and older Members." Mr Cheung also highlighted what has been done for what he termed "young and trendy customers," saying that "adrenaline bar and lounge at Happy Valley and the stylish Hay Market at Sha Tin offer trendy experiences" in line with expectations."
Mr Cheung also noted that "as well as great venues, the experience is the key" as he took delegates through a visual tour of the Happy Wednesday brand, a weekly event aimed at the 25-39 age bracket as well as an international crowd and tourists. Now one of Hong Kong's most popular destinations, Happy Wednesday merges vibrant, energetic theme nights, live music and social media into the racecourse experience.  He reported impactful results in the young segment across all areas on Happy Wednesday fixtures since the initiative was introduced in the 2010/11 season, including attendance and food and beverage revenue.
Mr Cheung said that much of this success is connected to the digital experience and cited the Club's popular Race Simulator App, the online availability of speed maps and an online Raceday Focus feature among other innovations. Gamification, he said, is also proving to be popular in engaging the next generation of customers, with the Club's Racing Touch App particularly popular with its drag and drop interface. He also stressed the importance of making available real-time information to mobile devices.  He pointed out that the growth in turnover over the past four years has come from mobile. "Moving things from the PC platform to the mobile and tablet platform is a must for us and it constitutes more than 80% of our digital experience work."
Big-data is also playing a key role in HKJC's strategy, noted Mr Cheung who told delegates: "At the Hong Kong Jockey Club, we rely a lot on data-mining and that is a big advantage to us. We have identified customers' changing needs and we know what they want." Mr Cheung said that information on customers' betting preferences and demand had led to the Club initiating the Quartet bet, of which he said: "So far we are pleased with the results, with US$1.5 million turnover per race."
Later in the same session, Scott Mcleod of Everton FC delivered a presentation entitled 'Engaging through digital', which provided an insight into the English Premier League club's approach to digital media and how that approach supports the club's wider goals.
He shared several case studies that showed how Twitter, Facebook and other social networks are not only tools for information delivery but also gateways to greater two-way communication with an audience.
Mr Mcleod said that in his experience at Everton, one fundamental of the process is to "understand the club's goals and set digital targets based on those goals" and added that departments within an organisation must collaborate on any social media campaign so as to ensure that "every project is delivered as part of a joined up approach between online and offline."
Thomas Ascher, CEO of Longitude LLC, took delegates on a journey through the technological advancements of the past 40 years that revealed the convergence over time of video, racing and the financial markets. He said: "Racing has a staggering head start on the financial markets because it doesn't matter whether you want to watch Fox or Bloomberg or whatever your financial news network of choice is, they have nothing that is as compelling as this sport."
Professor Lionel Ni, Chair Professor of Hong Kong University of Science and Technology, gave a presentation on Big Data and asserted that "Google knows you better than you do!" as he explored the value of data collection, data processing and data mining.
Racing industry urged to 'immerse' viewers in the sport at Asian Racing Conference
Television industry leaders Joerg Heise and Gary Burns, keynote speakers at the  'Cutting Edge Technology in Sports TV' session, entertained and informed a large audience with the latest innovations in sports broadcasting – some of which may potentially be applied to horse racing. That was a significant focus of the session, along with the conviction that innovation not only lifts the viewer experience to a higher level but is also likely to extend attention span, and increase audience retention and participation. "The application of cutting edge technology greatly enhances the viewer experience," said Heise, Managing Director and Chief Operating Officer of the German-based Riedel Communications, adding: "the viewer becomes immersed rather than simply watching."
This view was endorsed by Oonagh Chan, the Hong Kong Jockey Club's Head of Broadcasting Services. "We strive to provide a memorable visual and auditory experience to local and overseas customers, to stimulate customer participation," Chan said Chan also emphasised the need to liberate viewers with the power of choice embracing 'second screen' interaction. "We must unleash the power of choice by developing and designing content across multiple media platforms to enhance the customer's experience," Chan said.
Gary Burns, Head of Programmes and Production at Fox Sports in Australia, said that broadcast innovation was the key to delivering an entertaining experience. He pointed to Fox Sports' innovations in other sports, including cricketer Shane Warne being 'mic'd up' and predicting the dismissal of a batsman as he prepared to bowl, and suggested that a 'live wire' to a jockey or trainer could enhance the racing TV experience. Burns also suggested that the broad 360 degree camera shot, popular in football and rugby coverage, could be well applied to paddock coverage at the races. "In play innovations are an important part of improving coverage, but are not possible without the support and co-operation of the clubs and governing bodies," Burns said.
Hiese emphasised the need to innovate in all sports coverage, including horse racing, and pointed to potential economic benefits. "Advances in television technology can create brand new perspectives and the commercial logic of live coverage is that attraction and emotion can generate transaction," he said. Innovations, including cameras attached to the helmets of jockeys, will continue to be developed further, including a Riedel HD helmet-cam project in conjunction with the Hong Kong Jockey Club.
Today's session also heard from James Gagliano, President and Chief Operating Officer of The Jockey Club in North America, who spoke of the importance of promoting racing to a new audience via television, and backing that up with imaginative multi-channel marketing.
The final presenter was Burak Konak from the Jockey Club of Turkey, who charted the development of television coverage of horseracing in his country. Mr Konak explained the huge impact that television coverage had on the level of wagering turnover in Turkey, but also highlighted the opportunities that had been gained to transmit the beauty and excitement of horseracing to a much wider audience.
Hong Kong Jockey Club's model for success
Hong Kong horseracing is looking ahead with confidence as customer participation and turnover continue to grow, while in Japan, the JRA (Japan Racing Association) is innovating to offset the effects of a "greying society". In a series of video presentations, New Zealand, Malaysia, Macau and Korea also came under the spotlight during the session, which was chaired by Yu Pang Fey, President and Chief Executive of the Singapore Turf Club and CEO of the Malayan Racing Association.
Mr William A. Nader, the Hong Kong Jockey Club's Executive Director of Racing outlined the 'Hong Kong Racing Model', and told delegates of HKJC's ongoing and future initiatives. Since the 2009/10 season, the Club's ongoing Racecourse Master Plan, with HK$3.5B spent to date and further significant investment to follow, has revamped infrastructure, with its customer-centric approach to venue re-development reaping rewards in terms of increased attendances, including new generation racegoers, and strong betting turnover. "The defining trait of the Hong Kong Jockey Club is outstanding customer service and public confidence is imperative when you look at the wagering levels in Hong Kong," said Mr Nader. "We are making more investment to 2017/18 in our on-going Master Plan."
Meanwhile, HKJC's Conghua Training Centre is being built in mainland China, and recent legislation has enabled the Club to begin commingling with overseas pools. Mr Nader emphasised the strength of Hong Kong racing, noting that five of Hong Kong's six international Group 1 races are established in the International Federation of Horseracing Authorities' World's Top 50 Group 1 Races. In explaining the Hong Kong model, Nader told those present that a fundamental component is its not-for-profit structure, which in 2012/13 enabled the Club to provide HK$1.95 billion in charitable donations to the Hong Kong community, double the amount seen 10 years before. He told delegates that, as Hong Kong's biggest charity benefactor, HKJC supported 160 charitable and community initiatives last season. He also explained the Membership and Ownership experience, where demand for horse ownership far exceeds supply; the Club's employment of 5,700 full-time and 18,000 part time staff; its 7,000 hours of in-house TV output per season; HKJC's world-class racing laboratory; and the public's confidence in Hong Kong racing thanks to the Racing Control Department's emphasis on integrity and transparency.
Aki Akitani, the senior technical advisor of the Business Strategy Planning Department of the JRA, told delegates of Japanese racing's strategy to counteract the effects of an ageing population and a shrinking share of the leisure market. The JRA, he said, is targeting "customer clusters" with a scheme to attract single ladies. Current figures, he said, show that 60% of women in their late 20s in Japan are single, compared to 20% in 1970, leading the JRA to launch its UMAJO (Horse Ladies) project. "Historically in Japan, the main trend setters in our society are young females, and of course, boys follow," said Mr Akitani. "Our average female attendance is 14% and we need to increase this ratio. Our goal on Japanese Oaks day this year is to attract 15,000 female customers – 20% of the total expected attendance." Mr Akitani, who stressed the difficulties under Japan law of gambling on overseas races and the JRA's ongoing negotiations with government, also told delegates that the JRA has focused on "pinnacles" – re-packaging only their most attractive contests, the Japan Derby and the Arima Kinen – and "bombarding the public with massive exposure to those contests." He said that "as a result, the attendance and turnover increased dramatically."
Greg Purcell, the Chief Executive of New Zealand Thoroughbred Racing, shared a video about the New Zealand racing industry and the key roles it plays as a breeding centre and as an important source of revenue to the country's economy. Also addressing the session were Dr Seungho Ryu, the International Racing Manager of the Korea Racing Authority, Thomas Li, the Executive Director and Chief Executive of the Macau Jockey Club, and Tunku Shahabuddin, Chairman of International Relations, at the Selangor Turf Club, Malaysia.
Literary legends insist attraction of racing begins with the horse
Bill Barich, lead writer for the HBO racing series Luck, and best-selling author Don Watson drew a rapt assembly of delegates to this afternoon's plenary session, titled: 'Connecting racing with popular culture', at the 35th Asian Racing Conference, held at the Hong Kong Convention and Exhibition Centre.
Mr Barich, who rarely speaks in public, told the audience that "racing is a great democracy" in the way it brings people together from all walks of life. The American writer's first book, Laughing in the Hills, has become a classic racetrack novel. Barich described how he immersed himself in racing's sub-culture as he spent 10 weeks at an American racetrack, getting to know the characters, hearing their fascinating stories and making notes. "It's the notion of a confined universe," he said. "That's what we tried to show with Luck. Their lives are absolutely enmeshed with the horse, with the circumstance of seeing the same people and having to deal with the same people on a day-to-day basis. "When my first book was published people wrote to me, and at least two-thirds of them wanted to tell me their story of how they got into racing," said Barich. "Invariably they began with 'I had an uncle, a father – somebody – who took me to the races as a child' and when they're a child they're not interested in the gambling aspect, they're interested in the horse. And I really think that's the thing that's got to be sold through popular culture – it's the thing that keeps people involved."
Mr Watson, one of Australia's most distinguished writers and public speakers and a recipient of the 2010 Philip Hodgins Memorial Medal for Australian Literature, spoke about his experiences as a fan of horseracing and as the owner over the years of around 30 low grade racehorses. "The attraction of racing is the horse," he said. "We idolise great horses – I would not like to think how much of my childhood was spent thinking about Tulloch, the great Australian horse. I was probably in love with him most of my childhood. You need to own an ordinary horse to know what a freak a champion racehorse is," he continued. "What actually attracts people to racing is a charismatic horse. The face of racing is always the horse." And in suggesting that the televisual coverage of the race could be enhanced, he said: "Every race should be about the drama of the race, the drama of the horse – that seems to be further and further out of our focus."
Chris Luoni and Gerald Fell, co-founders of the New Zealand Racing Hall of Fame, told how the project was formulated and the Hall of Fame established, with its first induction night held in 2006. The duo highlighted how the induction events share with a wider audience the fun and folklore of racing's fascinating culture through the characters that enliven the sport. They also told how inductees' stories, photos and video footage of past glories are shared online at www.racinghalloffame.co.nz, which has become the New Zealand breeding and racing industry's on-line history cache and a vital educational tool.
Hong Kong Jockey Club's renowned vocational training
Amy Chan, Manager of HKJC's Racing Development Board (RDB) and Headmistress of the Apprentice Jockeys' School, delivered a presentation titled: 'Roadmap to Sustainable Talent Development'. The session, under the banner 'Industry Vocational Training' and chaired by Denzil Pillay, Chief Executive of the National Horseracing Authority of South Africa, emphasised the importance of comprehensive and sustainable vocational training within the modern horseracing industry.
Miss Chan told delegates that the RDB's aim is to "establish a best practice training system that meets the diverse needs of the HKJC, and which delivers training programmes to our staff that enable them to operate at a standard that exceeds accepted industry requirements." Through a series of images and video footage, Miss Chan highlighted that the HKJC is engaged in a process of developing a continuous stream of well-trained racing professionals from the local talent pool, both in Hong Kong and mainland China. The images provided snapshots of the methodology and Miss Chan emphasised the importance of engagement between racing bodies and education authorities to provide certified courses of study.
Whilst sharing the HKJC's experience in offering certified training across the industry spectrum, Miss Chan took time to highlight the processes undertaken to identify and train apprentice jockeys from the local talent pool. The HKJC Apprentice Jockeys' School (AJS) was established in 1972 and among the first graduates was international Group 1-winning rider Tony Cruz, now one of Hong Kong's leading trainers. Another Group 1-winning graduate is Matthew Chadwick, who secured the leading rider title at Ascot's Shergar Cup in 2012. Miss Chan told attendees that today there are two apprentice jockeys on the Hong Kong circuit, while 10 Trainee Apprentice Jockeys are enrolled at the AJS and a further 30 are Racing Trainees/Trainee Work Riders. They are being trained to join the current 560 Stable Assistants, 110 Work Riders, 68 Head Lads and 24 Assistant Trainers who have been trained to work with Hong Kong's 1,250 racehorses.
"The plan ahead," she said, "is to develop more local talent to become world class jockeys who value integrity, and to do that we need to build a network of overseas training." And Miss Chan added that the HKJC's RDB is committed to "improve the quality of student intake; improve the riding and academic programmes; and develop a holistic support system for apprentice jockeys.
Dr Isamu Takizawa, President and CEO of the Japan Association for International Racing and Stud Book (JAIRS), informed delegates about the Asian Racing Federation (ARF) Study Program in a presentation titled 'Eye-Opening Experience'. The program is conducted annually by JAIRS and the Japan Racing Association for the benefit of ARF member countries, and dates back to 1967. The General Study Program portion pertains to race meeting operations and management, while the Specialised Program deals with expert roles including handicappers, stewards, stud book management and track management. "The ARF Study Program has two major missions," said Dr Takizawa. "The first is to create international harmonisation and mutual understanding through horseracing, as well as to exchange valuable information, and the second is to contribute to the development of horse racing in Asian countries."
Joong Gil Jang, a riding instructor for the Korea Racing Authority who is in charge of overseas training for apprentices, delivered 'An Introduction to the Korean Racing Academy'. Mr Jang said: "The aim of the academy is to cultivate jockeys and stable staff with knowledge and skills, providing a wide range of different courses and training."
(source:  HKJC)
‹ Previous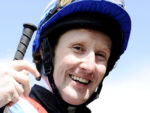 Cosgrave Appeal Outcome