As has become the norm these days, there was precious little in the South African press regarding Sunday's French classic races, the 2000 and 1000 Guineas respectively.
It is sad when races which have produced such legendary racehorses and breed shapers as Blushing Groom, Caro, Riverman, Allez France, Three Troikas, Kilzil Kourgan, Kalamoun, Djebel and Zeddaan, receive not a mention in the local press.
One of the greatest racemares, and producers, ever to win the French 1000 Guineas was Miesque, and few mares in modern times have exerted more influence on the French classics race. Miesque is once again prominent in the French Guineas, thanks to the 2014 victory of Karakontie.
Not only did Miesque win the 1987 French 1000 Guineas, but she finished second in the French Oaks that same year. (It is interesting to note that the first two finishers in the Prix de Diane of 1987 (Miesque and Indian Skimmer) would both go on to be represented by sons at stud in South Africa (Judpot and Manshood)).
Miesque also gave her great sire Nureyev a rare classic double – his son Soviet Star won the French 2000 Guineas that same year to make Nureyev one of just a handful of sires represented by both Guineas winners in the same year.
In 1994, Miesque's daughter, East Of The Moon, would make amends for her mother's comprehensive defeat when scoring a game victory in the French Oaks. Private Account had also previously won the French 1000 Guineas.
A year earlier, Miesque's son Kingmambo had won the French 2000 Guineas – and that Mr Prospector colt would go on himself to exert a considerable influence over the French 1600m classics.
Kingmambo's impressive tally of stakes winners included a pair of French 1000 Guineas winners in Bluemamba and Divine Proportions, and the latter (dam of promising KZN sire Eightfold Path) would go on to rout her field in the French Oaks of 2005. His Group One winning son Okawango would run fourth in the French 2000 Guineas of 2001 while Kingmambo filly, Miss Mambo, was third in the 2004 French 1000 Guineas.
The latest of Miesque's descendants to enjoy success in the French 2000 Guineas was the 2014 victor Karakontie (Bernstein). The latter, winner of the Group 1 Prix Jean-Lac Lagardere at two, is out of Sun is Up (a Sunday Silence sired granddaughter of Miesque).
Karakontie is also very closely related to former Gr1 Thekwini Stakes and Gr2 KRA Guineas winner, Amanee (Pivotal). The latter is out of Moon Is Up (second dam of Karakontie).
Miesque's classic influence has not been limited to the French 1600m classics however.
Her son Kingmambo has left behind no fewer than 11 classic winners in Britain, Dubai, North America, France and Japan. Kingmambo is also the broodmare sire of Investec Derby winners Camelot and Ruler Of The World.
Kingmambo's Japan Derby winning son King Kamehameha is the sire of Japanese Triple Tiara winning filly Apapane, while another son, Lemon Drop Kid, is the sire of US classic winner, Lemons Forever.
Not only was Miesque one of the most influential French 1000 Guineas of recent time, but her record stands comparison with any of the colts victorious in the Breeders Cup Mile (a race Miesque won twice).
The multiple champion left behind two classic winners (Kingmambo, East Of The Moon), a multiple Gr1 producing sire (Miesque's Son), as well as two other stakes winners. Another daughter, Monevassia, is the dam of champion filly Rumplestiltskin (herself dam of top-class filly Tapestry – a potential candidate for the up-coming Irish 1000 Guineas).
Miesque is also the dam of Judpot – South Africa's Equus Outstanding Stallion of last season, and few mares in modern memory have compiled anything like her record.
.
Arc Winner To Dominate Epsom
However, one mare who could rival Miesque, or any outstanding broodmare of recent years, is Urban Sea. The former Prix de 'l Arc de Triomphe winner, Urban Sea died in 2009, but she remains a potent force in the modern thoroughbred. The daughter of Miswaki left behind eight stakes winners – which included four Grade One winners.
Remarkably, six of Urban Sea's stakes winners were sired by different stallions, a true testimony to this incredible broodmare. Her Grade One winners include champion sire Galileo and the outstanding racehorse Sea The Stars.
Galileo and Sea The Stars are currently responsible for the favourites for the Investec Derby and Investec Oaks respectively. Should Australia (Galileo) land the Derby and Taghrooda (Sea The Stars) the Oaks it would mean a first Epsom classic double for half-brothers in living memory!
Sea The Stars and Galileo's offspring have dominated recent European classic trials. Between them, their sons and daughters have won all of the G3 Fruhjars –Preis, G3 Prix Vanteaux, G3 Irish 1000 Guineas Trial, Pretty Polly Stakes, Cheshire Oaks, Dee Stakes and G3 Chester Vase over the past 10 days.
Sea The Stars' 2yos made a solid start last season, with his winners including the Group 3 winning filly My Titania (C L Weld Park Stakes), as well as a number of smart looking debut winners and he is really starting to look like a very exciting young stallion.
However, he has a long way to go to match the deeds of Galileo, who is currently well on track for his sixth first place on the general sires log. One of the greatest sires ever to stand in Europe, Galileo's progeny have already won all the English classics (with the exception of the 1000 Guineas). Not only is Galileo sire of the current Investec Derby favourite, but he is also the broodmare sire of 2000 Guineas winner, Night Of Thunder.
Galileo, who is once again the leading sire (by earnings) in the UK, and Sea The Stars are currently both high on the list of leading sires by European stakes winners. Galileo has already been represented by nine stakes winners in 2014, whilst his younger, Cape Cross sired half-brother has been represented by an encouraging 5 black type winners already this season.
‹ Previous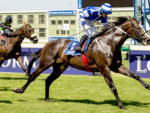 The Master Returns Home