Adam Marcus pulled one out of the hat when he produced the rested Ashaawes filly Priceless Jewel to win the R150 000 Listed Olympic Duel Stakes run over 1200m at Kenilworth on Saturday. The class act in the field, Priceless Jewel followed up on her Gr3 Prix Du Cap win to close the Cape Summer Of Champions earlier this year.
With jockey Piere Strydom a welcome visitor in a wintry Cape Town and a North Easterly gale buffeting the track, Justin Snaith's Captainofmysoul was sent off an 11 to 10 favourite in what looked a tough race for the topweighted Marcus filly.
Priceless Jewel has always been a galloper of great heart who is extremely difficult to peg back when in full flight. Her victory in this race was a tribute to the combined skills of jockey Aldo Domeyer and the astute Marcus Racing family.
Girish Goomamy had the Var mare Knock 'Em Out going like the clappers ahead of Victorian Secret and Jean's Pride as the powerful tail wind sent them scurrying along early.
Domeyer had Priceless Jewel in contention about two lengths off and it was inevitable that the runway gang in front were going to weaken.
Into the final 400m Al's Bonanza went for broke down the inside rail as Priceless Jewel came forward in the centre.
Strydom was also vigorously at work on the favourite and she was unwinding further back.
At the 200 marker Priceless Jewel had disposed of Al's Bonanza and showed her class as she drew away to beat the Marshall runner by two lengths in a time of 71,33 secs.
Winning jockey Aldo Domeyer, who rode a treble on the day which included a Listed stakes double, said that he had warmed Priceless Jewel up behind the stalls:
"I was mindful of keeping the weight off her back. They were going hell for leather early on and when I asked her she gave it to me so easily. I didn't expect her to do it so effortlessly over the 1200m. And I knew she would give me even more if I asked," he said.
Trainer Adam Marcus said that he was hopeful of a feature double but had to scratch his Stormsvlei Mile entrant Souk.
"The weight was naturally a concern. But my Dad said send her in happy and fresh. She is best from 1200m right up to 1800m. And it is another big win for Ashaawes," he said.
Part owners James and Joy Armitage and Basil Marcus  were on course to lead their filly in. Basil Marcus said that he was poroud of his son and added that he felt that Ashaawes was the most 'underrated stallion in South Africa.'
Priceless Jewel has won 7 races with 5 places from 16 starts for stakes of R640 800.
The winner was bred by Geoff Armitage and  is by  Kingmambo stallion Ashaawes, who stands at Sandown Stud .
Priceless Jewel is out of the Kahir Almaydan mare So Royal, who won seven races from a mile to 1800m.
‹ Previous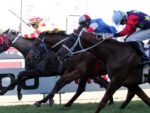 Taming The Wild One