Middlefield's striking son of Peintre Celebre, Byword, will be transferring to Mauritzfontein Stud. Part-owner and Byword's caretaker since his arrival in South Africa last year, Rob Pickering confirmed that he and wife Michelle are personally driving their precious cargo to Kimberley and are aiming to arrive at Mauritzfontein mid-morning on Tuesday, 10 June 2014.
"We're kind of sad, but very happy at the same time. He wasn't for sale and this deal has been in discussion for the last 3-4 months. To be honest, had the offer come from anyone else, the answer would probably have been no, but we have reached a good mutual agreement and we are just thrilled. It is undoubtedly the right move for the stallion. I have always believed that this horse has all the credentials to make a champion sire and put my money where my mouth is with the purchase as well as supporting him at stud."
"They say good horses do anything -and he's just one of those horses. He's been an absolute pleasure to work with, right from the get go. He has an amazing temperament – you can take a child in with him and I believe in him 100%. Probably now more than ever. I sent him all my mares last year and will be doing the same again this year. Everyone who supported him last year is coming back again and it's wonderful to know that he's got that kind of backing. He's had very good support so far, but we all know how hard it is to make a stallion. We are committed to making him a success and we simply couldn't turn down an opportunity like this."
"We've discussed it with all the shareholders and the many Middlefield clients who have supported Byword so far and everyone is behind us 100%. It will mean spending a lot of time on the road during the breeding season, but we've bought a new 4-berth horsebox so that we can comfortably move 2 mares with foals at foot and a few hours in the road is really a minor consideration for the opportunities we are gaining for our stallion."
"This partnership offers an unparalleled opportunity to get Byword the quality as well as the quantity of mares he needs to give him every chance to make it in the South African stallion ranks. We have sold the controlling share, but we get the best of both worlds as we still get to remain very involved. It goes without saying that it is an incredible honour and privilege to be part of the Wilgerbosdrift and Mauritzfontein teams and we are looking forward to working with Jessica, Mary, Guy and Jehan."
Byword was champion older horse in France, the highest rated grass horse in the world in 2010 with a Timeform rating of 126 and he is the only winner of the Gr1 Prince of Wales Stakes ever to stand at stud in South Africa. His arrival caused quite a stir and he received immediate and warm support from the local breeding ranks, with lifetime shares snapped up by the likes of Gary Player and Mauritzfontein Stud. In 2013 he served a book of 93 mares with 86 confirmed in foal.
Jessica Slack, the new face and force of Mauritzfontein, was characteristically enthusiastic about their new acquisition. "Guy has been following him for ages and is absolutely mad about his pedigree. The negotiations took a little while, but we are just so thrilled. We've bought a controlling share, but all the other shareholders have stayed in, which is wonderful. We're really looking forward to having him."
Guy Murdoch was equally enthused. "I really liked him while he was racing and I found out that he'd arrived in South Africa while I was at the 2yo sale. Byword was in quarantine at Robbie Sage's yard at the time and we immediately bought a lifetime service. Rob Pickering and I started discussing him and I asked whether there might ever be a chance of him moving. Rob sounded keen and once we had a clear idea of what we wanted to do, we approached Ashleigh (McNabb) and the rest is history. The main reason I like him a lot is that he's one of a very few horses to win a Gr1 in the UK. Both his sire and dam lines suit Fort Wood mares very well and with his race record, it was a no brainer, really. We've purchased the controlling interest of 21 of his 41 shares which are split across Wilgerbosdrift (10 shares) and Mauritzfontein (11 shares) and the balance is split between Ashleigh McNabb, Elias Milliotis and Rob Pickering. There are 28 lifetime service right holders."
"He will be a very welcome addition at Mauritzfontein and we are looking forward to having him stand alongside Ideal World. The two are very different individuals. Pedigree wise they are also very different, but both compliment Fort Wood mares. Byword is by Peintre Celebre who is by Nureyev and Nureyev and Fort Wood are siblings via Special. We have already earmarked 22 mares from Mauritzfontein and 20 from Wilgerbosdrift, his lifetime service right holders will obviously be supporting him and everyone who used him last year is coming back again, so we foresee him serving a book of over 100 mares this season."
Byword is one of 12 Gr1 winners sired by Prix de'l Arc de Triomphe winner Peintre Celebre (sire of over 60 stakes winners). Out of English Broodmare Of The Year Binche (dam of multiple Gr1 winner Proviso by Dansili), Byword is from the "Peace" family (responsible for successful SA sire Peacetime) and Byword shares his broodmare sire, Woodman, with world leading sire More Than Ready.
The striking Juddmonte-bred chestnut was conditioned by Andre Fabre and had 16 career starts (15 in stakes company) in 6 different countries for 7 wins and 3 places. He finished a half a length behind Goldikova in the Gr1 Prix D'Ispahan at Longchamp, pushing the champion filly to a new course record. He also finished 1 ¼ lengths behind Rip Van Winkle in the Gr1 Juddmonte International Stakes. Byword beat a total of 18 Gr1 winners in his career, including Twice Over, Presvis and two of the horses who finished closest to Frankel during his career – Cirrus des Aigles (recently seen winning the Coronation Cup at Epsom) and Zoffany. Byword was champion older horse in France, the highest rated grass horse in the world in 2010 with a Timeform rating of 126 and is the only winner of the Gr1 Prince of Wales Stakes ever to stand at stud in South Africa.
‹ Previous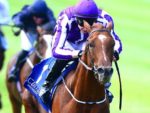 Blue bloods dominate Epsom betting