This season, there have been a number of feature races, where progeny of one stallion have completely dominated the finish. The most recent example came in Friday's Listed Lady's Slipper Stakes, where daughters of Sail From Seattle (Dancing Natasha, Priceless Sail, Artic Sails and Vanishing Sails) ran 1-2-3-5.
Leading sire Var had his own trifecta recently when dau-ghters Variety Star, Maties Wildekat and Vivalda ran 1-2-3 in the Listed Milkwood Stakes, while top sire Dynasty went one better, when sons of the former Horse of the Year, ran 1-2-3-4 in the 2013 Selangor Cup.
Another leading SA sire to have scored a whitewash in a feature race is Captain Al – whose daughters Wheredowego, Pure Power and Alascan Maiden ran first, second and third in the Gr3 Kenilworth Fillies Nursery of 2013. Remarkably, Captain Al pulled off another clean sweep when his daughters Townsend, Play Nice, Possible Dream and Tick Tock ran 1-2-3-4 in the 2010 Gr3 Diana Stakes.
And in 2000, The Gard-Farder led a Fard sired 1-2-3 home in the then Gr3 Umkhomazi Stakes, beating his paternal half-brothers Redcarpet Style and Norinco into second and third places respectively. In 2010, Silvano offspring ran 1-3-4 in the Gr1 Sansui Summer Cup, when Flirtation beat her paternal half-siblings Rudi Rocks and Aslan into third and fourth places respectively.
While it may not have been quite such a clean sweep, Jet Master fillies Gluwein and Love Is In The Air dead heated to win the Gr1 Klawervlei Majorca Stakes in 2010 and Rock Of Gibraltar is the sire of the first two home (Alboran Sea, Rich Girl) in the 2014 Gr1 Allan Robertson Championship. Oratorio's sons, Beethoven and Fencing Master, ran 1-2 in the Group 1 Dewhurst Stakes of 2009.
Some of the world's greatest stallions have achieved remarkable trifectas in some of the world's major races. Below are a few of the most remarkable displays of sire power:
2006 English St Leger
The first crop of the 2001 Epsom Derby winner Galileo were born in 2003. This remarkable first crop included an Irish 1000 Guineas winner Nighttime, French St Leger heroine Allegretto, and Melbourne Cup runner up Purple Moon.
However, the first crop of Galileo (the world's leading sire) also included three colts who made sure of a place in history for their when competing in the 2006 St Leger.
The Galileo sired colts Sixties Icon, The Last Drop, and Red Rocks gave Galileo an astonishing first crop 1-2-3 in Britain's oldest classic, with Sixties Icon prevailing by two and a half lengths from The Last Drop and Red Rocks in third. The latter would go on to win the Breeders Cup Turf.
2002 Irish Derby
Galileo's greatness as a sire was preceded by the accomplishments of his sire Sadler's Wells, one of history's greatest stallions. In 2002, four colts by Sadler's Wells fought out the finish to the Group 1 Irish Derby, with High Chaparral accounting for Sholokhov, Ballingarry and Nysaen.
Sadler's Wells has completely dominated the Irish Derby with six of his offspring winning the race. Eight grandsons, and one great grandson, of this legendary stallion have subsequently won the Irish Derby.
2001 Epsom Oaks
The Irish Derby of 2002 was not the sole occasion that Sadler's Wells sired the first three home in a major European classic. His daughters Imagine, Flight Of Fancy and Relish The Thought filled the first three positions in the running of the 2001 Epsom Oaks. Remarkably, the very next day, a son of Sadler's Wells, Galileo, provided his great sire with a very rare Epsom classic double when he triumphed in the 2001 Epsom Derby.
Yet another big race which saw Sadler's Wells sire the first four home was the Group 1 Racing Post Trophy of 2002 when subsequent St Leger winner Brian Boru defeated fellow Sadler's Wells colts Powerscourt, Illustrator and The Grey Gatsby.
The remarkable stallion also sired Prince of Dance and Scenic to score a dead-heat victory in the Group 1 Dewhurst Stakes of 1988.
2005 Japanese 2000 Guineas
Sunday Silence has been the dominant force in Japanese breeding for the past twenty years. Even after his death, Sunday Silence's numerous sire sons have dominated the top races in Japan.
In 2005, Sunday Silence was responsible for the first three home in the Gr1 Japanese 2000 Guineas when Deep Impact accounted for fellow Sunday Silence colts Six Sense and Admire Japan to give the former Kentucky Derby winner a clean sweep of Japan's first classic race for colts in 2005.
2012 Tokyo Yushun (Japanese Derby)
Japan's premier classic was dominated by sons of Triple Crown winning champion Deep Impact – himself a son of dominant champion sire Sunday Silence.
Three of the first four home in the Japanese Derby of 2012, were sons of Deep Impact with Deep Brillante winning, Tosen Homareboshi running third, and World Ace fourth.
Deep Impact has had a huge influence on Japanese classic races, with Deep Impact fillies winning the last four runnings of the Oka Sho (Japanese 1000 Guineas), two runnings of the Japan Derby, and one of the Yushun Himba (Japanese Oaks).
2009 Phoenix Stakes
The recently retired Danehill Dancer (Danehill) has left behind a considerable legacy – helped by such successful sire sons as Choisir and Mastercraftsman. The former champion Irish 2yo also accomplished a remarkable feat when his offspring Alfred Nobel, Air Chief Marshal and Walk On Bye ran 1-2-3 in the Group 1 Phoenix Stakes of 2009.
1999 Caulfield Cup
Another stallion retired from stud duty in 2014 was the great New Zealand sire, Zabeel. Sire of over 150 stakes winners, Zabeel's tally of top performers included three Melbourne Cup winners, four Cox Plate winners and numerous Australian and New Zealand classic winners.
Zabeel also was responsible for the first three home in the 1999 Caulfield Cup when Sky Heights defeated Laebeel and Inaflury.
In total, Zabeel was represented by three Caulfield Cup winners.
‹ Previous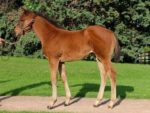 World's First Frankel Colt Is Sold