Port Elizabeth struck Gold Cup glory way back in 1994 when a seven-year-old discard with a propensity for swimming stunned Greyville racegoers with a gutsy victory. Perhaps it was the belief that if you haven't got a ticket you can't win, that prompted the late trainer Arthur Miller to enter seven-year-old Stateway in the first place.
While the gelding had shown that the further he went the better he liked it, Stateway had hardly displayed the class expected from a potential winner of one of the most sought-after staying races in the country.
After all, the horse had raced 62 times in five seasons from two to six years – the Gold Cup was his first start as a seven-year-old – and with his six wins and 14 places had brought in only R122 315.
Stateway's most important successes had been gained in Eastern Cape marathon events where the winner's share of the purse compared with those for C Division races at major centres.
But all that changed in the 3:25,30 it took Stateway to cover Greyville's 3200m. Suddenly the seven-year-old more than trebled his earnings and became a Grade 1 winner to boot.
A much travelled horse
A much travelled horse, not only over the more than 130km he covered in competition, he raced in the Transvaal and Port Elizabeth, from where he was also campaigned on Cape Town tracks. The diminutive Stateway was the epitome of toughness in a racehorse and averaged something like a race a month in the five years he had been in training.
After an insignificant Transvaal career which saw him win a solitary race and run four places from 25 starts, Stateway was acquired by Port Elizabeth trainer Hekkie Strydom, father of champion jockey Piere.
Against lesser opposition in that centre the then four-year-old came into his own winning twice including the 3 600m Eastern Province Gold Cup with a brace of seconds from six starts before the close of the season.
He picked up the 3200m Glenlair Trophy first time out at five and then after a subsequent third appeared to have found his level in the weights. When former jockey Arthur Miller decided to call it a day in Port Elizabeth and turn his sights to training, Hekkie Strydom offered him Stateway to build his string up to the minimum of 12 horses he required to obtain his licence.
Campaigned in Mike Bosch's colours by the new trainer, Stateway managed two places including a second in the Glenlair Trophy before the season's end.
While he ran a few places, including a close second in the 3 600m Port Elizabeth Gold Cup, it was 19 months before Stateway made a return to the winner's enclosure, winning a B Division 2 200m at Arlington in December. Another win – his second in the Eastern Province Gold Cup – and two places over ground in Cape Town from eight subsequent starts followed before the end of his six-year-old career.
These Cape Town runs were part of Stateway's training schedule in his build-up to the Gr1 Gold Cup. But the gelding also had his own training regimen, one unplanned by his conditioner.
The gelding often broke away from his groom when taken to the beach for exercise and spent considerable time swimming in the sea before allowing himself to be caught.
Legend has it that such was Stateway's love for water, he had a swim in a Free State dam during a break in the long trip by road from Port Elizabeth to Natal for the Gold Cup. Be that as it may, the gelding arrived none the worse for wear and ran his rivals ragged in the Greyville race.
Up in Touch
Believing the 3200m might be a bit too short for Stateway to display his true staying forte, Miller instructed jockey Andre Hoffman to have the gelding right up in touch throughout and the rider obliged to the letter.
Despite his proven staying ability, Stateway was one of the 33-1 outsiders in the maximum 20-runner field.
The massive American-bred Surfing Home maintained his ante-post position at the head of the betting boards hoping to redeem himself after his Rothmans July disqualification. There was also good money for White Tie Affair (NZ), Space Walk, Sweet Secret and Conman – all runners with an abundance of stamina.
Mark Sutherland aboard Surfing Home (USA) decided that the slow gallop was not in his favour and sent the favourite a couple of lengths clear through the 900m marker. He was all of 4 lengths ahead of Ginger Cake and Stateway turning for home, where it looked as if his early move would pay dividends.
Scrubbing away
That was reckoning without Stateway, however. Jockey Hoffman had gone for the stick and was scrubbing away at Stateway in the straight and the Port Elizabeth challenger looked in trouble. But the seven-year-old dug into his reserves of stamina and plugging on strongly got to Surfing Home (USA) inside the last 300m. Showing no signs of stopping he went clear to win by 1 ¼ lengths.
Space Walk came out of the pack down the running rail in the straight and ran on for third money, nearly 2 lengths adrift of Surfing Home (USA) with Conman running an honest race for the minor placing. Oro del Cielo found a good finish for fifth and a share of the R500 000 stake. Sixth place finisher White Tie Affair (NZ) might have been a little unfortunate as he was forced to switch from behind Space Walk for a clear passage when making his run.
Trainer Tony Millard had done a great job with Surfing Home (USA). The gelding's racing career was in jeopardy after developing tendon problems when fourth in Spanish Galliard's 1992 Rothmans July before being relegated to fifth for interference and now second in the Gr1 Gold Cup.
Sutherland's gamble poaching a clear advantage early would have paid off, but for Stateway's superior staying qualities.
Stateway was a R15,000 purchase at the 1989 National Two-Year-Old sale.
Offered by Aldora Stud as agent for Meztom C.C., Stateway was the third foal of Irish-bred Strange Behaviour, a mare who produced three graded stakes winners from her first six progeny to race, all of whom were winners.
Her two other graded stakes winners were Hidden Fortune, lthe 1993 ARCSA Champion Stayer and winner of the Gr1 SA Derby Futurity and the Transvaal Stayers Triple Crown, and False Pretender, winner of the Gr3 Summerveld Stakes and Natal Breeders Championship.
It was not surprising that Stateway stayed all day.
While his sire Free State (GB) was predominantly a miler, there is any amount of staying blood in his dam, who was out of true-blue stayer Alycidon (by Donatello II) out of Persian Gulf mare Queen of Sheba. And then on the bottom line of Strange Behaviour (Ire)'s pedigree there is some good French staying blood.
All in all, what the 1994 Gr1 Gold Cup winner may lack in stature, he more than made up for with a strong bold black type pedigree.
Remarkable record
His breeders, Eugene Sanan and Tom Mezher of Meztom C.C., had a remarkable record with their small band of broodmares which never numbered more than four. Quality was always foremost in their choice of breeding stock. They bred some very good horses, and apart from Hidden Fortune, False Pretender and Stateway, there was the Gr1 Germiston November Handicap and Gr2 Administrator's Challenge Cup winner Unaware.

‹ Previous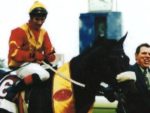 Good Greeff! You Can't Be Cereus…