Well, that's the Durban July over for another year, along with all the drama and controversy and decisions, which some agree with and some don't.  Weather wise, the day kicked off in fine fashion and ended on a bit of a grey note.
From a personal point of view, we did not have much luck in running with some wide draws which never help one's case. It was good to see our filly, Grey Light, run such a nice race first run out the Maidens in a Grade 1 seven furlong fillies race. I think, given some time and the chance to strengthen up, she will be all that much better and hopefully a Graded race performer. She is certainly headed in that direction.
Sunday was far better with some fantastic sport on the television. Thankfully, a Brit managed to put a smile on my face with Lewis Hamilton winning the British Grand Prix in fine fashion at Silverstone. Being a bit of a Williams fan (and I am not talking about the women's tennis) it was great to see the car of  Valtteri Bottas finish second.
The real highlight of the day for me was the tennis and what a treat it was to watch those two gladiators of the sport, Federer and Djokovic, go head to head and hammer out what really was the  most exciting gentlemen's final.
No matter who one supported, it was a great game and it was almost sad to have to have a winner and a loser.  Apart from being a fine spectacle to watch, the sportsmanship displayed by these two fine athletes was a joy to behold and a great example to others involved in sport.
It is a dreary day here in Durban and they say there is some snow here on the "burg" so it looks as if the cold snap could hang around. The local Natalians cannot handle the cold weather and start looking like eskimos the moment the needle drops below 15 degrees. It wouldn't surprise me if in some of their houses, they don't start hacking up furniture and building fires.  They are not the hardiest of cold weather people.
Looking out over Clairwood this morning, it is sad to think that Saturday's Gr1 Mercury Sprint will be the last big race to be held here.
Having been coming up here for as long as I can remember, it really has been like a second home for me. It is a rather sobering thought, when looking at those lovely big grandstands, to think that they will be no more.  The dreary weather this morning somehow makes it all the more depressing.  Clairwood as a racecourse has been particularly lucky for us and I have won more Grade 1 races here than I can remember.
It will definitely be with a heavy heart when we saddle Happy Forever on Saturday and it would be wonderful to go out on a winning note on a track that I love. It is an extremely fair track and I think it will be a huge loss to KZN racing.
I am sure there are plenty of improvements being made at Greyville but at present it is not the fairest place to race.
The loss of Clairwood will be felt all round.
www.joeyramsden.com
‹ Previous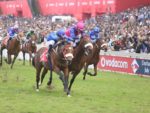 July:Men Behaving Badly?