The Queen's horse Estimate has sensationally tested positive for the banned substance morphine, Buckingham Palace announced last night.
The Sir Michael Stoute-trained mare returned a positive test after finishing second in the Ascot Gold Cup, a race she won to huge popular acclaim in 2013, at last month's royal meeting.
The shock announcement follows the news last week that traces of morphine had been discovered in post-race samples provided by five horses. It is thought the positive tests may have been a consequence of contaminated feed.
Although current thinking is that the positive tests are accidental, the news that one of the Queen's horses has tested positive for a substance prohibited on race days is a story likely to go around the globe.
The Queen is the world's highest-profile owner-breeder, having raced thoroughbreds for more than 60 years and won more than 1,600 races.
The sanction for Estimate's positive test, once confirmed by the BHA, is automatic disqualification from the Gold Cup and the forfeiture of the £80,625 prize-money for second place. If it is discovered the horse inadvertently came into contact with the banned substance there will be no punishment for Stoute.
Despite the positive test, last night stable sources indicated Estimate was still on course for the Goodwood Cup at Glorious Goodwood in eight days' time.
In a statement, John Warren, the Queen's bloodstock and racing adviser, said last night: "On Thursday, July 17, the British Horseracing Authority announced that a number of post-race samples, obtained from recent race meetings, had been found to indicate the presence of morphine, which is a prohibited substance on race days. Five horses, under the care of various trainers, were affected.
"I can confirm that one of those horses was Estimate, the five year-old filly trained by Sir Michael Stoute and owned by the Queen. Initial indications are that the positive test resulted from the consumption of a contaminated feed product.
"Sir Michael is working closely with the feed company involved to discover how the product may have become contaminated prior to delivery to his stables.
"As the BHA investigates this matter, including potential links between the different cases, Sir Michael continues to offer his full cooperation. There will be no further comment until the BHA announces its considered findings. Her Majesty has been informed of the situation."
Charlie Hills has admitted he trains one of the five horses who tested positive and it is also believed a Newmarket-trained winner from last month features among the initial tests.
The likelihood that the positives stem from contaminated feed has left trainers up and down Britain nervous about further positive tests, prompting one of the major feed merchants, Dodson and Horrell, to issue a statement late last week that one of their suppliers had informed them "of a possible component contamination".
(source:  Racing Post)
‹ Previous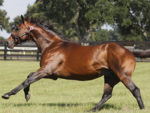 Marchfield's $470k filly