Not too much to get excited about on Friday with most good horses going round on Sunday in some very strong Group races.
In saying that, the punting looks good with most races only having a few genuine chances and some good value on offer.
Starting at race 1, three Class droppers in AFROJACK, WAR LORD and BRILLIANT BEAUTY looking a good boxed exotic combination.
In race 2 on the card, it could be a similar boxed exotic combination featuring three smart 2YO's in WIMBLEDON, HAPPY HAPPY and ROCK OF AGES who all get a nice pull in the weights just a week away from the horses birthday.
But while there looks to be some value about with horses such as PINYIN (race 6) and AERO WINGS JUNIOR in the lucky last, those looking for a banker might look to BELLWETHER in race 7.
The former Australian – who arrived with just one win to his name from six starts – showed tremendous dash at his Singapore debut before finding it all too tough late.
But connections only had to wait till his second start where he bolted in over 1000m in Class 4 and backed that up with another dominate performance in BM67 company over the same trip.
This doesn't look much tougher and while the race does have depth with the likes of HAPPY MONEY and last start winner, SAND LANE, he should win in what looks his favourite trip.
Best Bets; (BELLWETHER race 7, win), (PINYIN race 6, each-way) and (AERO WINGS JUNIOR race 9, value).
Bankers for Jackpots: Race 6 (1, 2, 8, 11 and 12), race 7 (5), race 8 (1, 2, 3, 7, 10 and 11), race 9 (1, 2, 3, 4 and 9).
Race cards and Larry Foley's synopsis follows and for updates on all runners go to www.kranjiracing.com
Please note the odds listed are "reference odds" only.
Race 1
Selections; 2 WAR LORD – 1 AFROJACK – 3 BRILLIANT BEAUTY – 6 NOT SIMPLE
A Class 5 over 1200m on the all polytrack programme opens proceedings with a few interesting class droppers likely to dominate. WAR LORD has also been racing well in higher grade. In his earlier days with Leticia Dragon he was good enough to run in the Guineas and place behind horses such as ITALIAN JOB, STILETTO and RITE OF SPRING; now having had a few outings for Steven Lam and with a 3kg claim for Troy See, he should be well and truly up to this grade. AFROJACK has been ordinary in higher grade but when last in Class 5 he reeled off back-to-back wins over the 1200m and with a nice alley and a 1kg claim for Mark Ewe, should improve dramatically. BRILLIANT BEAUTY
raced handy and fought on well in KSD company last start; he has placed twice from four poly starts and should make a bid once again. NOT SIMPLE showed improvement last start, he is far from reliable but if he runs to his best should be in the finish. ALWAYS A WINNER has some speed and with Noreesh Juglall up could run a cheeky race.
1 AFROJACK *** Has been struggling in higher grade but now back in Class 5 where he won two on end not long ago. Will grow a leg in this. 4.00
2 WAR LORD *** Not far away in much higher grade races recently. Has run good races against much better than these in the past and with the claim looks very well placed. 3.50
3 BRILLIANT BEAUTY *** Raced handy and fought on in KSD company last start. Suited here and should race well with Nunes up. 5.00
4 SO FREE NOW ** Won maiden three starts back and efforts since have been solid. Will race handy and be thereabouts again. 10
5 DAZZLE * Six starts have been ordinary and needs to improve. 33
6 NOT SIMPLE ** Put in a much better effort last start and should give a sight from the ace. 5.50
7 SPEEDY KID * Has not done enough as yet. 33
8 EIGHTH WONDER * Resuming and has had several trials. Not the most reliable but useful in this grade. Watch market. 20
9 REGAL SALUTE ** 20 start maiden who resumed with good effort but disappointed second up. Take on trust. 25
10 ALWAYS A WINNER ** Has speed and from the draw with Juglall up could run a cheeky race. 12
11 HORAZ SAMOSIR * Form not good enough. 50
12 CHINESE TYCOON * Blinkers off. Been trying for a very long time and this looks too hard. 33
Race 2
Selections; 12 WIMBLEDON – 8 HAPPY HAPPY – 10 ROCK OF AGES – 4 ACE RICH
A Restricted Maiden over 1100m and under the race conditions, the 2YOs have a decided advantage. WIMBLEDON has been placed at his only two starts – beaten three lengths on each occasion – but by decent ones in CASTOR and RUAPEHU. He trialed well in blinkers recently and with Manoel Nunes to steer from a reasonable gate, should be able to cross and be on the speed all the way. HAPPY HAPPY boxed on well behind MEXICAN GAL last start and with no weight and a nice alley should be handy all the way. ROCK OF AGES was also not far away in the same race and from the ace should get a gun run. Of the older horses LET'S SCREAM NOW has some speed and OVERPOWER and ACE RICH will be closing late.
1 LET'S SCREAM NOW ** Saddle slipped badly last start. Has speed and despite draw may be able to cross and be hard to run down. 8.00
2 ZORRO * Has shown little so far and is bred to stay. 50
3 OVERPOWER ** Has been trying for a while but charged home over 1000m last start. Will be running on late. 12
4 ACE RICH ** Improved effort on turf last start. Usually runs on and with John Powell from a good gate should be closing late. 14
5 ENTIRELY POSSIBLE * Well back on debut. May want longer. 50
6 BLANCHETT ** By Ifraaj. Quiet trial but has good alley and top rider. Watch for support. 16
7 WINFREY * Needs to improve. 33
8 HAPPY HAPPY *** Improved effort last start and with no weight should give a bold sight. 5.00
9 ONE DOLLAR BETTER * Needs to improve on what we have seen to date. 33
10 ROCK OF AGES *** Solid effort on debut and should race well from the ace. 5.00
11 SILENT ARROW * Distanced on debut. 50
12 WIMBLEDON *** Blinkers on. Has been placed in reasonable company at only two starts and with Nunes to steer will be hard to hold off. 2.30
Race 3
Selections; 2 INSPIRE – 6 LION BAROWS – 3 GOLDEN LARK – 1 BEE AHEAD
A small field of Class 4 horses contest over 1900m with Michael Clements having three of the seven runners and tempo or lack of it may be an issue. INSPIRE raced wide and only battled over 1800m last outing; with a stronger rider in Manoel Nunes taking the mount and giving a positive ride, he should be hard to beat. There was plenty of support for BEE AHEAD on turf last outing over 2200m and while he failed on that occasion, he does have
poly form and whilst he has not won for a long time, could show up in this. LION BAROWS put in a solid effort in a BM67 last outing, his previous poly run over 1800m on the poly behind WAR TIME and VERGLATICA was good enough for this and Alan Munro should give him every chance. GOLDEN LARK was unsuited last start, his previous effort with Corey Brown over 1800m was strong and if he gets a pace to suit will be hard to hold out. CLERMONT CLUB has no weight and his form is average but there is no likely leader and Harry Kassim may well try and steal it.
1 BEE AHEAD ** Started favourite over 2200m on turf last start and failed. Has not won for a long time but has poly form may be able to set the tempo in this. 6.00
2 INSPIRE *** Only battled late last outing over 1800m after racing wide. Gets Nunes and should be in this for a long way. 3.00
3 GOLDEN LARK *** Never likely last start. Much better at previous start with Corey Brown in KSC over 1800. Will appreciate a solid speed. 4.00
4 SOUTH GATE ** Blocked for a run last start. Has yet to win beyond 1700m but often placed. Could benefit from a positive ride. 8.00
5 I LIKE * Dour one-paced veteran happier in Class5 but from the ace will run the 1900m right out. 14
6 LION BAROWS *** Solid effort on turf in BM67 last start and previous run over 1800m on poly behind WAR TIME and VERGLATICA was good enough for this. 4.00
7 CLERMONT CLUB ** Blinkers off. Recent form ordinary but with Harry Kassim and no weight could try and steal it. 10
Race 4
Selections; 4 CHENGDU WARRIOR – 2 THREE KINGS – 3 JOHNNY HATES JAZZ – 1 LUCKY STRATEGY
A collection of non-winners and unreliables go around in an 1800m Class 5, the lack of quality emphasized by the bottom six in the weights who have had 153 life-time starts without a win between them. CHENGDU WARRIOR is the one with form and while he is yet to win on the poly, has placed at his past three outings in similar events; with Ivaldo
Santana once again in the saddle he will give a sight. THREE KINGS is proven at the journey, had support but botched the start last time and had to work too hard – if he gets away little Barnabas could give him a good trip in front and may be hard to run down. Sam Chua – the king of the Class 5s – has three runners, the best of whom may be KTRONIC
who at least has won a couple of races and if he gets an even tempo, can be finishing on late. JOHNNY HATES JAZZ battled away over a mile last start, his only wins have been at 1800m; he is a small horse and with only 52.5kg could make his presence felt. LUCKY STRATEGY battles away but is up in weight and distance, the weak field and Corey Brown could help him break through.
1 LUCKY STRATEGY *** Has been finding it hard to win. Up 5.5kg and has to travel 200m further after battling over a mile in this grade last start. May appreciate senior rider. 5.00
2 THREE KINGS *** Has support last start but missed the start, had to work hard and knocked up. If he gets a soft lead could be hard to run down. 4.50
3 JOHNNY HATES JAZZ *** Only wins have been at 1800m. Stepping up from a mile and should be thereabouts. 4.50
4 CHENGDU WARRIOR *** Yet to win on poly but has been placed at past three outings in similar grade. Should give a sight once again. 3.50
5 KTRONIC *** Unsighted last start but placed this trip and grade at start prior. Will appreciate a solid tempo. 10
6 EISHIN BRIGHT * Gets Zaki and may go forward from the ace but needs to improve on recent efforts. 25
7 ATIAMURI * 23 start maiden who threatens from time to time. 20
8 SOARING WIN * 20 start maiden whose better efforts have been at shorter journeys. 33
9 CLASSIC THUNDER * Just missed three starts back in very weak race at this trip. Having 32nd start as a maiden. 20
10 STYLISH LAD * 15 start maiden yet to run a place. 33
11 SUPER VELOX ** Tongue tie off, blinkers on. Having his 49th start and yet to break through, but has Juglall and is far from the worst in this field. 14
Race 5
Selections; 2 CHEYENNE WARRIOR – 3 CODIGO – 1 FAITHFULLY – 8 GOOD NEWS
A Class 4 over 1000m and on his performance last week at KSC level when he out-sped GOLDEN BRILLIANT over 1200m on turf, CHEYENNE WARRIOR will be very hard to beat. His only poly placing from nine starts was a third to GOLDEN SAND STEED but from the ace with Harry Kassim retaining the mount, he cannot be ignored. The stablemate
CODIGO appreciated the blinker/pacifiers last start and with Corey Brown replacing Harry Kassim he should race well again. FAITHFULLY is resuming but has won twice and placed seven times from 11 poly starts; from the good gate he should get a nice run for Oscar Chavez and will be closing late. The blinkers come off TIM who has won three times at this trip, gets a claim for Rueven and is rarely far away in this grade. The depth falls away after these with THAT'STHEONE and IMACRUISER being honest journeymen who should be finishing on late. GOOD NEWS has been disappointing but won a trial with blinkers then raced poorly without them; the headgear may help and a market watch is advised.
1 FAITHFULLY *** Resuming. Has plenty of weight but has two wins and seven placings from 11 poly starts and should give a sight. 5.00
2 CHEYENNE WARRIOR *** Beat boom galloper GOLDEN BRILLIANT over 1200m on turf last week. Placed once behind GOLDEN SAND STEED in nine poly starts. Up in weight but from the ace will be very hard to run down. 2.50
3 CODIGO *** Had blinker/pacifiers and fought on well last start. Should be in the mix once again. 4.50
4 TIM ** Blinkers off. Has won three times at this trip and is rarely far away in this grade. Will appreciate claim for Rueven. 8.00
5 BLUE DIAMOND * Has changed stables and is resuming. Disappointed at two outings since maiden win and not sighted in recent trial. Watch market. 20
6 IMACRUISER ** Will find this easier than recent outings but may want longer. 12
7 THAT'STHEONE ** Honest journeyman who may like easier but will be thereabouts again. 10
8 GOOD NEWS * Disappointed when resuming without headgear after promising blinker trial. Blinkers go on and has ability on his day. Watch for support. 25
9 FLAMING FIREHEART * Won two starts back but class here will test. 33
10 WINDSOR KNOT ** Maiden but is always thereabouts. 33
11 FAMOUS N FAST * Not racing well enough and best form is on turf. 50
Race 6
Selections; 2 PINYIN – 8 NORTH STAR – 12 WORLD OF FAME – 11 PICTURE
A few battlers here and a Class dropper in PINYIN might be a very good punting option. The 4YO broke his maiden status some six starts back over this trip in KSD company and some runs since then good enough to think Class 5 suits. His winning jockey – R Shafiq – is back onboard and looks every chance from gate 6. Drawn just inside him in gate 5 is NORTH STAR who looks well and truly due. The 5YO has placed at his last two starts and given he did some work at his last run, he should figure prominently at the business end. Of the rest, PICTURE gets Nunes and blinkers for the first time so must be respected first-up after a spell with the bottom weight, WORLD OF FAME, also a huge show given he has won two of his last four – both in this company. DOMENICO's form looks ordinary but keep safe dropping to Class 5 with SEA OF LOVE some hope on recent form but a query on the surface so play with caution.
1 DOMENICO *** Just battled last start but significant drop in Class and will should figure throughout. 8.00
2 PINYIN *** Last start better than the result and will win sooner than later in this company. 5.00
3 SEA OF LOVE ** Foot on the the till and gets the ace but is some query on the Polytrack. 4.00
4 VICTORIOUS STREAK * No. 100
5 HOST THE NATION * Shown nothing at last two starts and have to take on trust. 50
6 GREYSTOKE ** Maiden who has shown glimpses and can include in exotics with headgear removed. 14
7 LORD GRANTHAM * Unreliable maiden and needs to show his best. 33
8 NORTH STAR *** Did some work last start to place and ready to win. 5.00
9 ROYAL BRAT ** Always capable of a forward showing. 20
10 JUSEAGLEYE ** Excuses last couple and not the worst at likely long odds. 50
11 PICTURE *** Resuming and could easily show up with blinkers added first-time. 8.00
12 WORLD OF FAME *** Won two out his last four – both the this grade – and a serious hope. 5.00
Race 7
Selections; 5 BELLWETHER – 2 SAND LANE – 6 HAPPY MONEY – 4 MAI GURU
They should just go "woosh" in this and it may be the last speedster standing who wins. BELLWETHER knocked up after showing plenty of speed at his Singapore debut as the odds-on pop but made amends at his next two with strong wins. With his style of running the 1000m looks his caper and no surprise the stable has not ventured beyond the shortest trip as he looks for win three from four starts in Singapore. SAND LANE had issues two starts back (roarer) but showed his class winning very well at his most recent run. That was also over 1000m and from gate 2- with BELLWETHER drawn just outside him in 3 – the race will be on from the start. It won't be a race in two though with HAPPY MONEY also a serious winning show. The 3YO has won three from seven career starts and that form
suggests he is more than just a participant in this sprint. To make things even more interesting, two smarter than most types in PHILANTHROPIST and MAI GURU both resume and could win if ready and MAPLE STAR looks in good enough form to keep them all honest.
1 CONGO ZANDOR * Not going well. 100
2 SAND LANE *** Showed last start he is very hard to beat when right and looks a big show again. 3.00
3 PHILANTHROPIST ** Smart type resuming after long break and would go very close on best form. watch market. 20
4 MAI GURU ** Another smart type resuming and must be respected on best form with winkers on for this. 20
5 BELLWETHER *** Speedster who won very well last start with heavy support and the one to beat here. 2.00
6 HAPPY MONEY *** Won three from seven and must be respected in what is a suitable race. 5.00
7 THISISIT * Not going well enough. 200
8 SUPERB SUCCESS ** Very much appreciates solid first-up run and in the exotic mix. 20
9 TERMINATOR ** Only thereabouts of late and need to be on his game early. 20
10 MAPLE STAR ** Excuses not to finish closer to SAND LANE last start and pay to respect. 20
11 LUCKY COME * Will need more than Oscar from the ace. 200
Race 8
Selections; 3 QUALITASE – 1 GOOD BOSS – 7 FANTASTIC BOY – 10 GENUINE BARGAIN
QUALITASE is over-due and connections will be hoping he can make use of another good barrier draw to knock in a win. The three-time winner has jumped from the ace at his last two starts and while excuses at his most recent run when he reared at the start, he could be hard to beat in this field from the inside gate. Obviously GOOD BOSS is also in the winning mix and while he has drawn nicely in 3, he has to do everything right for Oscar Chavez as his starts can be tardy. The race could get ugly though so it will pay to include horses like FANTASTIC BOY at odds. The 4YO has had excuses at his last two starts and this type of race has always looked his caper. Of the rest, GENUINE BARGAIN comes into this with a nice trial under his belt and gets Manoel Nunes with FUKU'S PET and ZAC WARRIOR also worth thought.
1 GOOD BOSS *** In-form and goes very close if he makes use of the good gate. 3.50
2 FUKU'S PET *** Always a show in races like this although better winning hope over 1100m. 6.00
3 QUALITASE *** Excuses last start not to win with support and hard to beat from the ace. 3.00
4 BROWNE'S ANATOMY ** Resuming in right grade and pay to keep safe with linkers off and tongue-tie on. 50
5 LUCKY GENERAL ** Resuming after showing improvement when blinkers added last start and worth some thought. 12
6 PROSPERITY STAR ** Long-term maiden who showed last start this race is his caper. 20
7 FANTASTIC BOY *** Could make excuses last start and might be a good value option with winkers added. 20
8 THE GIANT ** Got support and only battled last start similar affair and exotics look best. 20
9 FOUNTAIN * Disappointing of late. 100
10 GENUINE BARGAIN *** Resuming with good trial under his belt and should run well with top-hoop a bonus. 8.00
11 ZAC WARRIOR *** Backed up a good trial with a solid placing this trip and have to respect. 8.00
Race 9
Selections; 9 AERO WINGS JUNIOR – 1 GOLDEN MISSION – 3 ECLAIR SENSATION – 2 NEUTRINOS
A gear change is as good as a holiday and it is a couple of handy types that get blinkers for the first-time in AERO WINGS JUNIOR and GOLDEN MISSION that appeal. And while AERO WINGS JUNIOR is a maiden and is obviously eligible for easier company than this, his form form from his first campaign had him under notice and a recent trial with blinkers suggests that could very well do the trick. Also in his favour is Ivaldo Santana and while he jumps from a wide gate, he could show plenty at odds. GOLDEN MISSION also gets to wear blinkers at the races for the first time and given he did look due, the head-gear looks a positive move. The race is wide open and not much between the likes ECLAIR SENSATION, NEUTRINOS and TRUST ME who all get support and can win.
1 GOLDEN MISSION *** Overdue to knock in another win and well placed from gate 1 with blinkers on first-time. 4.00
2 NEUTRINOS *** Can run the odd bad one but showed last start he wins again soon. 5.00
3 ECLAIR SENSATION *** Freshened after poor effort but this looks suitable and a win would not surprise. 8.50
4 TRUST ME *** Showed last start he is more than up to this company with Nunes a factor. 3.50
5 BIGCAT RHAPSODY * Back in trip and blinkers off with best work expected very late. 20
6 HIDDEN VENTURE ** Coming off a shocker but previous form has him having a say late. 20
7 HONGCHEN ** Singapore debut solid at long odds and can include in exotics. 20
8 SPEEDY DWARF ** Excuses second-up from a spell competitive on a good day. 20
9 AERO WINGS JUNIOR *** Blinkers on after showing little first-up but good recent trial with head-gear has him under notice. 12
10 CHEETAH KING * Prefer over longer. 33
11 SACRED CROWN ** Excuses last start after winning in Class 5 and certainly showed enough to include in exotics with no weight. 12
12 SIMPANG ** Another who backed up a Class 5 win with a competitive effort and have to include somewhere. 20
13 CONFALCON * Resuming and recent trial suggests he has something to offer this campaign. 33
‹ Previous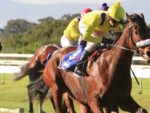 Christmas In July-For Punters?