The famous "White Horse" of KZN, Gran Blanco, has happily found his way back to his original home Rathmor Stud, after recently been found in a deteriorating condition on a farm outside Pietermaritzburg, and will be leaving for Highveld trainer Robbie Sage's yard on Sunday to finally start his long waited racing career.
Mike McHardy of Rathmor was grateful to Gill Olmesdahl and her Coastal Horse Care Unit team, who alerted him to the situation the horse's previous owners found themselves in, and she also oversaw the crisis with the help of funds from Gold Circle, which enabled Gran Blanco and others to return to health.
McHardy was also thankful to his sister Jeanette McHardy, who purchased the now three-year-old colt after negotiations in which Olmesdahl was instrumental.
Rathmor staff were shocked one early morning in September 2011 when their Rakeen mare Perakeen gave birth to the colt as he was pure white, except for an area around the ears which were chestnut.
The birth attracted interest from around the globe.
In "paint horse" phraseology his colouring is known as "medicine hat."
White colouring is caused by areas of skin that lack pigment cells, but in thoroughbreds it is usually only found on the blaze and on the socks.
The world's first ever white thoroughbred registered was a filly born in 1963 in Kentucky.
By the end of2005 only 48 had been registered in history, but 28 of these occurred between 2001 and 2005 as a result of specific breeding in the USA.
Gran Blanco is the first and only white thoroughbred ever born in South Africa.
He was sold on the 2013 Emperor's Palace National Yearling Sale  as Lot 74. He went for R220 000 and the buyer is shown as B.A. Roode.
McHardy said, "He is in great condition and full of well-being, although he has always been a slow maturing horse."
www.goldcircle.co.za (additional story by our Editorial Staff)
‹ Previous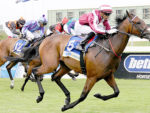 Women & Winter