South Africa's leading bloodstock auction company, Bloodstock South Africa, is proud to announce the 2014 Emperor's Palace Ready To Run Sale!
110 two year old thoroughbred racehorses will be offered for sale at the Thoroughbred Breeders Association's world class Sales Complex in Johannesburg on Sunday, 2 November 2014.
This follows the running of the Emperor's Palace Ready to Run Cup at Turffontein Racecourse the day before – the race, worth a record-breaking R3.85 million this year, is restricted to horses bought from Bloodstock South Africa's 2013 Sale and the top 16 qualifiers will be fighting for payouts to 10th place.
Based on current entries, this year's Sale is dominated by Balmoral Stud, the Mooi River based pre-training operation owned and managed by Marc and Nicola Coppez. Balmoral consigns in excess of 70 Lots with a wide selection of top class sires from around the country and abroad including a rare offering in South Africa by world leading sire, Bernardini (USA).
By number, Koos and Lorraine de Klerk's Yellow Star Stud, have the next biggest draft and they will be hopeful that their Var filly attracts plenty of attention.
They are joined by Jane and Rodney Trotter's Ambleway Thoroughbred Stables who offer 7 quality two year olds on behalf of the Cape-based Nutfield Stud of Beth and John Brandtner – their draft includes a trio of Western Winter's progeny, now highly sought after following the passing of Lammerskraal Stud's top stallion of many years.
The Far End Stables of Jane Thomas have featured regularly over the years, complementing its pre-training operation in Mooi River and this year Jane offers 7 Lots for a variety of clients including an entry for Gary Player Stud.
Anton Shepard (Beaumont Stud), Eugene Freeman (Boland Stud) and Theo Kriel (Kriel Racing Stud) all offer single Lots for Sale and they would be hopeful of a decent gallop from their charges.
Yellow Star Stud is again the gallops venue for the majority of this year's draft. On Thursday, 16 October 2014, the horses will breeze over 400m on the turf track from 10h00 (tbc) with all gallops recorded for later viewing by DVD or online (www.tba.co.za). A fine KZN Midlands lunch will be served afterwards and as an innovation, a limited number of combi's will be provided for interested parties leaving from Durban and Summerveld respectively. Early bookings are essential, please contact Pauline Smith on 011 323 5700 or [email protected] For horses being prepared outside of Mooi River, their gallops will be televised and the recording made available by Monday 20 October.
For early planning, please note the following in the lead up to the Sale (more details will be published in due course):
• Horses are expected to arrive at the TBA Sales Complex from Tuesday, 28 October
• Piroplasmosis tests will be conducted on all colts and selected fillies – results are expected to be available on Friday, 31 October
• The Cocktail Function for this year's Ready To Run Sale will be held at Emperor's Palace on Friday, 31 October
• The Emperor's Palace Ready To Run Cup will be held at Turffontein Racecourse on Saturday, 1 November
• The 2014 Emperor's Palace Ready To Run Sale starts on Sunday, 2 November at 14h00
For all other enquiries, please contact Kevin Woolward or Peter Gibson directly and follow developments on the TBA Facebook Page and on Twitter
Kevin Woolward: [email protected] / +27 (0) 83 454 0771
Peter Gibson:  [email protected] / +27 (0) 83 496 4881 or +27 (0) 11 323 5700 Ext 220
Bloodstock South Africa
Thoroughbred Breeders Association of South Africa
‹ Previous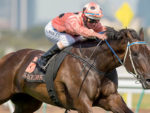 First For Caviar