Emeralds may not be as hard as diamonds, but South Africa's richest sand race, the Gr2 Emerald Cup, which will be run for a staggering R1million stake on Saturday, 27 September 2014, has produced some tough campaigners. Here is one of them.
Meet Alimony
Alimony is a little bay horse by Alami out of the Al Mufti mare, Marquetta. He may be small and fairly unremarkable on the outside, but in his chest beats the heart of a warrior. This is his story.
Alimony was bred by St John Gray's Graystone Stud in KZN and he was born in 2002. St John jokes that he struggles to remember what he had for lunch yesterday, nevermind the events of over a decade ago, but he purchased the Ascot Stud-bred Marquetta and raced her in partnership with Mr & Mrs P Asherton and Mr & Mrs A Georgiou. The filly picked up some useful black type, winning the 1999 Strelitzia Stakes and placing in the Allan Robertson. When she retired, St John mated her to Burwell Stud's Alami in 2001 and the result would be a little bay colt named Alimony. Unfortunately it was the only foal Marquetta ever produced.
Early Career
Alimony had his first start as a 3yo on 18 August 2005 over 1200m at the Vaal in a Work Riders Maiden Plate. He finished 3rd, 6.25 lengths behind Jodi's Gold. He picked up 2 more place cheques before breaking his maiden on 22 October 2005 over 1200m at Turffontein, ridden by Johnny Geroudis. Three weeks later Alimony again earned a place cheque, finishing 4th in a 3yo Handicap with Donovan Habib in the saddle, before getting back to the winner's enclosure on 1 December in a MR78 Handicap over 1400m at the Vaal with Mark Khan in the irons.  Alimony closed out his 3yo campaign with 2 wins and 9 places from 10 starts.
His 4 year old career was somewhat less busy. Alimony raced 10 times for 1 win and 4 place cheques.
As a 5 year old, things started to turn around. He opened his 5yo campaign with a narrow, 0.75 length second to French Flyer over 1600m at Turffontein, followed by two wins in quick succession at the Vaal, both under J Bekker. It would prove a solid season, with Alimony having 18 starts for 4 wins and only finishing out of the money 5 times. Critically, because the turf tracks were so hard at the time, St John sent him out over 1600m on the Vaal sand on 24 July 2008 and Alimony duly obliged by beating Running Fortune home by 2 lengths under Johnny Geroudis.
Near Miss
At around this time, St John put the little bay gelding on a sale, but seemingly no-one wanted him. St John reminisces "I put on a reserve of R20,000 and didn't get an offer even close to that. And good job too. I don't know whether it was divine intervention or just devilish fortune, but from there he went on to race on the sand very successfully and won over R1million in stakes, so thank goodness they didn't buy him on that sale!"
With Devin Habib in the saddle, Alimony cantered down at the Vaal on 14 August 2008 and beat Grand Gallery home by 9.5 lengths over 1600m. He was similarly impressive on 4 September, when Devin again partnered him to beat Close As Oak by 9.5 lengths over another 1600m trip. Carrying 52kg, Alimony started 18-10 favourite for the 2008 running of the Gr2 Emerald Cup.
From the clouds
From the break, Renegade made all the running and overcame his 8 draw to lead from the off. Alimony's usual running style was to come from off the pace, so his starting draw of 4 was neither here nor there and by the time the field rounded the turn, Alimony was lying comfortably last. In fact, he doesn't feature in most of the footage of the race as he runs about 10 lengths off the leader for most of the race. As the field passes the 400m marker, Renegade and El Padrino are doing battle 3 lengths clear of the field and there is still no sign of Alimony. At the 300m marker Clyde Basel calls Alimony making a run on the outside rail. Seemingly just hitting his stride, Alimony unleashes a devastating burst. At the 150m marker Alimony comes into shot for the first time and by the 100m marker he is 2 lengths off the front runners. With 50m to go he's collared El Padrino and is gunning for Renegade and with 4 lengths to the post, he sweeps level and then past the tiring Renegade to win by 0.75 length !
Following on from his Emerald win, Alimony mainly kept to the sand, carrying welterweights, but posting 6 more places before his second attempt at the Emerald Cup. Carrying 54kg's this time, he cantered down at 15-2 and launched another flying late finish under Sherman Brown, to claim 3rd place 1.35 lengths behind Phunyuka.
After 2 disappointing showings on the grass, St John Gray put Alimony back on the sand and earned another fistful of places before posting his entry for the 2010 Emerald Cup. Now an 8 year old and lugging 55.5 kg and cantering down at odds of 33-1, Alimony showed that he was still a force to be reckoned with. Launching his offensive just beyond the 400m marker, he emerged from the bunch with a frightening attack on Mrs Oppenheimer's front-running Iron Curtain and Gunter Wrogemann and only just failed to claim an Emerald double by a long head and 0.03 seconds under Fanie Chambers. Such are fate's little twists.
With the place cheques coming fewer and more far between now, St John explains that with his come from behind style, a lot depended on pace. "Because of his rating, Alimony got lugged with such big weights in any races other than the Emerald, that he just wasn't getting to them in time anymore and he couldn't be competitive." Alimony had a last crack at the 2011 Emerald Cup and with Fanie Chambers in the saddle again. He was slow out of the gates and faded to finish last and St John decided it was time for the game old galloper to hang up his boots. He closed his 7 season career with 69 starts, 10 wins, 27 places and R1,178,130 in earnings. Not bad for a little horse that could hardly raise a bid in the auction ring !
St John says "He was the most amazing character who never gave me a day's trouble. He was an absolute angel of a horse." When I ask what it meant to achieve so much with a homebred, St John says mock-gruffly "Now don't make me get all soppy!"
Retirement
St John found Alimony a good retirement home with a trusted contact on the proviso that Alimony would be returned if they ever decided not to carry on with him. "Fortuitously I got a call and they said they couldn't afford to keep the horse anymore and that's when I thought of Andrew and Sarah Bon. I knew they'd look after him and, well, I think Andrew is more in love with the horse than I am!"
Andrew is no stranger to racing fans and is a past master at telling stories about our turf greats, so it is rather fitting that Andrew now has one of those greats to call his very own.
Andrew Bon
Andrew started riding at the age of about 4 or 5 and took his first formal lessons about the age of 10. The mention of Muriel Higgs in Ridge Road in KZN will have many people nodding their heads. From there he progressed to pony club and the odd show and all the sorts of things that most horsey kids get up to.
Now based in Johannesburg, Andrew is married to the lovely Sarah who has a yard just behind the Inanda base. They have around 23 of horses of which the majority are Sarah's and more than a few are retired Thoroughbreds.
"My wife has always taught St John's daughters to ride. He phoned Sarah one day and explained that Alimony had fallen on hard times and that the owner couldn't afford to keep him and two days later he was ours! He was in good nick and looked absolutely fantastic. He's quite a small horse – only a little over 15hh, but he's beautifully proportioned with a lovely length of rein. And when he gets going – well, his race record speaks for itself. You don't win that many races without a lot of courage and ability."
Courageous
"Alimony caught my attention when he won the Emerald Cup in 2008. Sherman Brown rode him a lot and he once said to me 'this horse has courage like you cannot believe'. He's got the most incredible honest, beautiful eye and that real Danzig jowl. He's completely and utterly unique."
"I have a big strong mare that I was riding at the time – she was one of Sarah's 1m20 horses that I'd taken over and she could be a little unpredictable. I started to ride Alimony, who was still very green and unschooled, but it soon became apparent that he's a fearless competitor. You just aim him at a jump and he goes for it. I started getting him fit and took him to a small show in Joburg where we jumped 70 or 80cms and he flew round. At a subsequent training show, he showed that he was capable of tackling logs and walls, so we decided to take him to the 2013 Karkloof Horse Trials."
"It was an unbelievable day and even more so when we found out that our fellow competitors included Mike de Kock's ex Gr1 winner Equal Image, Gold Cup winner Mokaro, 2010 Emerald Cup winner Iron Curtain and Mr Brock. It was an incredible day out and amazing to see how well these horses do in their second careers."
'As we've got to know each other better, I've realised there is nothing this horse won't do for you. He just gets better and better. We're still working on improving his paces and his transitions, but we'll be heading down to the Karkloof again on 18 October. He's far from being an experienced horse, but he's loving it and he is just such a joy and privilege to have in the stable."
Lead Horse
As a second string to his bow, Alimony was called on to lead the Emerald Cup field down to the start in 2012 and 2013. It is something Andrew is enormously proud of. "He goes over to St John's stables on the Friday night. Mike Azzie's groom plaits him up and he travels to the track with all the other horses. It's a great gesture from the Operators because he was such a great campaigner in this race and it's great for the fans to see him – particularly because he's so small."
Andrew and Alimony will lead the Emerald Cup field out again this Saturday and they will be under starters orders at 15:55. Keep an eye out for them and if you see the grand old galloper canter past, feel free to give him a big cheer. He's surely deserved it.
‹ Previous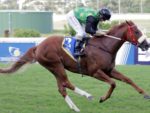 Ready To Run Cup Log: Latest